This article is more than 1 year old
Cryptocoin investors sue Chase Bank for sky-high credit card charges
Bank treated funbux buys as high-interest 'cash advances'
Chase Bank is the target of a class action lawsuit accusing the bank of overcharging customers who bought cryptocurrencies with their credit cards.
A class-action complaint [PDF], filed this week in a New York US district court, accuses Chase of failing to warn customers it would be classifying cryptocurrency purchases as cash-advance transactions that were subject to higher interest rates than regular purchases.
The plaintiffs say that, in January of this year, Chase changed its policy on cryptocurrency buying without warning. This, in turn, meant that purchases previously subject to the standard interest rates and payment schedules were now given interest rates as high as 30 per cent and that these were immediately applied, rather than at the end of the billing period.
This, the suit claims, is a violation of the US Truth in Lending Act. When reached by The Register, Chase Bank declined to comment on the case.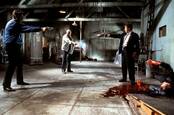 Coinbase, Worldpay, Visa play blame game after dosh vanishes from crypto-fans' pockets
READ MORE
In the complaint, named plaintiff Brady Tucker alleges that, through January of this year, his purchases via cryptocurrency site Coinbase were recorded as ordinary purchases. That changed on January 27 when, he claims, without prior notice Chase suddenly started recording his Coinbase purchases as a 'cash advance'.
"Chase made no effort whatsoever to notify its cardholders that they would begin incurring lofty cash advance fees and interest charges on all of their crypto purchases in real time," the suit reads.
"During recent weeks, Plaintiff and other Class members have called Chase's customer service line to complain about Chase's surprise cash advance fees and interest charges. When Plaintiff and other Chase cardholders have done so, Chase has responded by summarily (and deceptively) placing the blame on Coinbase."
Now, Tucker and his attorneys are suing the bank on behalf of everyone in the US who purchased cryptocurrencies online with a credit card and was subjected by Chase to the cash advance rates.
They seek a jury trial to assess damages and fees. ®