AI, AI, sir: British Army chiefs visit Silicon Valley hypelords
Nice. But what about the UK firms MoD's spending £800m on?
Comment Two senior British Army officers have visited Silicon Valley to trawl for militarily useful tech startups.
General Sir Chris Deverill, commanding officer of Joint Forces Command (the bit of the British armed forces that goes abroad and kicks the backsides of Her Majesty's enemies du jour), along with Lieutenant Colonel Henry Willi, toured the infamous American tech region "to explore how artificial intelligence (AI), machine learning, data analytics and autonomy could be used to bring advantage to the joint force," according to an MoD statement.
The two officers also embarked on a whistlestop tour of other American startup hotspots, including locations in San Diego and Los Angeles.
"By speaking to individuals who are already developing some of the most advanced technology in the world, we are closer to understanding how this can be applied in a military setting," beamed the general in a canned statement.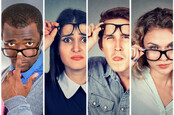 MoD: Sci-tech strategy? Er, here's a bunch of words and diagrams
READ MORE
This is all well and good if it wasn't for the Ministry of Defence pumping £80m per year into British tech startups as part of the government's prosperity agenda – an £800m fund was announced in 2016 to support the UK's domestic tech industry until 2026.
We have asked the Ministry of Defence for comment ("isn't British technology good enough for the British armed forces?"). It failed to respond. TechUK, which presents itself as an industry body and mouthpiece, also didn't answer our invitation to comment.
British firms already carry out similar high-tech work that General Deverill went to the US to find. For example, Roke Manor Research is working on integrating AI into Royal Navy warships for helping classify and respond to potential threats picked up by radar and sonar.
As we reported from the launch of the Defence Innovation Fund, even invited industry delegates at the launch event weren't exactly brimming with confidence in the idea of working with the MoD.
Though the money is being spent with industry and appears to be reaching companies other than the usual big ones ("primes" in defence-speak), the chief of Joint Forces Command heading abroad in search of useful tech innovations doesn't exactly speak volumes for either the success of the fund or the government's confidence in the British tech industry.
The MoD, mindful of the advances being made in tech, is keen to get the industry to start pitching its ideas to them, though it appears at first glance that its various agencies and sub-organisations may almost be competing with each other, as much over the production of confusing graphics as for who's in charge of corralling good ideas from the private sector.
In addition to the Defence and Security Accelerator, Joint Forces Command has also set up its own organisation, called jHub. Its stated modus operandi, of setting innovation challenges for industry to respond to, looks remarkably similar to the existing Innovation Fund.
Competition is all well and good - but not if public money is being wasted on duplicating the shop window. ®