Slicker servers, heaving racks, NVMe invasion: It's been a big week in serverland
Servers get composable, denser, drink doses of Intel FPGA and NVMe
The server industry exhibited another spasmodic leap forward with a slew of news around composability, denser rack packing, Intel taking on Nvidia using FPGAs, and the onrushing NVME SSD tide.
Servers are simultaneously getting smaller and faster through acceleration cards and NVMe SSDs, and dynamically composable in racks, so users can get them to do more at scale with less management.
Size shrinkage, the use of compute acceleration cards and NVMe storage are being seen across the industry, but composability is limited. HPE is the standard-bearer, while startups like Liqid, partnering with Inspur, and DriveScale are knocking at the industry's door.
Cisco had a composable M-Series server line but closed it down in July 2016. Supermicro is pushing the idea using Intel's RSD scheme.
The ability to have more servers nodes in a rack - Fujitsu is talking about a thousand - will possibly add some more oomph to the composability movement.
Fujitsu
The company has updated its half-wide server nodes. It has a PRIMERGY brand CX400 M1 which is a 2U server chassis containing four 2-socket Xeon SP blades (nodes) and 24 x 2.5-inch storage drives.
The latest CX1430 M1 is a 2U chassis, again, but holding eight half-wide compute nodes; four at the front and four at the back.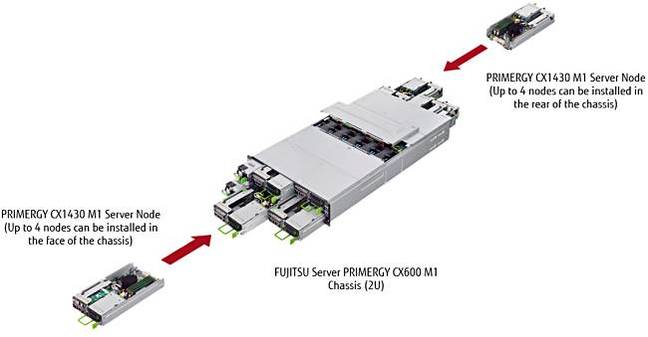 Click image to make it bigger
The compute nodes use low-power Xeon D processors, meaning a 20 per cent power reduction compared to Fujitsu's single socket RX1330 M3 1U rack server.
There is up to 128GB of memory (4 x DDR4-2400 RDIMMS) and 3.84TB of internal storage from two SATA disk drives or SSDs. A single PCIe slot and 2 x 10GBase T ports completes the basic component list.
Fujitsu said having 125 of these babies (1,000 nodes) in its data centre over three years would result in a ¥20m ($186,700) total cost of ownership saving compared to 1,000 x RX1330s.
The CX1430 M1 is available in Japan in May, and will then be rolled out globally over the following months. Fujitsu has a CX21430 sales target of 10,000 units by its fiscal 2020, and it is priced from $5,630 (¥602,800.)
Gigabyte
This Taiwanese server, desktop, gaming system and motherboard supplier has seen the incoming NVMe tide and added NVMe drive options to five rack servers which use dual AMD EPYC 7000 processors.
The R181s are 1U enclosures, while the R281s are 2U ones, and they have varying storage options, all hot-swappable:
R181

Z90 - 4 x 3.5-inch SATA/SAS drives,
Z91 - 2 x 2.5-inch NVMe U.2 drives and 8 x 2.5-inch SATA/SAS drives,
Z92 - 10 x 2.5-inch NVMe U.2 drives,

R281

Z91 - 6 x 2.5-inch NVMe U.2 and 20 x 2.5" SATA/SAS drives,
Z92 - 24 x 2.5-inch NVMe U.2 and 2 x 2.5" SATA/SAS drives.
All five servers also have single M.2 NVMe slot for a gumstick-size NVMe flash card.
Intel
Intel is aiming to up its accelerator sales through deals with Dell and Fujitsu to embed Intel Arria 10 GX FPGAs in some of their servers. FPGAs are reprogrammable, unlike GPUs, and so can be re-purposed to suit different applications.
Arria is an Altera FPGA brand, the other being Stratix, and Intel bought Altera for $16.7bn in December 2015.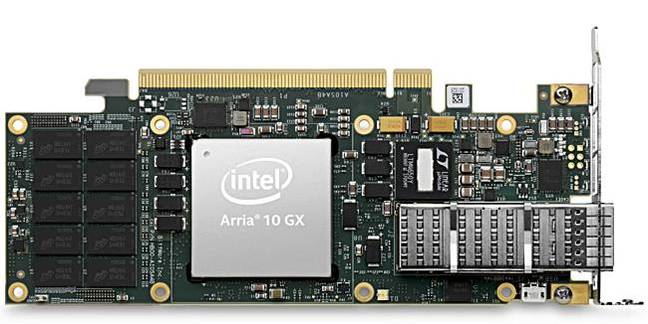 Intel Arria 10 GX GPU card.
Fujitsu will include Arria cards in its 2U, 2-socket RX2540 M4 PRIMERGY rack server, and be only available to priority customers initially. The PowerEdge R640 (1U, 2-socket), R740 (2U, 2-socket) and R740XD servers (2U, 2-socket high-performance) from Dell will also embed the cards inside their enclosures.
The Arria cards come with an Intel Acceleration Stack for Xeon SP processors, a software-development environment, and Intel expects more server OEMs to adopt Arria cards and so accelerate app areas from analytics to financial services. These would have a high proportion of repetitive low-level functions, not specifically to do with graphics, that could be offloaded to the FPGA and so boost server performance.
Supermicro
Supermicro has announced general availability of its RSD 2.1 server, with updated functionality. Its first RSD (Intel Rack System Design) composable server - came out in July last year and the 2.1 RSD version was introduced in January with limited availability to proof-of-concept customers.
Effectively the RSD is a data centre in a rack. Hardware asset discovery is now enabled by firmware instead of using the PXE (Preboot Execution Environment) infrastructure. This was regarded as a major requirement as the firmware route is much easier to use than the PXE path.
There is improved NVMe SSD handling; dynamic assignation doesn't need a host restart, and SSD data can be automatically erased securely at a per-drive level on server node detachment.
The Pod Manager UI or Redfish API can be used to get BMC/BIOS firmware updates carried out, and the Pod Manager UI has had three features added to make things faster and easier:
Topological, photo-realistic view of rack level hardware with drill down to each server node,
Interactive dashboard enhanced to allow easier navigation from the dashboard to specific resources according to their status, health, or other displayed attributes,
Real-time and historical telemetry/analytics for CPU, processes, memory, software, chassis, status, power, and thermal status.
+Comment
Composable server infrastructure takes server virtualisation a step further from virtualising the server software environment, which is what VMware pioneered and established so effectively, focussing on the environment inside a physical server.
Server composability looks at virtualising the physical rack server environment, dynamically composing compute, storage and networking into software-defined physical servers ready for use, and then returning the components to the resource pool from which they came. It promises to make more efficient use of hardware resources but requires a different view of servers, not as physical boxes dedicated to one or more application areas, but as disaggregated physical components dynamically assembled into physical servers as needed.
If you have racks of commodity server and are currently re-purposing servers between applications quite often, then having that process automated by products like Supermicro's RSD could be seen as attractive. ®