T-Mobile US will be a bit lighter in the wallet today, thanks to a $40m fine served by the FCC.
The US comms watchdog demanded the money from the mobile network – which refers to itself as the Uncarrier – after it lied about its efforts to improve reception for America's rural communities.
Specifically, the FCC said, T-Mobile US had reported it was addressing reports of dropped calls from its network to three local carriers in rural parts of Wisconsin. It seems T-Mob wasn't able to connect citizens in those remote areas, where coverage can be spotty and service unreliable. This led to complaints from subscribers to the watchdog.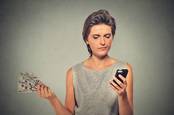 FCC levies largest ever fine: $614m on Verizon (that's about three days of profit for telco giant)
READ MORE
Despite T-Mobile US saying it was resolving the issue, punters continued to report problems to the FCC about being unable to reach people in the remote parts of the state, with calls to numbers in those areas often going unanswered.
The FCC found that T-Mobile US had been covering up its poor service by playing callers false ringing sounds – making the caller think the other person's phone was ringing when, in fact, the call was not even getting connected.
To make things right, T-Mobile US will cough up $40m, and agree to a compliance program [PDF]. That will include setting up and maintaining a dedicated contact within the company to handle its relations with local carriers in rural areas and to resolve instances where those carriers can't link up with T-Mobile to complete calls.
The fine shouldn't be too much of a concern at T-Mobile. The telco raked in $2.7bn in net income last quarter, so the penalty amounts to about 32 hours of profits. That's not going to have CEO John Legere quaking in his boots.
T-Mob has also promised to train its employees on how to handle and report to the FCC instances where rural customers can't complete calls.
"It is a basic tenet of the nation's phone system that calls be completed to the called party, without a reduction in the call quality—even when the calls pass through intermediate providers," FCC chairman Ajit Pai said of the settlement.
"The FCC is committed to ensuring that phone calls to all Americans, including rural Americans, go through." ®