This article is more than 1 year old
ZTE now stands for 'zero tech exports' – US govt slaps 7-year ban on biz
American suppliers barred from selling to Chinese tech giant
The US government has imposed a seven-year export ban on ZTE for repeated violation of trade laws.
The Department of Commerce announced on Monday it is placing a ban that will forbid US companies from doing business with the Chinese phone maker, including supplying it with parts and service contracts.
The surprise move came after the DoC revealed that ZTE had violated the terms of the settlement it had signed in March 2017. That settlement included a provision that, should ZTE again be found to be skirting US trade laws, a seven-year export ban would be imposed.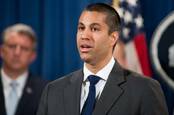 FCC boss to block 'national security risk' companies (cough, Huawei, ZTE) from US's $8.5bn broadband pot
READ MORE
Just one year later, the DoC says it will be exercising that clause after finding that, while negotiating that settlement, ZTE had lied to the department's Bureau of Industry and Security. In particular, ZTE had told the BIS it had disciplined the executives responsible for its illegal deals with Iran and North Korea, but in reality none of the individuals were actually disciplined but rather given bonuses.
"ZTE made false statements to the US government when they were originally caught and put on the Entity List, made false statements during the reprieve it was given, and made false statements again during its probation," said US Secretary of Commerce Wilbur Ross.
"ZTE misled the Department of Commerce. Instead of reprimanding ZTE staff and senior management, ZTE rewarded them."
In response, the DoC says it will opt to implement the export ban, meaning ZTE and its subsidiaries are cut off from getting hardware and software from American manufacturers.
The decision will not only impact ZTE. The company's US suppliers, including Qualcomm and Acacia, will be barred from sending their hardware to China for ZTE to use. In response, Qualcomm shares took a 1.25 per cent drop on Monday, while Acacia, who counts ZTE as a major customer, took a massive 35 per cent nosedive. Qualcomm declined to comment on the matter, while Acacia did not respond to an inquiry.
The decision comes on the heels of a (seemingly unrelated) GCHQ warning to UK companies over potential security vulnerabilities in ZTE products. The unspecified security holes were found to be so severe that intel chiefs warned telcos they could "not be mitigated effectively or practicably." ®