Huawei promises to launch a 5G smartmobe in second half of 2019
From vapourware to reality
---
Huawei has said its first 5G-capable phone will appear in a little over a year. The Chinese giant made the pledge at its annual global analyst summit in Shenzhen, southeastern China.
The device will feature Huawei's own 5G modem and appear in "the second half of 2019".
Big news:

First @Huawei 5G smartphone with its own 5G chipset coming in 2H 2019. Which mostly points to the Mate series.#HAS2018 pic.twitter.com/8k5qThGEmp

— Neil Shah (@neiltwitz) April 17, 2018
5G is finally condensing from its natural vapourware state into reality, and Huawei boasted that its core 5G network would be able to allocate over 20Gbps per user.
The company also focused on enhanced mobile broadband services (eMBB in the jargon of the Next Generation Mobile Networks Initiative group), which are intended to bring 5G up to fixed-line broadband speeds. Various use cases such as high-speed trains and dense, high-demand locations such as offices and sports venues are touted as examples where 5G can bring a marked improvement over LTE.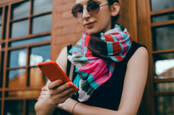 Europe turns nose up at new smartphones: Beancounters predict 7% sales drop
READ MORE
Huawei, however, concentrated on something a bit sexier: high bandwidth consumer apps. "Retina experience" radio would be able to support a video 16K resolution at 120 frames per second, with a latency of some 5 to 9 milliseconds. That's required to avoid motion sickness using VR and AR gear. Under Huawei's scenario, rendering could be done in the cloud, rather than a clunky headset, as there's sufficient bandwidth to deliver a decent experience.
At MWC in February, Huawei announced its first 5G modem, the Balong 5G01 chip, but its power requirements mean it will be deployed first in cars and hotspots rather than phones. It should be able to deliver 2.3Gbps, far higher than the gigabit LTE showcased today.
Qualcomm's roadmap envisages commercial deployments of 5G eMBB services late next year using LTE IoT – which yokes together two narrowband technologies, eMTC and NB-IoT – that can work in 5G-allocated spectrum. Qualcomm envisages LTE Advanced Pro as a stepping stone to 5G. ®