Updated US tax returns for 2017 must be filed by midnight tonight – but the nation's Internal Revenue Service is making that difficult.
The revenue collection agency's e-file system has been having undisclosed technical difficulties, effectively falling offline and unable to accept tax form submissions. If only someone could have foreseen that things might get busy today.
"On my way over here this morning, I was told that a number of IRS systems are unavailable at the moment," Acting IRS Commissioner David Kautter explained to lawmakers during a House Oversight Committee hearing on Tuesday. "We are working to resolve this issue and taxpayers should continue to file their returns as they normally would."
Asked to elaborate, an IRS spokesperson simply repeated Kautter's message in an email to The Register.
According to the Washington Post, the problem affects the agency's ability to accept returns from service providers like Intuit, and the agency is hoping a hard reboot of its systems will resolve the issue. Intuit did not immediately respond to a request for comment.
The purpose of the hearing was in part to assess the customer service challenges facing the IRS. As the testimony of participants indicated, some of those challenges follow from inadequate funding and staffing.
Pay peanuts, get IT systems people can monkey with
Kautter said that the agency's budget was 80 per cent of what it was in 2010 and it presently has 18,000 fewer employees than it did then.
US Representative Gerry Connolly (D-VA) also suggested aging IT systems might deserve some blame, a proposition Kautter readily acknowledged.
"Of the IRS hardware, 59 per cent of it is obsolete," said Kautter. "Thirty-two percent of its software is at least two updates behind, so that it out of date."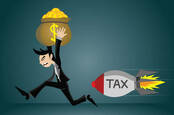 IRS tax bods tell Americans to chill out about Equifax
READ MORE
The agency also is subject to constant attack. "The IRS systems are subject to 2.5 million cyber attacks a day, one million of which are sophisticated attacks," said Kautter.
The IRS' technical troubles were anticipated in prepared remarks from J. Russell George, Treasury Inspector General for tax administration.
"Aged information technology hardware, when combined with the fact that components of the infrastructure and systems are interrelated and interdependent, make outages and failures unpredictable and introduce security risks to critical taxpayer data," said George in written testimony.
Connolly also asked whether the age of IRS systems, some of which date back to the administration of President Lyndon Johnson (1963-69), limited the agency's ability to apply encryption, which Kautter readily acknowledged.
At the conclusion of his questioning, Connolly lightheartedly suggested the silver lining of legacy systems is that the Chinese don't know how to hack COBOL systems. ®
Updated to add
The IRS said Tuesday it is giving everyone an extra day to file their taxes, due to the IT collapse. The deadline is now midnight Wednesday, April 18.
"This is the busiest tax day of the year, and the IRS apologizes for the inconvenience this system issue caused for taxpayers," said Kautter. "The IRS appreciates everyone's patience during this period. The extra time will help taxpayers affected by this situation."