This article is more than 1 year old
Productivity knocks: I've got 99 Slacks, but my work's not done
What to do when a productivity app is anything but
If I had a dollar for every time someone said Slack was the answer to a business's problems, I'd have retired to a beach in Australia long ago. I'm currently in seven different Slack teams, and I've still got problems.
At the other end of the argument, a small business remarked that they are happy to stick with email because they know a larger company that hates all the noise in their Slack team. Turns out that one piece of technology does not indeed fit all (who knew?).
The collaboration experts would argue that the problem isn't Slack, it's how you're using it. And they would probably be right. So why has Slack become such a cool thing and can we fight it?
What Slack did right
It's free. Well, free up to a point. That point is after you hit 10,000 messages or if you want to enable more than 10 integrations, or if you want a raft of other premium features. Free means that adoption is quick and does not require any approval from the finance department. Heck, even the firm's paid plans are cheap enough for you to experiment with, at a threshold that won't ring alarm bells on the corporate credit card.
Slack is open to anyone. Let's spin up a Slack team and invite everyone. Customers, suppliers, contractors, interns, geographically diverse people with the same interests; all they need is an email address. Like Facebook and LinkedIn, Slack grew in popularity because it was a borderless, low friction, people connectivity platform. It gave us a space to chat and share, away from annoying ads and with the speed of instant messaging. There's a lesson here in removing barriers to adoption, which Slack did very nicely.
The API is available. Technical people loved Slack, so Slack made sure it supported the things tech people use. There's a large list of Developer tools (including Github, Jenkins & JIRA), but Slack didn't stop there. For the non-geeks, there are also apps for Team Culture, Travel and Social & Fun. Add Zapier and IFTTT to the list and you'll never have to leave the Slack interface, or at least all of your alerts will come into one place.
The interface is simple. Type in the message box and hit send. It's not rocket science. Pop around to find some more advanced features like slash commands. No long training videos or formal onboarding sessions. Again, minimal barriers to adoption (and, more importantly, usage).

There are more things that could be listed (as we'll probably hear about in the comments), but you get the general idea. Slack has gone nuts in the online entrepreneur and "solopreneur" spaces (yes that's a thing), so much so that any mention of the product is met with "Slack is life" and "OMG you have to get Slack". They're worse than GSuite fans.
What Slack doesn't do so well
The user directory is a mess. The sign-in process is terrible but quickly forgotten, because once you are into your Slack within its app, you never need to log in again. Logging into any Slack for the first time requires you to remember the exact, short name of the workspace, or entering your email address to then be emailed a link that you click on to log in. There's no "sign in once and get access to all of your Slack things". Move to a different device? Repeat the painful sign-in process. Oh, and if you want to administer different groups of users within the same Slack workspace, you'll need a paid plan. End users don't care. Enterprise admins are in horror.
Where's the backup? Ask the non-technical community of Slack fans how they retrieve anything in Slack that's been deleted, and you'll hear nothing but crickets. Apparently accidental deletion hasn't occurred to anybody in charge. On the free plan, you can export messages in public channels and links to files, but that's it, and there's no inbuilt way to schedule this.

The paid Plus plan allows export of all workspace data including public and private channel messages and direct messages, and a scheduling tool for this. Does it worry anyone else that the workspace owner can then see the private DMs, or is it just me? But never fear, freebie Slack lovers, a ton of third parties like OwnBackup & Backupery plug into Slack's API to run backups for you (for a fee) or you can look up Reddit user harrypotterismyname for their handy & free Slack backup tool.

Slack cuts ties to IRC and XMPP, cos they don't speak Emoji

READ MORE

Just don't tell your friendly enterprise sysadmin that they might have yet another backup system to monitor & manage, on top of the corporate sanctioned one that works perfectly well for all of their other systems.

In-country data storage? Nope, unless your country is the US. It's sitting on Amazon's Cloud, but on US-only instances.
Other enterprise-style sysadmin geek knobs: Without doing an in-depth analysis here, there are other enterprise grade features missing from the standard Slack plans. These include: data loss prevention and data classification. Not a big deal to a small business, but may throw your work conversations out of compliance in a heavily regulated industry.

There's also no way to block certain apps from accessing Slack via the API. They need to be enabled by an admin, but if one of your admins goes rogue and hooks up your corporate data to their personal Cloud apps, you may never know. Getting a bit picky here, but compliance audits are known for being picky too.

Slack's solution to some of these gaps is Enterprise Grid, a super premium version of the app for big business. It includes the ability to have shared channels across different Slack workspaces and even SAP integration is coming soon. Pricing is conspicuous by its absence, so you'll have to contact Slack to find out how much coin this will set you back each month.
Life after Slack
So, is it Slack for all, or are the competitors worth a look? It really depends on what you are after, though you'll find nearly 12 million Google search results on the topic.
Microsoft Teams
"So much this" say all the Microsoft-lovers. Included at no extra cost in some Office 365 plans, integrated with other Microsoft products (applications, data and Active Directory), what's not to love? Arriving after Slack, Teams will always be subject to comparison of what Slack does that Teams does not, but as it's replacing the Skype for Business client, it's worth a look by the Enterprise. Smaller orgs haven't bothered because on launch it didn't even support adding external people (it does now). There are currently 45 items on the roadmap for Microsoft Teams, include geo-residency in India, Australia, Canada and Japan by the end of 2018.
Atlassian's Stride
For the software developers and general Atlassian fans in the room, there's Stride. The conversation style looks familiar, there's inbuilt group video conferencing and boy is it cheap. The paid plan is only $3 per user per month. Integrate Stride with apps & bots, including Atlassian's other products. And a paid Identity Manager is coming soon with SAML single sign-on, two-factor authentication and more. Two features that stand out are the inbuilt Actions & Decisions tools, directly integrated with the messages and the granularity of notifications, including room-level alerts and a Focus mode with a summary of what you missed.
Zoho's Cliq
Not as full-featured as the other collaboration tools, Cliq does messaging well, with a key interface difference. Cliq opens messages and channels in different columns, similar to Tweetdeck. You can't re-arrange them though. SAML SSO and 2FA are available in the free plan, but the pricing structure of the paid plan is a tiered mess, from $3/user/month for 0-10 users scaling down to $1/user/month for 500+ users. You'll need to pay for external channels, guest access, more than 10 integrations and a few other features, but it feels like it has missed the Enterprise things. Cliq also has a market place with notable names like Docusign, Asana and Zendesk and of course Zoho's own CRM product.
Flock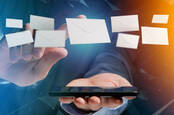 Open source sets sights on killing WhatsApp and Slack
READ MORE
Flock is really hitting hard on chasing Slack's customer base, which is first evident when your Google search for Slack reveals a Flock paid ad. Its website is full of happy Slack converts waxing lyrical about how happy they are now they've switched, and its Compare chart only lines up its features against Slack (in its favour, obviously). Magic Search in the team directory prioritises your frequent contacts and channels while Magic Priority automatically "bubbles up" (its phrase, not mine) your important conversations out of the noise.
Flock also supports to-dos, polls and email integration and boasts of deep integration with Google Drive. All of this magic can be yours for free or for a maximum of $3/user/month. The paid plan mentions enhanced admin controls, which equate to blocking domains, custom user groups and managing file share permissions. Not Earth-shattering stuff but worth noting you don't get that for free.
And on it goes...
Crugo and Twist also pop up high on the alternatives list, though we're a little sick of hearing that your collaboration tool can help you work together better, work together faster, or that it's just better than Slack. Mattermost also rates a mention for our open source fans and it can be privately self-hosted.
You decide
If you do go down the rabbit hole of looking at any Slack alternatives, you can waste a ton of time playing spot-the-difference, but it is worth noting that the default answer doesn't have to be Slack. The main risk of going with an outlier is finding out that some cool new thing has been launched and your collaboration tool won't integrate with it. Once you've listed your existing integration needs, that's a big reason why people stick with the main players. There are also cries of "but people are familiar with Slack", which is the same excuse as using Facebook for Work, but that's no reason to exclude new products with features that you actually need.
Whether these collaboration tools are a long-term productivity life saver, or whether they should all just get in the bin, is another debate for another article. Until then, good luck if you decide to be brave and explore a non-Slack solution. ®
We'll be covering DevOps at our Continuous Lifecycle London 2018 event. Full details right here.