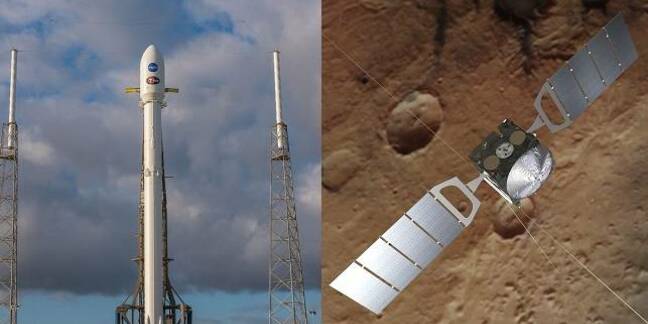 A Guidance and Navigation Control (GNC) issue scuppered last night's Transiting Exoplanet Survey Satellite (TESS) launch atop a SpaceX Falcon 9. Conversely, the European Space Agency (ESA) celebrated a successful restart of the Mars Express orbiter following a software update.
TESS is less
Scheduled for launch yesterday, the start of NASA's TESS mission was postponed by 48 hours due to a mysterious GNC issue aboard the Falcon 9 rocket.
The countdown was stopped with three hours to go, and SpaceX later tweeted out a brief update confirming the problem.
A backup launch window at 2232 UTC was available today, but the team has elected to take some extra time to resolve the problem. Launch is now scheduled for 18 April.
While there has been no official confirmation from NASA or SpaceX of the new launch time, the 45th Space Wing (responsible for the Eastern Range) issued a forecast (PDF) for 2251 UTC on 18 April predicting a less than a 10 per cent chance of weather causing problems.
NASA reported that the TESS spacecraft itself remains in excellent health as it perches nervously on top of the Falcon 9.
Express success
The team behind the European Space Agency's (ESA) Mars Express were cock-a-hoop with delight last night after hitting the big red button to restart and install updates on the veteran orbiter.
The team sent the reboot command yesterday evening and had to spend an agonising hour waiting to see if the spacecraft would restart correctly. Not unlike getting an unexpected demand from Windows to install an update during a particularly harrowing PUBG session.
Sure enough, after an hour, the spacecraft restarted, re-orientated itself and sent a message back to Earth that it was alive and well. The team expects science operations on the refreshed spacecraft to resume in the next few days.
The update reduces the load on the gyros of the aging spacecraft and should extend the lifespan of the orbiter from 2019 to well into the 2020s.
Makers of certain consumer electronics should take note that it is possible to create an update that both extends the life of a device and improves its performance. ®
Sponsored: Webcast: Discover and secure all of your attack surface