This article is more than 1 year old
Three storage hardware devices, a cash raise and Oracle gets blocked
MicroSD cam flash cards, cheap NAS filers and costly prosumer flash drives
It has been a hardware frenzy this week, with a pair of microSD cards for surveillance cams, flash drives for video takers and makers, and good old filers from a NAS baker.
These were accompanied by cash-raising from Sphere3D and Oracle adding block support to its cloud-based Linux Storage Appliance. We'll start with the hardware.
iXsystems
A gen 4 TrueNAS product has been introduced by iXsystems, supplier of the open source FreeNAS product. This system builder company has more than 4,000 customers and says FreeNAS is the world's most popular software-defined storage, with a download count exceeding 10 million and more than 200,000 known active users.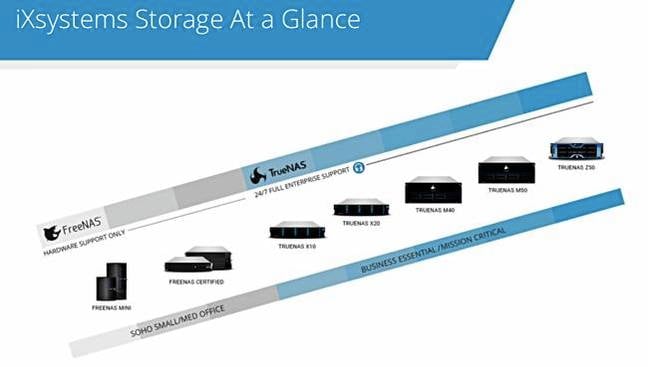 Click for easier-to-read chart.
The gen 4 TrueNAS product is the M Series, with M40 and M50 models, and they use NVMe and NVDIMM technologies, 12Gbit/s SAS and Xeon SP processors. They support Non-Transparent Bridge (NTB) providing, iXsystems says, fast failover and ALUA operations. They have built-in 10 GbitE connectivity, and support 10-100 GbitE and 16/32 Gbit/s FC.
The table shows more speeds and feeds info: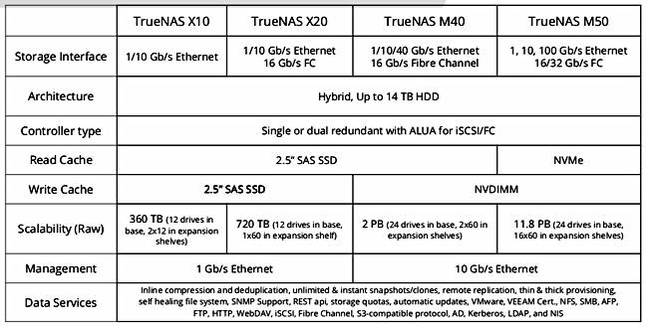 Click to enlarge
Here is iXsystems' claimed competitive positioning for TrueNAS:
HPE MSA 2040 and Nimble

Block only, no file or object
No self-healing file system

Dell EMC VNXe/Unity

Only Unity has unified file system
Some enterprise features = extra $

NetApp FASxxxx Series

Higher long-term TCO
Higher renewal contract cost

Tegile
R/W caching uses single flash; poor performance
ZFS is behind; must "port" new functions
Check with iXsystems about its regional channel coverage for TrueNAS systems.
Micron
This Boise boy has 32GB, 64GB, 128GB and 256GB microSD cards. The cards use 64-layer TLC 3D NAND and Micron says the larger one could hold up to 30 days of video surveillance data. They have a three-year warranty for 24x7 continuous video recording usage. They are enterprise-grade according to Micron, typically safer and more reliable in use than typical consumer microSD cards.
For example, they have a 2 million hours MTBF rating, or 0.44 per cent annualised failure rate (AFR), said to be equal or better than most surveillance disk drives.
Amit Gattani, senior director of embedded segment marketing at Micron, claimed there was "a strong industry trend toward more analytics and artificial intelligence (AI) in surveillance cameras".
Really? In the cameras themselves? That's kind of hard to believe. It seems more likely in an embedded server/video surveillance system, where machine learning-trained model SW might be able to recognise faces or vehicles.
IHS Markit predicts more than 130 million video surveillance cameras will be sold this year. That's Micron's market, via system integrators. Companies in the field, like Dahua Technology, GeoVision, Infinova, and VIVOTEK were supportive of Micron's new products.
The 128GB ($59 MSRP) and 256GB ($119 MSRP) versions of Micron's Industrial microSD Cards are available now for ordering through Micron's global distribution channels.
+ Reg comment
We're going to see surveillance video cameras get a whole lot smarter. Expect a slew of embedded servers to appear with more intelligence in the cameras themselves and a reduced need to transmit video frames upstream to a private or public cloud data centre for image analysis.
Oracle Linux Storage Appliance gets blocked
Oracle has said its Linux Storage Appliance (LSA), which is a file server, now supports block volumes in its v1.6 release. It allows you to export files using multiple protocols including NFS version 3 and 4, and SMB version 3 (Samba). The added v1.6 functionality enables you to use block volumes to set up the storage pool to create shared file systems on Oracle Cloud Infrastructure.
The LSA appliance can be deployed on any of the available Oracle Cloud Infrastructure compute shapes, including those without NVMe disks attached.
To create shared storage using block volumes, deploy your appliance on an Oracle Cloud Infrastructure standard compute shape – one with no attached NVMe disks. You create the block volumes and attach them to an LSA instance.
After you have created and deployed the appliance, you'll be prompted to create its storage pool at initial login to the web interface.
Oracle's LSA Oracle is available at no additional cost for Oracle Cloud Infrastructure subscribers.
Sphere3D
This data protection (Overland, Tandberg, RDX) and assorted virtualization company (HVE) is proposing to raise $2.3m cash through a public offering. It is already negotiating with its CEO and chairman, Eric Kelly, who appears intent on buying the Overland Tandberg part for $45m through a special company he is setting up called Silicon Valley Technology Partners.
The rest of Sphere3D will be renamed HVE and run by Peter Tassiopoulos as its CEO, the position he held before Sphere3D merged with Overland Storage back in December 2014. It will use the $45m to pay off most of its debts.
Sphere3D says "Overland accounted for approximately 90 per cent of our revenue from continuing operations for the fiscal year ended December 31, 2017."
Sphere3D says it will use the public offering proceeds for general corporate purposes. A preliminary proposal prospectus has been filed with the SEC.
Western Digital microSD card
It is playing in the video surveillance microSD card game along with Micron and has introduced its own Purple-branded product, with capacities of just 32GB and 64GB. Micron's product starts at 32GB but goes past 64GB to 128Gb and 256GB, four times larger than WD's maximum capacity.
Like the Micron card it is intended for 24x7 operation – as if to compensate Western Digital stresses its endurance – 1,000 PE cycles – and speed. This is up to 80 MB/sec sequential read and 50 MB/sec sequential write and supports Speed Class 10 and UHS Speed Class.
Card health monitor functionality provides users and system installers information about the card's endurance and capacity, enabling predictive maintenance.
The Purple microSD card will be available worldwide through Western Digital's authorized reseller network in April in 32GB and 64GB capacities for $18.99 and $31.99 MSRP (in the US) respectively; cards available in single and convenient 25-packs for surveillance system installers and integrators.
Western Digital G-Technology Prosumer SSDs
Western Digital has a triplet of portable G-Technology drives using SSDs and Thunderbolt 3 to provide fast storage for 4K, 8K and VR video workers. They might need wallets several thousand dollars deep, though.
They follow the 7,200rpm disk drive-based line, being faster and more reliable but without these drives' higher capacities.
There are three models – single unit G-DRIVE Mobile Pro, stackable G-DRIVE Pro, and eight-bay G-SPEED Shuttle.

From left, G-DRIVE Pro, G-SPEED Shuttle, G-DRIVE Mobile Pro. Click to enlarge.
The G-DRIVE Mobile Pro has:
500GB and 1TB capacity
2.8GB/sec bandwidth
A single Thunderbolt 3 port
3m drop protection case
5-year limited warranty
MacOS 10.13+ and Windows 10 (via reformat) support
A step up brings us to the G-Drive Pro SSD with:
960GB, 1.92TB, 3.84TB and 7.68TB capacity
2.8GB/sec bandwidth
Dual Thunderbolt 3 ports
Daisy-chain up to five devices
Five-year warranty
Rugged stackable Aluminium enclosure
1DWPD endurance
MacOS 10.13+ and Windows 10 (via reformat) support
Now we get to the Godzilla of this trio, the G-SPEED Shuttle:
8TB and 16TB capacities
2.8GB/sec bandwidth
Hardware RAID 0, 1, 5, 10, 50
Eight removable SSDs pre-loaded and configured in RAID 5
MacOS 10.12+ Windows 10, 7 (via reformat) support
This can cope with multi-stream real-time 4K and 8K, and VR workflows.
The G-SPEED Shuttle has a handle like a spare fuel tank: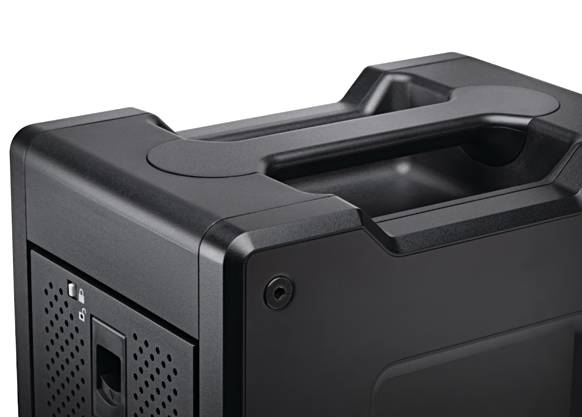 The G-DRIVE Mobile Pro is available in the US in the summer. List pricing for the 500GB model is $659.95, while the TB product costs $1,049.95.
The G-DRIVE Pro SSD is available in the US from May, priced at $1,399.95 for 960GB, $2,099.95 for 1.92TB, $4,099.95 for 3.84TB, and $7,599.95 for 7.68TB.
The G-SPEED Shuttle is available in the US this month at $5,099.95 for 8TB and $7,599.95 for 16TB – gulp.
Short
STORServer converged data protection appliances are available and they use IBM Spectrum Protect Plus to backup virtual machines as well as physical servers. Backed up data needed for long-term storage can be copied to Spectrum Protect, with its tape devices, multiple cloud data stores, and object storage, including IBM's Cloud Object Storage. ®