Pranksters advertised a job vacancy for an official assassin on a UK government website to fool wannabe James Bonds into applying.
The position of "target elimination specialist" [PDF] was published on the Direct.gov.uk website, supposedly on behalf of the Secret Intelligence Service (aka MI6 in some circles). The advert stated that the country's spy bosses sought someone prepared to "remove people whose continued existence poses a risk to the effective conduct of public order".
Prospective applicants were told they needed to be "resourceful in finding ways to accomplish their missions and, in some cases, to leave foreign countries by non-conventional means".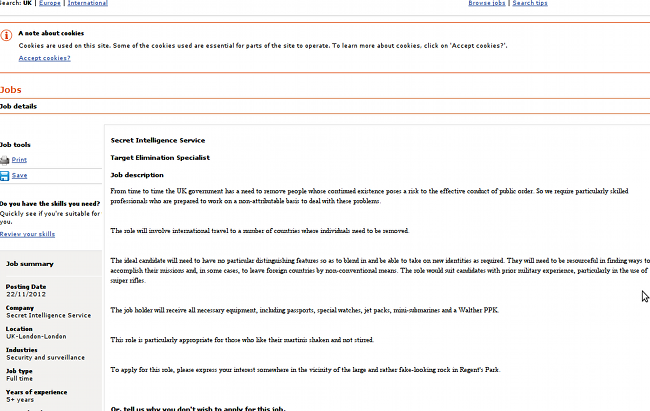 Screenshot of the bogus Bond advert - click to enlarge
The successful candidate was promised a salary of £50,000 to £60,000 as well as access to the tools of the trade including special watches, mini-submarines and a Walther PPK - James Bond's signature firearm. There was also a promise of bonuses following successful missions but, unsurprisingly, no mention of a pension plan.
Unfortunately for would-be secret agents, the job vacancy, reference number 007, was entirely fictitious.
An SIS/MI6 spokeswoman said the advert was fake. It's unclear how the bogus vacancy appeared on Directgov, however private-sector employers are able to post openings on it. The prank suggests these adverts are not always screened, but in any case there is no suggestion at this stage of a break-in by hackers.
The spoof ad was quickly removed soon after it appeared on Friday afternoon. However, MI6 is recruiting and took out full-page adverts in upmarket titles such as The Economist to say so.
The British government does in fact possess an organisation not completely unlike the "Double O Section" where James Bond works, which operates on the orders of SIS chiefs and whose personnel are occasionally expected to kill people in the line of duty: see our article on the subject here.
However that organisation doesn't recruit from the general public - it takes new joiners only from the special forces of the British military, and they accept applicants only from within the regular armed services. So wouldbe James Bonds (as opposed to those wishing to become ordinary deskbound SIS intelligence officers) should start off with an application to the military, rather than to SIS. The likeliest places to start out would be in the Army or the Royal Marines. ®
Similar topics