The management of NASA's Space Launch System (SLS) is to be audited by the agency's watchdog.
The probe was announced in a tweet by NASA's Office of Inspector General (OIG), and is sure not to have ruined the morning coffee of Uncle Sam's army of scientists.
The SLS mega-rocket is supposed to take space adventurers to the Moon and Mars, and was supposed to cost about $18bn – now it's looking more like the invoices will balloon to roughly double that. And it's late.
OIG announces an audit assessing NASA's management of the Space Launch System and Mobile Launcher.

— NASA OIG (@NASAOIG) April 17, 2018
Since major US policy decisions appear to be emitted on Twitter these days, it seems perfectly reasonable to announce an audit of a multibillion program in the same way.
The OIG scrutinizes NASA programs, and reports its findings back to the NASA Administrator (still TBC), US Congress, and the American people who have to foot the bills.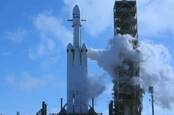 No Falcon Way: NASA to stick with SLS, SpaceX more like space ex
READ MORE
NASA is used to being on the receiving end of a good shoeing from its regulator, with a January 2018 report [PDF] finding that the agency's management of the International Space Station's Center for the Advancement of Science in Space (CASIS) lab had hit a woeful 40 per cent of its performance goals.
The OIG castigated NASA for "weaknesses in performance measurement and the lack of an overall strategy have created an environment in which NASA continues to accept incremental improvement rather than more tangible attainment of agreed-upon goals."
That's something that may ring bells with anyone following the troubled SLS program over the years, which has cost considerably more than the $196m NASA will have lobbed CASIS by the end of 2024. Detractors and supporters of NASA's big deep-space rocket project effort will be watching the audit with interest.
NASA is already being audited by another review board over the progress – or lack of it – with the James Webb Space Telescope. The $8bn project has been kicked back until 2019 and has significant cost overruns.
Any SpaceX or Orbital smugness will be offset by another ongoing audit by the OIG into the commercial resupply of the International Space Station. ®
Updated to add
Renee N Juhans, executive officer at NASA Office of Inspector General, told The Register: "Tuesday's announcement is a follow-up to our 2012 report which will also examine other aspects of how NASA manages the SLS. The review began on Tuesday and could take up to 9 months to complete."