This article is more than 1 year old
Scality swallows $60m to tame the multi-cloud data management beast
And they're not the only software-defined object storage biz ready to cash in
Analysis Software-defined object storage biz Scality has scored an extra $60m in funding to help along development of its cloudy storage tools.
The financing was arranged by Silverpeak, a European investment bank, with cash from new investor Harbert European Growth Capital, and participation from all original investors.
The cash brings Scality's total funding to $152m and is meant to make "multi-cloud real for its customers", the firm said in a prepared remark.
"Scality will use the new infusion to accelerate its bold investment in engineering to innovate in ways that transform IT and simplify the path to creating value with data," it added.
The multi-cloud mantra is also being sung by companies like Cohesity, Druva, Egnyte, NetApp and Rubrik. What's it all about?
Zenko
Recently it seemed that Scality had set itself on a bit of an odd path with Zenko, its open-source public cloud gateway and controller. It's an S3-based data mover, taking data from on-premises apps and squirting it out to AWS or Azure clouds to be stored in native format, and back again if needed.
How was Scality going to make money from this? Support packages?
In July, we wrote: "An enterprise version of the product could be developed with paid-for functionality above the base Zenko feature set – search and analytics, for example. For now, Scality has no monetisation plans."
But this latest funding round indicates it might do. How has Scality convinced the VCs to stump up $60m? To see that we need to step back a moment.
The multi-cloud data management dragon
If you go down to the storage woods today you might be surprised to learn that hybrid cloud data management is evolving into multi-cloud data management (MCDM).
Druva, with Phoenix, and Rubrik, with Polaris, are responding to the same thing, as is NetApp, with Data Fabric, and Cohesity.
Multi-cloud data management is not a wondrous new advance. It is something that has been forced on businesses as they take advantage of multiple public clouds, attempt to avoid lock-in, and then find themselves mired in significant management problems.
When IT was simpler, customers managed their data in their own data centres. Then they developed multiple data centres, and added remote and branch office (ROBO) mini-centres, and are now adding IoT edge device systems.
Management of data was, in theory, relatively easy, as it was all on-premises: a single management domain. Customers could envisage single, company-wide storage systems for block, file and object data, secondary data management, file sharing, overall data protection and compliance schemes. They could plan towards these things and foresee effective management.
The next development was hybrid clouds, throwing public cloud storage into the mix, thereby adding another environment to be managed.
But now the multi-cloud era is upon us with diverse environments.
Customers don't want multiple data management domains – one for on-premises data, AWS data, Azure data, Google Cloud Platform data and whatever other platforms they use.
The schematic below illustrates these ideas – a multi-cloud data management layer added across the on-premises and public cloud environments.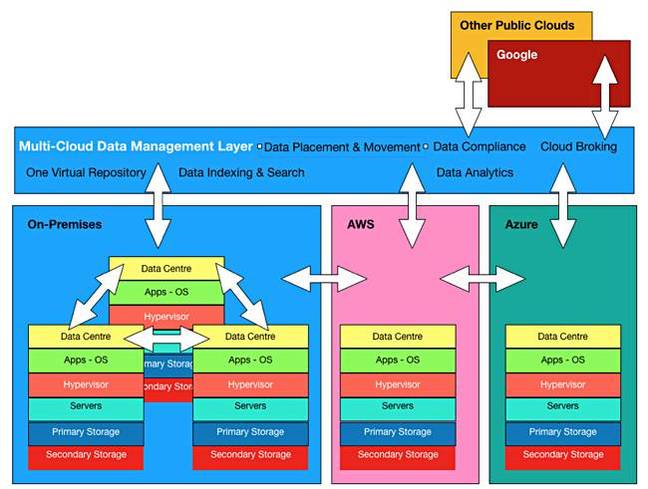 Click to enlarge
What customers want and need, or at least analyst types presume, is a single management domain – a silver bullet to slay the multi-cloud dragon threatening to suck up massive amounts of resources.
This is what Druva, Rubrik and now Scality are trying to provide.
CEO Jerome Lecat said the basic storage plumbing remains, both on-premises and in the cloud, but it can't provide "freedom and control of data, and getting insight from data in a multi-cloud environment."
With a well-functioning data management layer in place, you will be able to place data in the right repository for different workloads.
What you will also be able to do, he hopes, is have AI functionality to automate the addition of metadata about storage objects. This will enhance the ability to search for stored objects using particular profiles, such as "faces".
Zenko will be available in the public cloud and on-premises. Will it be provided as a service?
Lecat says the management of Zenko instances will be through SaaS called Orbit, accessed through a cloud portal. Users could have Orbit create replication workflows using a point-and-click interface, and use it to initiate searches across a single global namespace.
They can aggregate and monitor their cloud storage capacity utilisation with usage drilldown across platforms.
Competition
Lecat said he believes Zenko provides real differentiation. "We think it's very, very different from Rubrik and Cohesity," he says.
He tells us that Scality is competing with large enterprise suppliers. Since the start of 2017:
180 competitive engagements were with EMC
80 were with NetApp
56 were against Ceph
50 against IBM CleverSafe (COS)
The rest were smaller. He didn't provide a win rate.
Lecat did say: "A ton of startups will try to do a Zenko equivalent. Scality has already shown it can support large enterprises. They won't buy from startups." Not all the startups will succeed.
The CEO backs the premise that large enterprises can't do without a multi-cloud strategy and will really need multi-cloud data management.
+Comment
Without Zenko, the $60m Scality investment might not have happened – the funding could be seen as a bet that there is a real need for multi-cloud data management. Is there?
The answer – if you are Cohesity, Druva, Egnyte, NetApp, Rubrik and Scality – is a resounding "yes". On the customer side it is not yet clear, though enough are telling their suppliers that they want MCDM.
Is the MCDM dragon large enough to support all these suppliers and their developments? If and when Gartner and IDC start sticking it in Magic Quadrants and Marketscapes, it likely will be. ®