This article is more than 1 year old
Elon Musk's latest Tesla Model 3 delivery promise: 6,000... a week
When we miss a target we make it even harder to reach next time! Wait, what?
Electric car maker Tesla is to boost production to 6,000 cars per week in June, company chief Elon Musk has announced – four months after his last production boost deadline sailed past unfulfilled.
"As part of the drive towards 6K, all Model 3 production at Fremont will move to 24/7 operations. This means that we will be adding another shift to general assembly, body and paint," Musk said in an email to his underlings.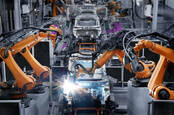 Tesla hits Model 3 production speed bumps, slides to loss
READ MORE
Electric car PR news website Electrek burbled that the plan was "very bold in a Musk sort of way", while quietly mentioning that by the end of last year, Tesla was supposed to have built 2,500 Model 3 vehicles.
Tesla failed to meet that target, falling short by 20 per cent – an improvement over the prior quarter where it knocked up just 220 out of a projected 1,500 Model 3s. Shortly after the flop at the end of last year, Tesla posted yet another record quarterly loss, albeit scoring record revenues as it did so. Broadly, the company's revenues are on a steadily increasing trend.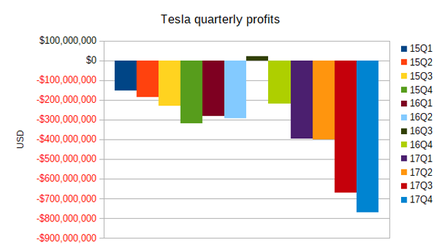 Tesla's reported profits, Q1 FY2015 – Q4 FY2017
Addressing this in his email, Musk confessed: "A fair criticism levelled at Tesla by outside critics is that you're not a real company unless you generate a profit, meaning simply that revenue exceeds costs. It didn't make sense to do that until reaching economies of scale, but now we are there," adding that any company expenditures greater than $1m would need personal sign-off from him.
He also described some of Tesla's subcontractors as "worse than a drunken sloth".
Car analyst Max Warburton of American outfit Bernstein wrote, in a recently-issued research note about Tesla's heavily automated Fremont factory: "I have seen what works & what doesn't. Automation in final assembly doesn't work. Many have tried it in the past (Fiat, VW, GM) – and failed."
Warburton added: "The narrative around Tesla has been that it is having difficulty ramping 'because producing cars is difficult'. But we think a more accurate portrayal is that Tesla is having difficultly ramping because it has attempted to reinvent totally the production line. This is too ambitious and risky in our view."
The electric car firm has had a rocky time with public perception lately, including getting into a public spat with US regulators after a fatal crash in a vehicle that used its Autopilot software, although it is not known if there was a connection. The software is designed to be used by a human driver who keeps their eyes on the road, although this is not how the public appears to be perceiving the product. ®