Non-shingled and ready to mingle: WDC catches up with 14TB disk rivals
HC530 takes on Seagate's Exos X14, Tosh's MG07ACA
Western Digital has caught up with rival Toshiba to introduce its own non-shingled 14TB disk drive.
Seagate also has Exos X14 14TB drive tech, but isn't shipping it yet. Products are being sampled with certain customers like Baidu.
The Ultrastar DC HC530 uses two-dimensional magnetic recording and is a follow-on from the shingled Hs14 drive, which has blocks of overlapping write tracks, necessitating a host-managed, block-level erase and rewrite when data on the drive has to be rewritten. This slows down write speed and requires additional software in the host.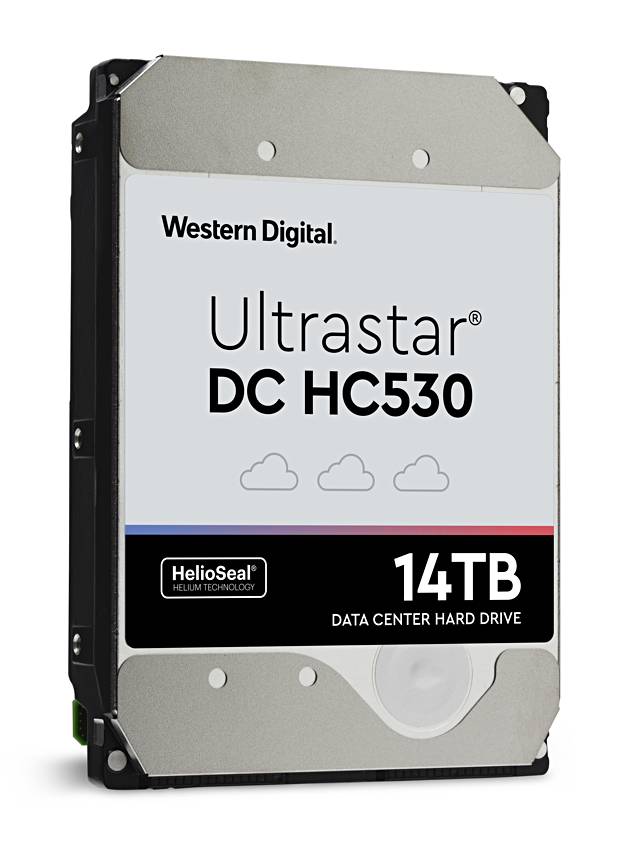 The HC530 has a 904Gbit/in2 areal density and an improved gen-3 dual stage Micro Actuator. There is self-encrypting drive functionality, a 2.5-million-hour MTBF (mean time between failures) rating and a five-year warranty. The drive supports workloads in cloud data centres of up to 550TB/year.
WD says the drive has a 56 per cent lower idle W/TB rating than its 8TB Ultrastar air-filled drives.
Seagate's Exos X14 and Toshiba's MG07ACA compare to the HC530 thusly:
| | | | | | |
| --- | --- | --- | --- | --- | --- |
|   | Platters | Spin Speed | Transfer Rate | Cache | Interface |
| Seagate Exos X14 | 8-9 | 7,200 | 480MB/sec | 256MB | 6gig SATA/12gig SAS |
| Toshiba MG07ACA | 8 | 7,200 | 298MB/sec | 268MB | 6gig SATA |
| WD DC HC530 | 8 | 7,200 | 267MB/sec | 512MB | 6gig SATA/12gig SAS |
The Exos X14 may use Seagate's MACH.2 actuator technology, which would explain its high transfer rate. We're also not certain about its platter count at this stage.
WD said it will use these 14TB drives in its disk array storage products.
The HC530 is shipping to selected customers for qualification now. There's no pricing information available yet. Grab a data sheet here. ®