This article is more than 1 year old
BT pushes ahead with plans to switch off telephone network
Consultation next month following plan to shift Brits over to VoIP
BT is forging ahead with plans to shut its traditional telephone network in Britain, with the intention of shifting all customers over to IP telephony services by 2025.
The closure of the public switched telephone network (PSTN) is part of plans by BT toward internet-based voice calls via a fibre network. As such it will be looking to close a chunk of exchanges.
Yesterday, Openreach wrote to its communications providers about the move. The broadband division will open consultation next month on the withdrawal of its Wholesale Line Rental (WLR) products, which are reliant on the PSTN.
In an email, seen by The Register, it said:
"This is a truly significant change for the industry and represents a move from an analogue to a digital, fibre led future. These changes will affect how you do business with Openreach."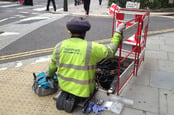 BT: Let us scrap ordinary phone lines. You've all got great internet, right?
READ MORE
The consultation will seek feedback on the process and timeline for the withdrawal of WLR and related products.
Cathy Gerosa, head of Regulatory Affairs at representative body for providers, the Federation of Communication Services, noted many of its members have a large WLR presence. She said many do business directly with Openreach for managing that. "This gives them a direct route in for ordering products and for chasing when things go wrong.
"With the move to fibre-only, the B2B [comms providers] are likely to be pushed one place down the chain... and will have less direct control over the services that they offer."
An Openreach spokesman said: "In May, we'll consult with industry around the process of withdrawing WLR and related products.
"This follows plans by BT to upgrade its customers from analogue (PSTN) to digital (all IP) telephone services by 2025.
"We'll be working with our Communication Provider customers over the coming months as we consider the move to IP voice services - where broadband rather than voice becomes the primary service."
Other communications companies in Germany, Japan, Sweden, are already in the process of moving voice to run over IP. Orange has set a goal of having all IP (digital) networks by 2020, and Deutsche Telekom aims to migrate all its lines in Europe to digital by the end of 2018.
Openreach also plans to pass three million homes and businesses with fibre-to-the-premise by 2020. ®