This article is more than 1 year old
Motorola Z2 Force: This one's for the butterfingered Android lovers
'Shatterproof', Mod-tastic, speedier stock Android – there's lots to like
Released last autumn, and with this year's range hoving into view, Motorola's Z2 Force isn't the newest kid on the block. But it still remains the only "shatterproof" phone on the market, and it has proved to be a great base from which to evaluate the latest Motorola Mods, which you'll see in our forthcoming Mods roundup.
There are really three reasons to want to read on.
You often break your phone, and are sick of carrying around cracked glass, or paying the repairs fee.
Or, you want Nexus-like performance from a stock Android but discover that Google has given its own-brand phone range stratospheric pricing.
Or you're intrigued by the modular idea, and are willing to invest extra in a gadget drawer that now features a rich range of specialist magnetic accessories.
Or maybe all three.
Launched in 2016, Mods are a bold attempt to attempt to differentiate Motorola from the rest of the pack, and parent company Lenovo has given it serious backing.
Compatible phones are thin and light and the Mods clip on the back of the device using strong magnet. While an entirely modular phone – Google's ill-fated Project Ara – was always going to be a difficult proposition, Motorola's Mods available include speakers, a projector, cameras, power packs and even a printer. I can't think of a Mod that would get everyday use that isn't already available in some form, although the one I want most has been troubled by bugs and isn't currently available in the UK: the Qi-compatible wireless charger/battery Mod.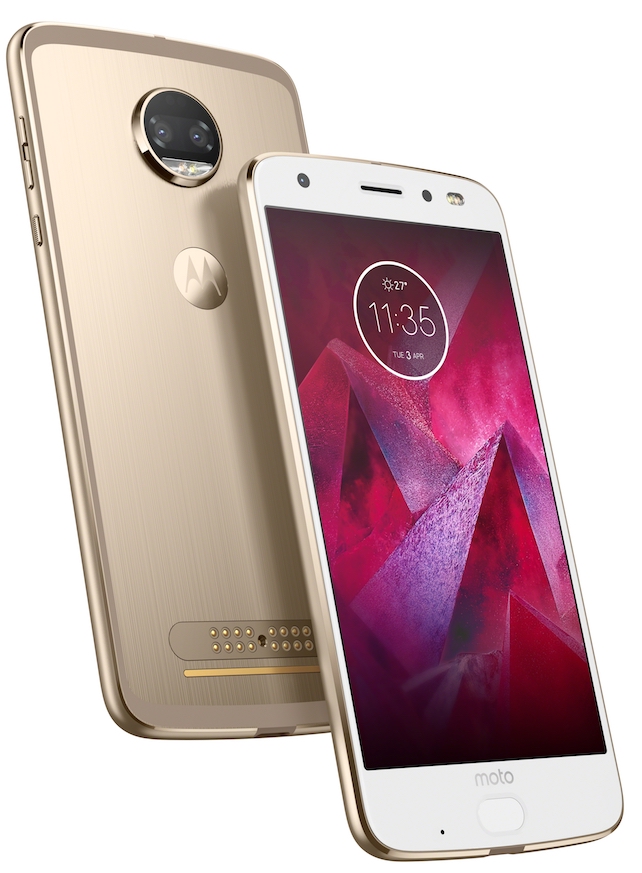 Click to enlarge
The emphasis on the shatterproof plastic screen and the Mods range tends to draw attention to what a fine phone the Z2 Force is. It's a great all-rounder and almost flawless. But we did notice a flaw, and although it is easily alleviated, it's a serious one that buyers need to know about straight away.
The Z2 Force uses a 5.5-inch diagonal POLED (Plastic OLED) display, which is thinner than an OLED display. The image quality is excellent, but Motorola chose to go with a plastic surface which scratches if you as much as breathe on it. I found it picked up scratches simply from being taken in and out of a pocket. Scratches appeared mysteriously, like a episode of Doctor Who. This can be remedied by applying a decent screen protector. But it seems odd that a phone sold on its unique quality of a resilient screen needs some extra help like this. There really should be one included in the pack.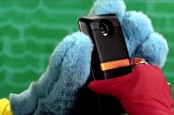 You want a 4-SIM mobe? Never mind why – your wish might come true
READ MORE
Let's pretend they did include one, and none of the scratches ever happened – it was all a bad dream.
The reason you're here I suspect is that you want the phone to endure – and it should, providing you've slapped on a protector. Around the blogs it has been bent, subjected to 10 seconds of flames, and come out chortling. Well, not chortling, but working. Curiously however although you may be able to drive a car over it, keep it away from the sink. It doesn't have IP67 water or dustproofing.
And this puts in a lonely category where it doesn't quite compete with anything. The absence of an IP67 means the rugged Cat phones, and Samsung's S8 Active alternatives are "armoured" to duke it out amongst themselves.
The phone itself is a model of well-balanced undemonstrative design, which feels completely different to its predecessor, the Z Force (reviewed here). That really felt like a tank. With the Z2 Force, the default Mod is a slim plastic cover. Remove that, and you can see how thin and light it really is. Without the cover it's more like an iPhone than a 'Droid; it's that thin. I spent much of the time testing Mods, but I was always happy to take it out without one, as it compares favourably to any recent review unit for weight. eBay is stuffed with Mods-compatible replacement covers. The advantage being that you can change your look without adding to the width and mass of the phone.
Software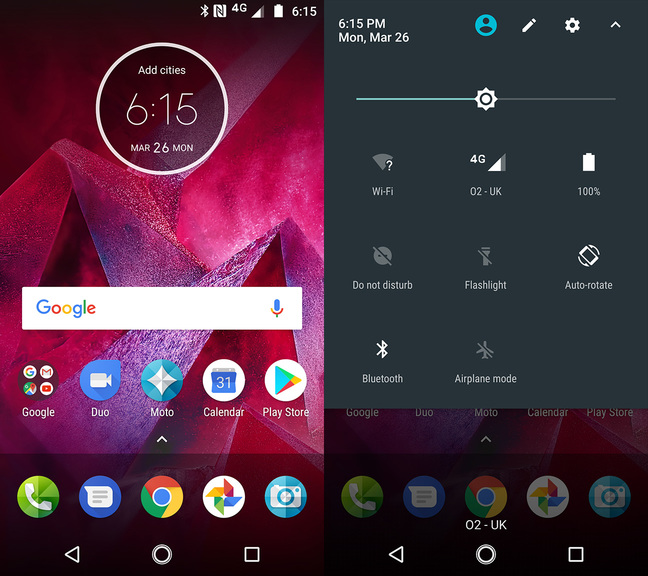 Click to enlarge
Motorola's philosophy has not changed since it began its comeback just over four years ago, with the first low-cost Android that didn't suck: the Motorola 1st gen G. This was complemented by the idea of emphasising one or two features instead, rather than trying to ape the leaders. These didn't always endure. Motorola's Smart Actions – discussed here in 2012 – didn't, unfortunately.
But the idea was to keep it simple, as minimal as possible. The "close-to-stock" simplicity helped the G become a deserved hit, and we're about to see the sixth iteration. Heavy skins took a particularly heavy toll on low end hardware. But people appreciated this at the high end too. As Google began to improve its bundle OEMs found they were duplicating Google services.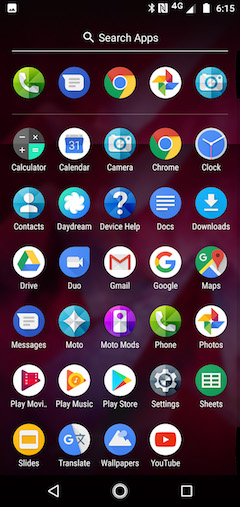 Click to enlarge
Motorola's bundle is actually so minimal, it barely takes up more than one screen of the app drawer. Others achieve this by creating lots of folders, but this really is a minimal bundle. Only a Wallpaper app sets it apart from the Google Android One bundle - all the other apps are Google's own. Of course that doesn't make the Z2 Force immune from duplication, you'll notice that there are multiple chat/conferencing apps (Allo, Duo).
As a result performance is superb, with a tactile, responsive display – something that Google's own brand stock Android phones have tried to achieve. Only with Google's rebranded Pixel range now far more expensive, you can get one for a decent price. The phone uses the 2017 Snapdragon 835, with plenty of RAM stuffed in: 6GB or 4GB depending on which SKU you choose.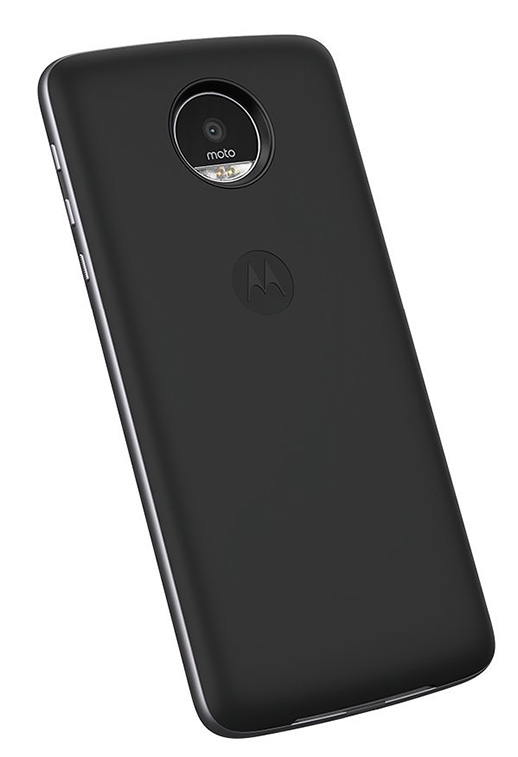 Motorola's battery mod is compatible with its current Z-series phones.
Call quality was also very good but with a smaller than typical battery pack, the phone didn't have as much in the tank by 7pm as others. And I really appreciate the sophisticated power savings settings, and the "dumbphone mode" mode for emergencies that you get on rivals. Power saving kicks in when the battery reaches a specified percentage – that's it. As with the Galaxy S9 I found it adequate: not below par, but below some of the recent units I've looked at.
It's a legitimate trade-off: endurance for weight. Strap on a battery Mod, though, such as Motorola or Incipio's 2200mAh cover, and you're set for day two, or even day three. These dedicated battery Mods charge fast, too. Rapid charging has made smaller batteries more justifiable, manufacturers are keen to point out.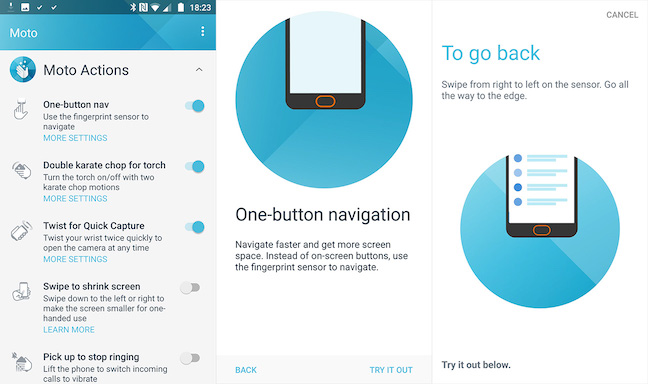 Click to enlarge
Imaging
The Z2 Force uses two 12MP sensors in a colour and mono setup. Unfortunately it lacks hardware OIS, something phones in the £600+ range usually have. This showed a little in the videos I took with it. Software stabilisation has come along really well, for example for in "tracking" shots taken while walking, but the video hiccups when something enters the scene.
Overall, I found the Z2 Force took very well-balanced pictures, without the aggressive over sharpening or over saturation that is now common in today's gimmick-filled phone world relief. You can see that from the colours reproduced across the photos below.
The camera struggled a little at times guessing where to focus: the apple is in focus in the test shot below, but the daffies (and the rest of the fruit in the bowl) could be sharper. The dual sensor setup gives it decent bokeh effects. The Roman mural was taken in challenging indoor low light conditions, and zooming shows a blotchy picture. But for instant sharing it's a decent composition.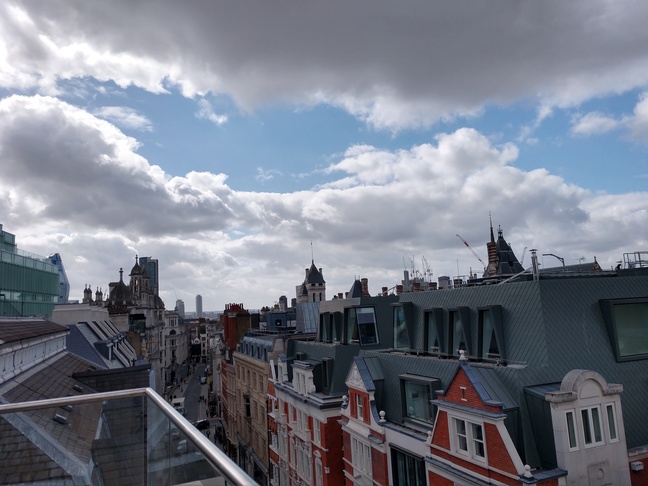 Click to enlarge: 50pc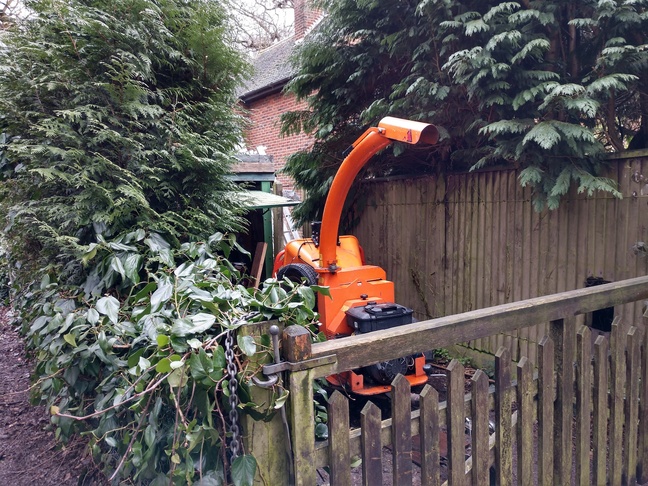 Click to enlarge: 50pc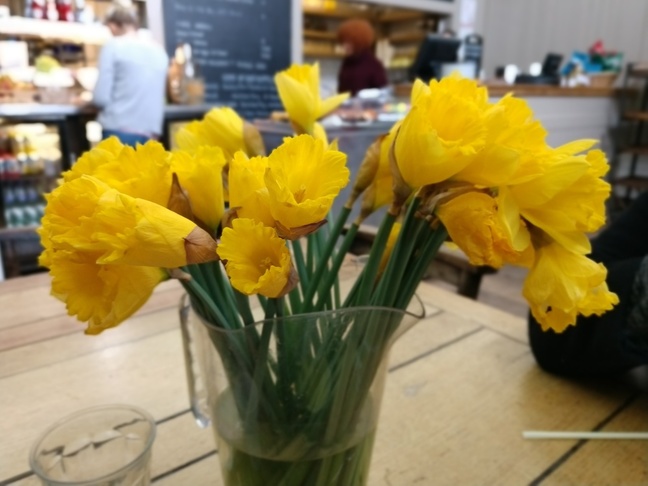 Click to enlarge: 25pc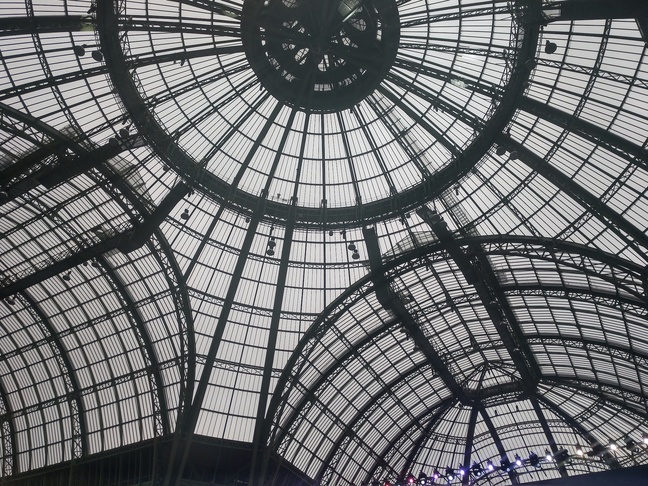 Click to enlarge: 50pc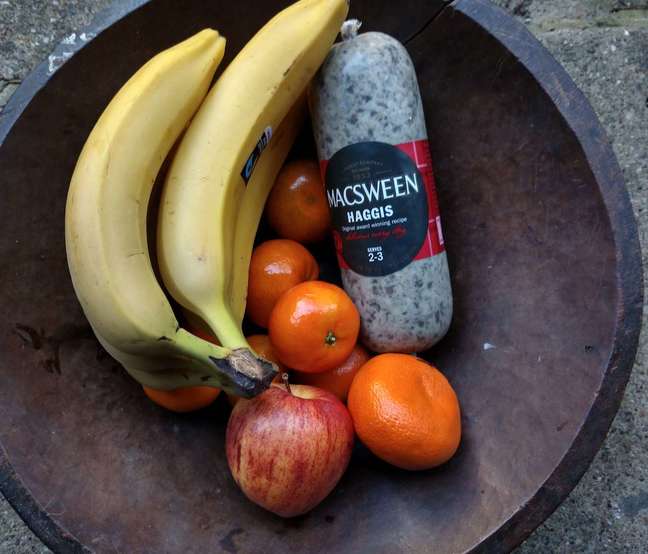 Daylight. Click to enlarge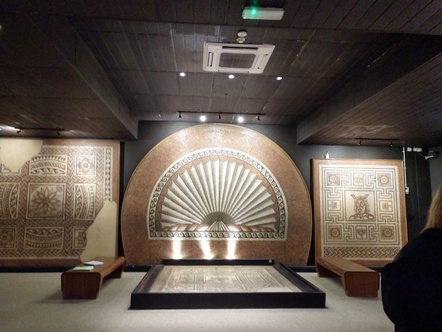 Click to enlarge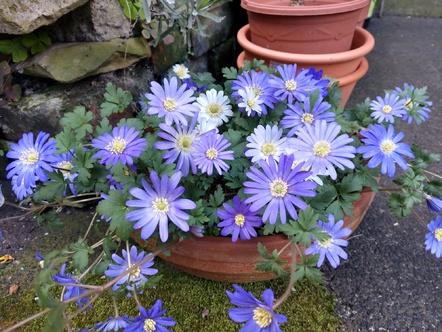 Click to enlarge
Conclusion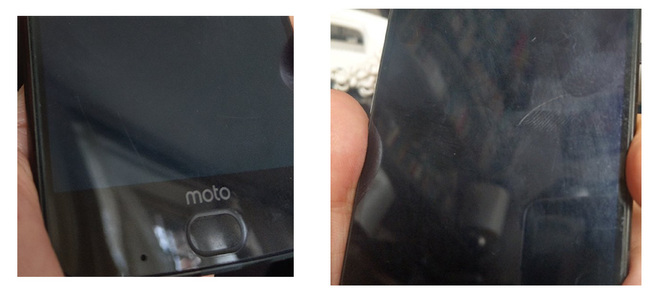 The Z2 Force attracts scratches and smudges
I'll come clean. It's the review season (that follows February's "MWCival") and I'm drowning in gimmicks. The Z2 Force is a six-month-old phone that chooses to be unassuming, does everything well, and I found it was really nice use: being lighter and as responsive (or more responsive) than flashier rivals. But Moto, like Sony and HTC, have been elbowed out of traditional retail channels, so it's harder to try it for yourself and rare to even see one in the wild.
The Z2 Force really comes with only two caveats: you must apply a screen protector at once, or you'll regret it. And the cost of Mods will raise the TCO a fair bit. You're already looking at a hefty ticket: the Z2 Force's street price of £650 to £690 is more than it should be. At £500 it would be a steal.
But then you're buying something considerably more than a lone unibody phone can deliver. That's the point. For example, the speakers I tried all made the radio and music audible in the kitchen, something a solo phone will struggle to do. And the wonderful 360 camera integrates much better than a separate dongle. When Mods work, they work well. When the high price of the Z2 Force falls to around £500 it will look much better value. But don't forget the screen protector.
A Mod Festival will follow soon. ®
Motorola Z2 Force: Key Specs
Display: 5.5-inch ShatterShield POLED, 1440x2560 pixels; c.534 ppi density
Innards: Qualcomm Snapdragon 835 64GB or 128GB Flash, 4GB (US) or 6GB (non-US) RAM; microSD up to 256GB;
Software: Android 7.1.1 (Nougat) or 8.0 (Oreo)
Cameras: 12MP (f/2.0) main, 5MP (f/2.2) front-facing
Dimensions: 155.8 x 76 x 6.1 mm; Weighs: 143g Battery: Li-Ion 2,730mAh battery; takes Motorola Mod-compatible battery packs
Waterproofing: "Splash proof" but no formal IP rating provided.
Price: Currently c.£659 to 699; Motorola points you to Amazon and Clove.
More
:
Full nerdy specifications
.