The British teenager who was sufficiently talented and stupid to hack the webmail of the head of the CIA was today sent down for two years.
Kane Gamble, who is now 18 but was 15 at the time of the attacks, blagged his way into the internet accounts of top American officials, including then-CIA chief John Brennan's AOL account (he's old), all from his parent's home on a Leicestershire housing estate.
As well as gaining access to the email and phone accounts of security officials, he managed to get hold of "extremely sensitive" documents on military operations in Iraq and Afghanistan, the Old bailey court in London, England, heard – some of which he passed to Wikileaks.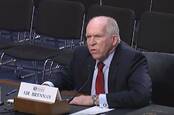 Crackas With Attitude hacker 'Incursio' gets two years in the clink for embarrassing CIA boss
READ MORE
He also goaded the world's most advanced intelligence agencies, posting the message, "I own you," on the home TV of the US Homeland Security Secretary Jeh Johnson, and left Johnson's wife a creepy voicemail message in which he asked: "Am I scaring you?"
Not content with annoying officials personally, he also went on Twitter, leaving messages like: "@CIA set your game up homies. We own everything. #freepalestine #CWA." None of which was very smart.
The Old Bailey heard how Gamble had convinced call center workers at Verizon and AOL to provide him with personal details of Brennan, Johnson, and then-FBI director Mark Giuliano, and then used those details to access their online profiles. He got into Brennan's iCloud account, and took control of his wife's iPad through a password reset.
As part of a group of hackers that called themselves "Crackas With Attitude", he also targeted Avril Haines, President Obama's deputy national security adviser, and John Holdren, his senior science and technology adviser.
Not so fast
Somewhat inevitably, Gamble was swiftly tracked down, and was cuffed in February 2016, pleading guilty in October 2017 to 10 charges: eight of performing a function with intent to secure unauthorized access to computers, and two charges of unauthorized modification of computer material.
The presiding judge, Charles Haddon-Cave, called it a "nasty campaign of politically motivated cyber-terrorism," but his defense lawyer argued that he had simply been "naïve, immature and childish" and hoped to effect a change in US policy from his action – he claimed to have acted out of support for Palestinians.
Gamble "never meant to harm and traumatize people on an individual basis," his lawyer claimed, asking for a suspended sentence so he can sit his GCSEs in June: he hopes to read computer science studies at university.
Instead, he will spend two years in a youth detention center in the UK, and the judge ordered that his computers be seized.
All of which strikes us as a very light and lucky punishment given who he had targeted and what he did. Especially considering his hacker pals in the US got two and five years hard time for taking part in the stupidity. ®