Amazon, LG Electronics and KMG-Imports are being sued by a man in the US State of Rhode Island for selling a vaping box and batteries that allegedly burst into flames and set him on fire.
In a lawsuit filed last month in Rhode Island Superior Court in Providence County, and just shifted to US District Court for Rhode Island, plaintiff Kyle Melone claims that two lithium ion batteries he purchased for his e-cigarette device "spontaneously exploded in [his] pocket setting his shorts and leg on fire."
The hardware in question, LG HG2 18650 3000mAh flat top rechargeable batteries, were used with Pioneer4you's iPV5 200W TC Box Mod vaping device, referred to in the complaint as an e-cigarette.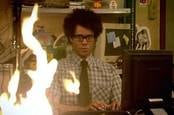 Chemical burns, explosive fires, they all come free with Amazon power packs
READ MORE
Melone, a passenger in father's car at the time, "jumped out of the car and attempted to remove the batteries from his pocket and extinguish the flames, resulting in burns to his hands."
According to the complaint, Melone spent three days in the intensive care unit of Rhode Island Hospital. His injuries, it is claimed, caused considerable pain and incurred lost wages and significant medical bills.
A GoFundMe campaign set up last May to raise money for medical expenses, purportedly by Melone's aunt, describes serious injuries arising from battery combustion, with a picture to match.
"Kyle has suffered second degree burns on 98 per cent of both hands and his right upper thigh has third degree burns," the website says. "These injuries are preventing him being able to work, provide for his expecting fiancé, and prepare for there [sic] daughters arrival."
The creator of the campaign, identified as Angelique Melone Helms, did not immediately respond to a request for comment. Attorneys representing Melone could not be reached.
The additional perils of smoking
The complaint says explosions and fires by e-cigarettes have become more common, pointing to several reports of injuries arising from e-cigarette battery explosions. It also notes that the US regulators have banned e-cigarettes from checked bags "because they have been known to catch fire."
The Federal Aviation Administration, part of the Department of Transportation, cites incidents in 2014 and 2015, one on a plane and one in the baggage check area, where e-cigarettes in bags have caused fires.
The transportation agency, and its peers in other countries, took similar action against Samsung's fire-prone Galaxy Note 7 two years ago.
The lawsuit claims that Amazon, LG and KMG-Imports were negligent for the sale, manufacture and distribution of flawed batteries and e-cigarette gear. The damages sought are not specified but the amount is likely to be substantial.
Amazon did not immediately respond to a request for comment.
A spokesperson for LG Electronics in the US said a separate company based in South Korea, LG Chem, makes batteries for the electronics conglomerate. "We can't speak on their behalf, but we've heard of another incident like this with a counterfeit battery for electronic cigarettes," the spokesperson said in an email to The Register.
Owing to time differences, LG Chem is not immediately available to comment but if the battery biz chooses to offer a response at a later date, The Register will amend this report.
KMG-Imports, based in Irvine, California, declined to comment in a phone call. ®