Troubled private-equity-owned Veritas started making layoffs in the UK yesterday as its parent continues to implement cost-cutting measures.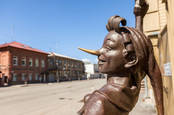 Veritas considers 'restructuring' another two offices, with 350+ pink slips possible
READ MORE
Company insiders across the UK told The Register that at least 100 heads were rolling from the Green Park site in Reading, with research and development staff in CPO, the product area, said to be hit hard.
"All Veritas R&D roles in CPO at the Green Park site in Reading are being made redundant," said one. "Other sites will be also be impacted – but Green Park is by far the biggest hit."
Another told us that "over one hundred people have gone from the Reading office". Restructuring was also expected at Veritas's offices in Dublin, Ireland, but we have yet to receive confirmation.
Veritas was spun out of Symantec and taken into the arms of the Carlyle Group in a $7.4bn transaction in 2016. Things did not go well at the cloud management biz, and CEO Bill Coleman was replaced by Greg Hughes in January.
The following month the organisation hired restructuring specialist firm Alix Partners to plot a path forward to generate profit margins of between 30 to 40 per cent.
Overheads continue to be chopped and the worldwide Veritas Vision conference was canned following news that support was being consolidated and more work being shifted to less costly regions, such as Pune, India.
There are tens of thousands of long-term and loyal NetBackup and Backup Exec data protection customers, but newer data protection firms have arrived on the scene that focus on virtualized servers and the cloud, such as Rubrik and Veeam.
Also competitors like Commvault and Dell have developed their own tech, leaving Veritas scrambling to catch up.
Our understanding is that the firm spent money developing general information intelligence-related stuff but these have not yet paid off. Veritas, we're told, is now focusing more on the basic data protection products, such as DLO (Desktop and Laptop Option), Backup Exec, NetBackup, NetBackup add-ons and EV Cloud (Enterprise Vault Cloud).
CEO Greg Hughes visited the UK on Monday and spent time with local execs. This was followed by yesterday's "town hall" meeting and then the layoffs.
There are meetings being set up in France, Germany and Spain to discuss redundancies in those countries, sources said.
Veritas spokesperson Ross Camp issued a canned remark that will do little to assuage the concerns of impacted workers:
Veritas is moving into the next phase of its transformation, transitioning to a new operating model that's focused on strengthening our overall business, increasing growth and profitability and accelerating innovation in key areas of focus for the company.
As we shift to this new operating model, Veritas is restructuring to enable the company to increase investments in critical areas while continuing to deliver outstanding customer value and competitive differentiation across our data management portfolio.
We asked Veritas about the numbers involved and the future of R&D in the UK as well as whether any other areas of Veritas were affected by job cuts. So far the company has been unable to respond.
Camp added: "Although we do not comment on specifics regarding restructuring on a country-by-country basis, Veritas does not take these changes lightly and is fully committed to supporting impacted employees during this transition period." ®