This article is more than 1 year old
Amazon and Netflix join Hollywood to lob sueball at 'Kodi' service SetTV
No surprise really
Silicon Valley has historically been at war with Hollywood, so Amazon and Netflix's membership of a studio-dominated anti-piracy alliance may raise eyebrows. But it shouldn't: Amazon and Netflix are big studios now in their own right, and Apple is expected to join them.
Last week the recently formed Alliance for Creativity and Entertainment (ACE), of which Amazon and Netflix are members, filed a suit against Kodi service SetTV. SetTV bills itself as a cable replacement and puts a slick front end on unlicensed TV and movie streaming services, charging $20 a month. It also sells a preloaded set-top box for $89.
The lawsuit, filed in the Central District of California (PDF) on Friday, 20 April, takes aim at the company behind SetTV, Set Broadcast LLC, aka Setvnow.
According to the complaint, the services "knowingly and intentionally [induce] the infringement of plaintiffs' copyrighted work by "actively inducing, encouraging and promoting the use of their software application for blatant copyright infringement". Amazon movies including The Only Living Boy In New York and Netflix's Stranger Things are among the original content cited in the complaint. ACE also names Jason Labossiere of Largo, Florida and Nelson Johnson of Riverview, Florida as individual defendants in its suit, alleging that Setvnow is operated and marketed by them.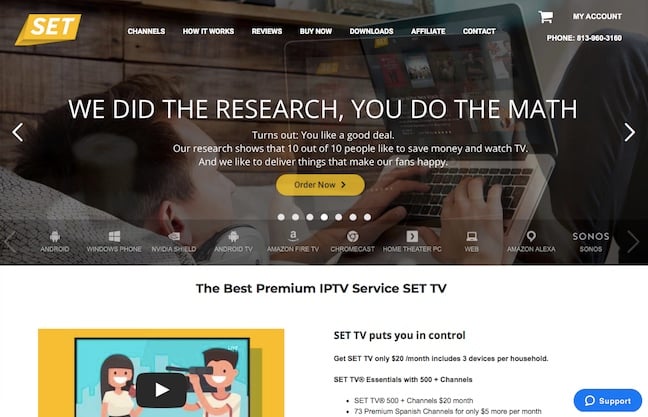 "'Setvnow' and other piracy software applications undermine the legal market for films and television shows, causing harm to a vibrant creative economy that supports millions of workers around the world," ACE told us in a statement. "ACE is dedicated to protecting creators and reducing online piracy through dedicated actions against illegal enterprises like 'Setvnow'."
The lawsuit, the third filed by ACE, requests a jury trial.
Unlicensed streaming via Kodi-based devices – the lawsuit refers only to "set-top box computer hardware devices" – is becoming more difficult as the worldwide crackdown continues, with over 5,000 domains blocked in over 40 countries. Google stopped autocompleting Kodi queries with results relating to streaming software last month.

Google continues to distribute the app through its Play Store for Android. ®
The case is Amazon Content Services, LLC et al v. Set Broadcast, LLC d/b/a Setvnow et al, 2:18-cv-03325, in the California Central District Court.