Petty PETA rapped by judges over monkey selfie copyright stunt
Animals can sue, but don't have the ability to file intellectual property lawsuits
---
A US appeals court has upheld a lower court's decision that a monkey can't own copyright.
British photographer David Slater says he has been ruined by the unauthorized spread of a wildlife photo taken using his camera equipment. The picture in question was snapped when the shutter was activated by a seven-year-old macaque in Indonesia in 2011.
Three years later, however, Slater's ownership of the image was disputed by Wikipedia supremo Jimmy Wales and animal rights activist group PETA. Publication of the selfie on Wikipedia as a public domain work ensured Slater's royalty income from the work disappeared. Wikipedia mockingly used the image without permission as a "conference mascot," as we reported here in 2014.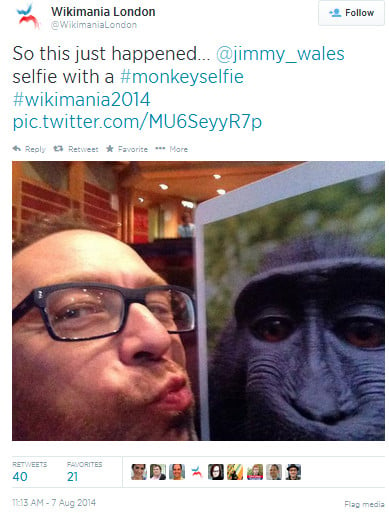 Selfie scandal ... It's a big laugh for Jimbo Wales (left)
The US Copyright Office later confirmed that the monkey could not own the copyright – just as machines and spirits cannot – as a modicum of creativity and intent was required. In this case, Slater trekked out into the jungle and carefully set up the equipment at the right spot, leaving it to the curious macaque to peer into the lens and press a button.
The ninth circuit appeals court in San Francisco today affirmed that animals can't hold copyright, but can in theory – but not here – sue humans. Essentially, that leaves Slater asserting ownership of the snap, so if you want to distribute or reuse the snap, get permission or license the rights from the tog himself rather than a wild macaque.
In a sarcastic footnote, the California court gave PETA short shrift, describing the irony of the animal-rights warriors employing "Naruto," as it christened the macaque, "as an unwitting pawn in its ideological goals."
Epic burn by the Ninth Circuit at PETA's expense. #MonkeySelfie pic.twitter.com/BUYGyUt90R

— Devlin Hartline (@devlinhartline) April 23, 2018
Last year, Slater agreed to pay a percentage of the royalties from the snap to a conservation project in Sulawesi, Indonesia. PETA boasted that it "broke new ground" for animal rights.
You can buy the image from Slater directly – ensuring he gets a few pennies – via his website. ®