This article is more than 1 year old
Brit bank TSB TITSUP* after long-planned transfer of customer records from Lloyds
Users continue to report issues despite claims it's fixed
Updated UK bank TSB's efforts to upgrade its systems have left numerous customers without online banking services – and some report having unintentionally accessed different accounts' details.
The organisation, which split from Lloyds Banking Group in 2013, chose this weekend to complete the move of its customers' data from Lloyds IT systems – but the migration hasn't gone exactly to plan.
Although the transfer has been a long time coming, many TSB customers only found out about the planned service disruption via a tweet sent at 5.36pm on Thursday 19 April – less than 24 hours before the digital blackout was due to start.
This message stated that between 4pm on Friday 20 and 6pm on Sunday 22 April "some services, like online banking, making payments or transferring money won't be possible".
We're planning an upgrade to our systems between 4pm Friday 20th of April until 6pm Sunday 22nd of April. We're sorry but during this time some services, like online banking, making payments or transferring money won't be possible. For details please visit https://t.co/jSmnTgJcDZ pic.twitter.com/H3JWJtgNxC

— TSB (@TSB) April 19, 2018
However, as of this morning a number of services remained unavailable, with the service status page listing ones unavailable just now or not even expected to return until the end of the month.
"You may see some missing or incorrect data showing in the app for your Credit Card," TSB said, referring specifically to available credit and transactions.
The bank said these would still show up correctly when the customer was logged into internet banking from a computer or mobile browser – however, online banking was down at the time of writing.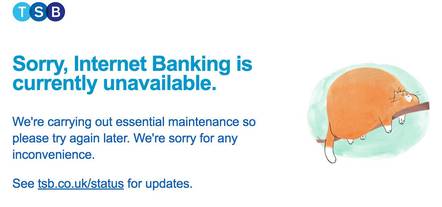 Other problems include customers being unable to transfer an ISA online, not being able to make a credit card balance transfer online, and being unable to log in using FaceID or an iPad.
Hundreds of users complained about the outages on DownDetector and Twitter, moaning they couldn't make payments and that if they did manage to log into the app they were "forcibly logged out" within seconds.
I think all us TSB customers should get a £100 for all this ridiculous bullshit this weekend and today!! @TSB #TSB

— yasmin🌺 (@mrsyasminxo) April 22, 2018
The bank's Twitter bods apologised to disgruntled users, claiming in copy-pasted responses that these were "intermittent problems" affecting some customers, and asked customers to "bear with us".
We are really sorry to hear that you're experiencing problems accessing the internet banking. Unfortunately, there are some intermittent problems affecting this service so please bear with us. 1/2 Graham

— TSB (@TSB) April 23, 2018
We're working as hard as we can to resolve this. In the meantime, please try again later and sorry once more for the inconvenience. 2/2 Graham

— TSB (@TSB) April 23, 2018
But of greater concern are reports that when users were able to log in, they saw other customers' bank details.
Haven't been able to access online banking since Friday, and now people who bank with TSB are finally logging back in but it is instead coming up with other people's bank details, should probs be more worried but then again I only have about 25p to my name

— eve (@evegmadrsn) April 23, 2018
Laim McKenzie, a TSB punter in Scotland, told the BBC he saw the details of one other account-holder as well as his own.
"My balance, because of my overdraft, is in minus, but my balance was showing at £13,000," he told the Beeb.
"I closed the app and went in again at 19:00 and only my account was showing - but my balance was showing at zero.
"I've closed the app again and have not been able to access it since." ®
*Total Inability To Support Users' Payments
Updated at 1055 UTC to add
Having initially claimed that only some elements of services were working, TSB has since updated its status page to acknowledge that both internet banking and the mobile app are down.
"We're sorry, we know some customers are having issues using the mobile app and our Business Banking Authentication app. We're working hard to fix this," the page said, with the same message for internet banking.
The bank has still not commented on the service disruption, the reports that users can see other people's account balances, or whether a data breach has been reported to the Information Commissioner's Office.
Updated at 11.40 UTC to add
A TSB spokesperson responded to our request for comment, and said: "We are currently experiencing large volumes of customers accessing our mobile app and internet banking which is leading to some intermittent issues with people accessing our services."
Get in touch...
Do you have insight to share about the transfer? Drop our reporter a line here.