This article is more than 1 year old
In not terrifying news at all, Google just keeps on growing: Revenue, profit, headcount up
Q1 tax rate plunge, cost of traffic to feed ad machine jumps
Google's parent company Alphabet has notched up another quarter (PDF) of swollen sales for Q1 2018, revealing the outcome of investments like its stake in Uber.
The firm booked sales of $31.15bn for the quarter ended 31 March '18, up 26 per cent year-on-year or by some $6.4bn.
Broken down by segment: advertising revenues grew to $26.6bn, up 24.4 per cent - total traffic acquisition costs were $6.3bn, up 36 per cent year-over-year. Other revenues including the cloud and Nest, grew 35 per cent to $4.3bn, and "other bets" were up by $12m to $150m.
On the company's earnings call CEO Sundar Pichai chose to focus on what he called "our three big areas, cloud, YouTube and hardware".
The CEO said Google's cloud was "growing across the board and ... also signing significantly larger, more strategic deals for cloud". Pichai declared that "G Suite has reached a point where it can serve all the needs of a large enterprise, and as a result, grow at a certain inflection point" and cited Airbus's move to the product, first reported by The Register, as evidence of that maturity. "As a result, G Suite revenue growth accelerated in Q1."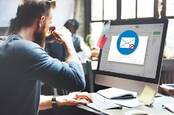 It's not you, it's Big G: Sneaky spammers slip strangers spoofed spam, swamp Gmail sent files
READ MORE
"We're seeing good synergies between G Suite and Cloud," Pichai later added in response to a financial analyst's question. "Areas where we have done acquisitions like Apogee, they are beginning to work in terms of driving synergies to Cloud. The efforts we're beginning to put together with our partners. That is beginning to bear fruit as well. So, we have go-to-market programs now with SAP, Cisco, and Salesforce. I think we are beginning to see early results from that and hopefully that translates into more momentum going forward."
On YouTube, Pichai talked up Google's efforts to stop video nasties and move into live content. Discussing hardware, the CEO said he was pleased with sales of Nest home automation gadgetry and the expanding ranges of Android devices.
The inclusion of Nest is notable because it has been shifted onto Google's balance sheet and out of the "other bets" basket that Alphabet runs for its more speculative ventures. The change saw other bets revenue hit $150m, but operating loss was $571m. Revenue came from Google Fibre and Alphabet's life sciences limb Verily.
Tellingly, advertising - by far the biggest source of revenue for the firm - wasn't mentioned among the firm's big three. It's doing nicely, though. Pichai said: "We're excited by the still sizable opportunity in search advertising led by mobile," adding that "26 per cent year-on-year revenue growth in our sites business" shows that Google continues "to benefit from our investments to enhance the user and advertiser experience."
Search still matters to Google too, because it lets the company show off the AI in its backend. "I just feel at a high level the next big evolution we are doing as part of mobile search and assistant is to actually help users complete actions, to help get things done," Pichai said. "And it's really hard to do at scale, and that's the work we are doing. And as we do that, it'll impact just – not just the Assistant but mobile search more broadly. And obviously, that has a commercial impact as well."
None of the financial analysts on the call touched on Facebook's woes, so the topic of whether Google sees trouble ahead regarding its data hoard was not considered. Pichai did, however, respond to a question about GDPR by saying: "Most of our ad business is Search, where we rely on very limited information, essentially what is in the keywords to show a relevant ad or product."
He added that Google has spent 18 months working to become compliant and feels that "we'll be able to do all that with the positive impact for users and publishers and the advertisers and so our business."
Operating profit crossed the quarterly line at $7bn, up 6.6 per cent year-on-year and net profit grew from $5.42bn to $9.4bn.
Effective tax rate fell from 20 per cent in the same quarter a year ago to 11 per cent for this quarter, thanks to a deferred tax asset valuation allowance. Headcount grew from 73,992 a year ago to 85,050. ®