This article is more than 1 year old
Happy having Amazon tiptoe into your house? Why not the car, then? In-trunk delivery – what could go wrong?
New Bezos scheme opens up vehicles as drop-off points
Amid worries about social network and ad-related privacy invasions, Amazon is asking for invitations into people's homes and cars.
Expanding its Amazon Key service – by which delivery people can be granted access to the smart-locked homes of Amazon Prime members to drop off packages – the e-commerce behemoth has introduced Amazon Key In-Car, a way to have parcels dumped the trunk of a car. The car-as-mailbox service is initially available to Prime subscribers in 37 cities around the US.
About seven million car owners form the potential pool of prospects: The trunk-drop service requires Amazon Prime customers to use the Amazon Key app and to link their Amazon account with their connected car service – presently limited to 2015 or newer Buick, Cadillac, Chevrolet or GMC vehicles with OnStar accounts or 2015 or newer Volvos with Volvo On Call accounts.
There are a few other caveats.
Packages that don't fit in the trunk may be squeezed in vehicle cabins, Amazon says, evidently oblivious that doing so invites smash-and-grab theft in many urban areas.
Also, cars must be parked in "an open, street-level, and publicly accessible area" within two blocks of the designated delivery address.
The service thus has potential for customers in suburbia who don't want to let delivery personnel into their homes but don't mind having their nearby cars serve as dropboxes and potentially having their windows smashed in.
For densely populated cities like San Francisco or New York City, where the idea of downtown street parking is laughable, Amazon customers would do better to have their packages delivered to their work addresses.
In 2015, Amazon, Audi and DHL conducted a pilot test in Munich, Germany, offering parcel delivery to car trunks.
Praise Bezos
Amazon offers a glowing review from a purported beta customer, identified only as "Scott L." from Miami, Florida, presumably to protect his privacy. The cherry-picked tester praises the easy set up of Amazon Key In-Car and voices appreciation for having another option for convenient delivery.
"I can't wait to check my car's trunk to see what's delivered next!" he gushes.
The idea that an Amazon customer might be surprised by products showing up in his car suggests either a drunken One-Click rampage, unauthorized orders, short-term memory loss or hacking.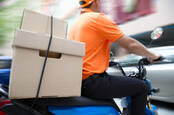 Knock, knock? Oh, no one there? No problem, Amazon will let itself in via your IoT smart lock
READ MORE
The last possibility appears somewhat plausible, because security researchers at least twice have shown how Amazon Key can be subverted.
MG, a security researcher who found a flaw in Amazon Key, told The Register that Amazon Key In-Car doesn't add a lot of security risk to the service.
Via Twitter message, he said, "In general, any of the security implications seem to have already been present with OnStar and the car manufacturer. The Amazon connection seems to hook in through those existing pathways. Unlike the Amazon Key (for in-home delivery), there is no hardware being added from Amazon."
MG suggested the potential risks arise from behavior outside Amazon's platform, such as inviting break-ins. "Cars are broken into around here if you leave a charger cable visible," he said, and wondered whether fewer packages will be stolen from trunks than from doorsteps.
Amazon however insists its service is safe, noting that it has a system in place to ensure vehicles get locked before delivery people can move away. The system also automatically relocks vehicles left unlocked after a certain period of time.
But if theft or car damage occur, aggrieved customers can always file an Amazon Key Happiness Guarantee claim in the hope of getting the e-commerce giant to make things right. ®