The storage enterprise trade is simultaneously hoping what happened in Vegas does and doesn't stay there as the news of new products, tech developments, company changes and people moving jobs flooded out of the NAB conference in Nevada.
Azure
April is the month of the National Association of Broadcasters conference; if you're more interested in data sovereignty and five-nines reliability than Britney Spears, Elton John or David Copperfield, it's the hottest Vegas ticket around. And it wouldn't be a proper NAB without Azure folks swooping in and telling offline data storers and media types to drive their effectively idle and unused offline data to the cloud where it can earn its keep.
Microsoft's Dean Paron, Azure storage director of program management, wants Azure suckage applied to offline data, saying: "Customers I talk to want to upload their offline data stores into the cloud."
Microsoft is pushing OMIP – its Offline Media Import Program – to those who can't be bothered with tape and spinning rust: "No one wants to spend hours and hours inserting tapes, connecting older hard disks, or figuring out how to digitise and upload film."
The plan is to get punters to move data from offline media like tapes, optical disks, and even film reels, as well as from disk stores, up into Azure's welcoming arms. There, previously offline and dead/near-dead data can be unlocked.
It's not actually Microsoft doing this – it's six partners:
| Partners | Expertise | Geography |
| --- | --- | --- |
| eMag Solutions | Tape ->Azure | APAC, EMEA, N America |
| Interica | Disk/tape -> Azure | Malysia, UK, N America |
| Iron Mountain | Tape -> Azure | World-wide |
| Trusted Data Services | Tape/optical -> Azure | APAC, EMEA, N America |
| Tronix Data | Tape -> Azure | N America |
| XenData | Video/tape -> Azure | Europe, N America |
The expertise areas in the table above are the base, they may well be wider.
If media firms' old data is sitting in an offline archive of some sort there may well be no online cataloguing system that is an index of it with entries pointing to media locations. If you need a video clip of the Golden Gate bridge and you think you have one in one of several tapes, but can't remember which or in what format then your filed data is effectively dead.
Azure claims the offering can index the data, where it can be searched and used far more easily. That's what these partners do.
Interica works in the oil and gas industry. It has a Project Archive and Retrieval System (PARS) that archives projects in a single bundle, treating disk, tape and the Cloud as target media options. PARS v4.5, announced in November last year, supports Azure object (Blob) storage destinations.
Old media can be problematic. The tape area has its mainstream LTO format but there other tape formats, such as the old Quantum SDLT, Sony AIX, and the Oracle and IBM ones. It stands to reason that not everybody on the list will be able to handle every format.
There are problems with old optical formats too, outside of the mainstream CD, DVD and Blu-ray.
Video film reels are a trickier matter as you are looking at the film equivalent of paper-scanning. It's not likely you'll find much expertise around these days in digitising film reels.
There is some though. Here, for example, is information about a Raspberry Pi-based film capture project.
XenData has video expertise, archiving videos to on-premises disk-based systems. It also has Cloud File Gateway software which lets file-based applications use Azure blob storage without modification. This gateway software can run on-premises or in the cloud.
+Comment
Cloud storage is neither free, nor that cheap when you have a lot if it, and need to move it about.
Azure marketing/product droids will be all in favour of pulling data into their cloud, but best keep a firm eye on the money angle when talking to them or to Azure partners. You might find on-premises archiving is a better bet, even tape-based if you don't need disk access speed.
Having data online is good, and generally better than offline. Having it in the cloud is just having it online in a remote data centre. That's not intrinsically better than having it online on-premises, just different, with varying payment schemes, which may or may not suit you.
Coincidentally, Overland Tandberg has just announced NEOxl 40 tape automation library availability, and that's for smaller video production facilities needing on-premises backup and archiving.
Backblaze
Cloud backup service supplier Backblaze has cut the cost of moving data into and out of its cloudy vaults with price cuts and disk drive transfers.
Its schtick is to offer better and lower cost cloud storage services than Amazon, Azure or Google. We're told B2 cloud storage is 320 per cent cheaper than Amazon S3, 260 per cent less than Azure and a third of Google Cloud costs.
The company talked about its new offerings at last week's NAB event. Fireball is a 70TB disk drive NAS appliance customers can use to get data into Backblaze's B2 cloud faster and cheaper than by a network transfer.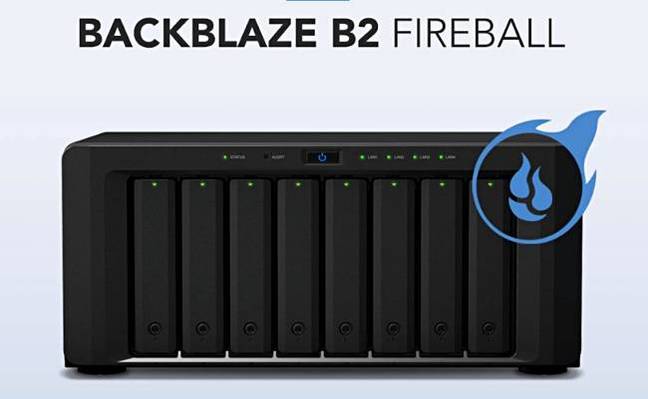 Its name is a nod to Amazon's Snowball device, and it is shipped to a customer for data load and then returned to a Backblaze data centre in Arizona and California. (It hopes to have one in Europe later this year.)
Backblaze has supplied a pricing comparison table:
| | | | | | |
| --- | --- | --- | --- | --- | --- |
|   | Device Capacity | Service Fee | Shipping | Cloud Storage ($/GB/month) | Download $/GB |
| Backblaze B2 | 70 TB | $550 (30-day rental) | $75 | $0.005 | $0.01 |
| Amazon S3 | 50 TB | $200 (10-day rental) | Not provided | $0.021 | $0.05+ |
| Google Cloud | 100 TB | $300 (10-day rental) | $500 | $0.020 | $0.08 |
Once data is in the B2 cloud it can be sent to a cloud compute service for processing, as Backblaze has done deals with Packet and Server Central with direct links to its data centres. Data generated in the processing can be stored in the B2 cloud.
There is also a B2 Snapshot Return Refund Program, which was trialled last March. B2 customers can have Backblaze snapshot their stored data and have it Fedex'd to them on disk. They pay for the disk and must send the drive back to Backblaze in 30 days to get a refund of that cost.
Egnyte
An expanded Egnyte Protect SaaS product allows businesses to classify and monitor content across Microsoft repositories, including Windows File Servers, Sharepoint, and OneDrive. Customers can find content with custom keyword search, create classification policies, and enable real-time policy violation and alert notifications.
Jeff Sizemore, VP of governance and compliance at Egnyte, released a quote saying: "Expanding beyond our Egnyte Connect environment and into the Microsoft ecosystem is just the beginning. We will continue to develop the Egnyte Protect functionality into other popular content repositories, such as Amazon, Google, and more."
Oh, it's about multi-cloud data management.
Egnyte reckons more than 85 per cent of businesses use one or more Microsoft repositories, so it's a natural move. Egnyte Protect and Microsoft customers can now able to centrally manage all the content that lives across multiple Microsoft environments.
We are told the product will help businesses comply with industry regulations like GDPR, HIPAA, GLBA, and PCI-DSS.
Additional access control features will arrive in a few months. They will identify abnormal permissions and anomalous download behaviour in real-time, and alert administrators to investigate potential breaches or theft before the data is lost, fighting both insider and outsider threat.
Egnyte Protect for Microsoft is generally available, with pricing based on a subscription model specific to each customer content environment. To get a free demo, visit the Egnyte Protect web page.
Kaleao
Kaleao is an ARM-based scale-out hyperconverged infrastructure appliance vendor, headquartered in the UK and with a US presence. Its KAMX is a 3U, 12-blade system, coming in bare metal or appliance (bare-metal + software) form. The chassis holds 192 ARM 64bit CPUs, with a total of 1,536 cores, plus 24TB of tier-1 flash storage and up to 368TB of 2.5-inch NVME SSD tier-2 flash.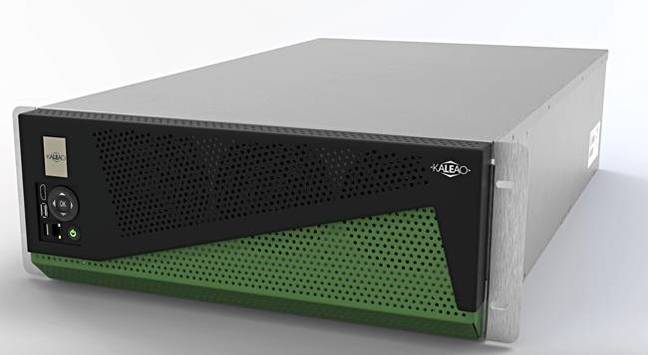 Kaleao KMAX-EP chassis
This has been shipping for nearly six months. It's now called the KMAX-HD and there's a new, physically bigger KMAX kid coming on to the block, the KMAX-EP, with a 4U chassis. It will arrive after June and Kaleao says it's to fit into standard enterprise data centre racking preferences – presumably it wants a 4U box that performs exactly the same as the 3U KMAX-HD.

Kaleao KMAX blade
Panzura
Panzura has a Freedom NAS product which provides a central NAS file store in the public cloud - CloudFS - with on-premises caching for fast local access.
It has a Mobile 2.0 product which provides access to this central file repository from Android and IOS mobile devices. Such users are validated via Active Directory and can edit and write net new files to CloudFS, with all written data immediately consistent across the entire file system.
Mobile 2.0 meets HIPAA, PCI and NIST security compliance standards and integrates with mobile device management (MDM) products for remote device tracking, configuration, lock and wiping of the file, folder, or device, and enforced password restrictions.
Panzura Mobile 2.0 is available now through Panzura's channel. Check it out at Panzura.com.
Toshiba
This HDD maker has a coloured label branding scheme and is expanding and refreshing its internal HDD lineup with the N300 (gold-coloured 10TB for NAS), X300 (silver 10TB for gaming PCs, and L200 (red 2TB laptop) products. Surveillance drives now have green labels and video streamers get blue one. Enterprise drives have dark blue labels.
The 25-inch L200 comes in a 500GB and 1TB thin case (7mm z-height) and 2 TB thicker case (0./5mm z-height) versions. There is an 8MB cache for the 500GB drive with 128MB for the other two. We understand they all spin at 5,400rpm and have a 6Gbit/s SATA interface
The N300 NAS drive ups its top capacity from 8 to 10TB. The sustained data transfer rate is 248MB/sec (the 8TB drive delivers 240MB/sec) and it has a doubled cache size at 256MB. It spins at 7,200rpm, and supports a 180TB/year workload with a 3-year warranty and 24x7 operations.
Likewise the X300 also tops out at 10MB, has a 256MB cache, spins at 7.200rpm and enjoys a 6Gbit/s SATA interface.
A 2.5-inch V300 video streaming and surveillance drive has 500GB, 1, 2, and 3TB capacities. There is a 64MB cache and, as seemingly ever here, a 6Gbit/'s SATA interface. The spin speeds are 5,940rpm at 3TB and 5,700rpm at the 2 and 1TB and 500GB levels.
It has a two-year warranty, supports up to a 72TB/year workload and works with up to four cameras.
Virtual Instruments
This infrastructure performance monitoring and management company has integrated its Virtual Wisdom v5.6 product with Cisco's AppDynamics application performance monitoring product. It can discovers apps and their SLAs via thus AppDynamics integration, and so relate applucation-level performance issues to infrastructure-level components, such as servers, network elements and shared storage resources such as LUNs.
It has also integrated with Cisco MDS 9700 32GB/s Fibre Channel module, via Cisco SAN Telemetry Streaming, and no longer needs to use network taps and probes with Cisco 32GB FC portfolio connections.
VirtualWisdom and AppDynamics can share a common view of the infrastructure consumed by business applications, enabling a collective understanding of application topology.
VI says the Virtual Wisdom 5.6 product discovers applications with their associated SLAs and automatically recommends a custom monitoring policy to each infrastructure service.
It applies machine learning to determine root cause and recommends remedies and configuration optimisations to proactively resolve problems, hopefully before they can screw up application SLAs.
VirtualWisdom analytics automatically assess the infrastructure environment from the virtual machine to storage to identify workload infrastructure imbalance conditions and provide re-balancing recommendations.
When an alert occurs, VirtualWisdom 5.6 automatically opens a case and starts an investigation. This, in turn, automatically generates the charts needed to solve problems and then recommends an analytic to guide the user through actual remediation procedures. This should accelerate problem fixing.
Shorts
Acronis has joined the Anti-Malware Testing Standards Organisation (AMTSO) and will adhere to evaluation standards for data protection products and take part in establishing protocols and procedures for future technologies.
Chinese DRAM production - According to DRAMeXchange, a division of TrendForce China has entered the semiconductor memory sector with three players – YMTC, Innotron (Hefei Chang Xin) and JHICC – which work on NAND Flash, mobile DRAM and specialty DRAM respectively. All three companies have arranged trial production to begin in 2H18 and mass production to begin in 1H19. This will make 2019 the first year of China's domestic memory chip production.
Data Direct Networks (DDN) has opened one of its latest research and engineering facility in Colorado Springs which will be used for the development of storage solutions to aid AI, HPC and Enterprise big data.
DataStax has released DataStax 6 (DSE 6) claiming it has the benefits of a distributed cloud database on any public cloud or on-premises. It has "the advantages of Apache Cassandra with none of the complexities" and "the ability to deliver twice the responsiveness and to handle twice the amount of data processed than Apache Cassandra".
NVMe AFA array shipper E8 Storage has added Mellanox ConnectX InfiniBand/VPI adapter support to its product line. It should help HPC customers who can use either InfiniBand or Ethernet with this kit.
Paul Nashawaty has joined backup and data protection business HYCU as chief evangelist.
IBM intends to enable selected AIX VM guests on IBM Hyperconverged Systems powered by Nutanix (CS series).
Kingston Digital is shipping its UV500 family of SSD products in multiple form factors: 2.5-inch, M.2 2280, mSATA). It's Kingston's first 3D NAND-enabled SSD featuring full-disk encryption, and a Marvell 88SS1074 controller. With 3D NAND flash it delivers read/write speeds of up to 520MB/sec and 500MB/sec, making it 10x faster than a 7200rpm hard drive.
Morro Data is releasing v3.0 of its CloudNAS platform for SMEs, which delivers enterprise-class storage and back-up combined with the on-premise performance of a NAS, but delivered in the form of a cloud service. It claims it consolidates the primary storage, backup, disaster recovery, and file synchronisation software that most businesses are paying for into a single cost-effective service. Check it out here.
Object Matrix's MatrixStore product won the Storage category in IABM's new Broadcast and Media awards (BaMs) at NAB.
Quobyte, which makes hyperscale storage system software, has opened a new USA HQ and appointed industry veterans Victoria Koepnick as VP of marketing; Mark Lawrence as VP for worldwide sales and business development; and Kim Gardner as VP of sales and business development for EMEA.
The firm claimed it exited this quarter with more business than in all of 2017 and has deployed in production 80PB of storage in the HPC, Media & Entertainment, research, and financial sectors.
Quobyte has opened a new US HQ and appointed industry veterans Victoria Koepnick as VP of marketing; Mark Lawrence as VP for worldwide sales and business development; and Kim Gardner as VP of sales and business development for EMEA.
StorONE whose brand new storage software stack, TRU STORAGE (Total Resource Utilisation), is claimed to deliver at or near wire speed performance off flash and disk media, is partnering with Mellanox for Ethernet networking gear at 10, 25, 40, 50, and 100 Gbit/s speeds. It claims that, using its software, a single 40Gbit/s Mellanox port and 6 SSDs, users can achieve 500,000 IOPS.
Violin Systems is extending its channel arrangement with OCS Distribution to more regional geographies in Russia. ®