Audiophiles have really taken to the warm digital tone of streaming music
Revenues up 41 per cent, industry in 'recovery mode'
---
Streaming revenues rose 41 per cent to become the largest source of income for recorded music in 2017.
Trade group the International Federation of the Phonographic Industry's annual survey recorded streaming growth for the third year running, up 8.1 per cent year-on-year. Paid streaming rose 45.5 per cent. However, it's still two-thirds of the income the record industry took home in 1999, its peak year.
Vinyl continues to grow, up 22.3 per cent in 2017, outselling digital downloads. Despite this, revenue from physical formats has fallen from $25.2bn in 1999 to $5.2bn in 2017. Digital downloads peaked in 2012.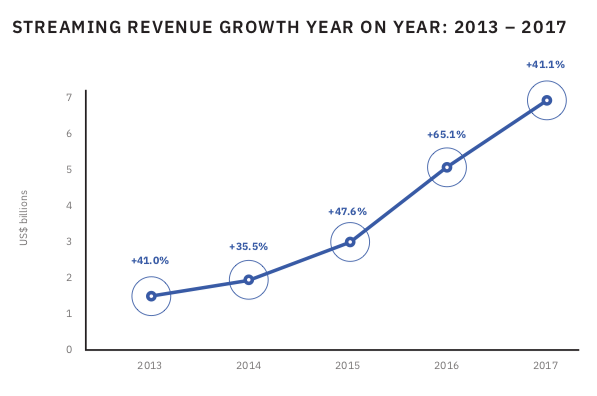 "The industry remains united in its commitment to solve the value gap, the most significant roadblock on the path to sustainable growth, where certain online user upload services exploit music without returning fair revenue to those that are creating and investing in it," the report states.
By "certain services" IFPI means YouTube. "Services such as Spotify, Amazon Music Unlimited, Deezer and Apple Music are forced to compete with music platforms that do not play by the same rules and that claim they arenot liable for the music they distribute."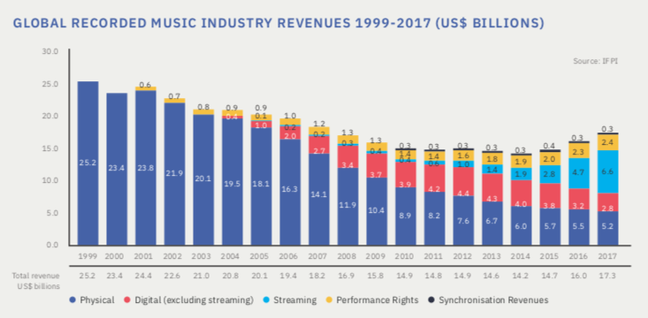 Click to enlarge
The global trade group sees hope in Latin America, where the growth of streaming revenue has exceeded the decline of physical – and China remains a "challenge". There's more here (PDF). ®