Lenovo is in danger of getting booted off the Hong Kong stock exchange's benchmark equity index because of its crashing share price.
According to our calculcations, Lenovo stock has dropped 57 per cent since it listed on the Hang Seng Index a little more than five year ago. Bloomberg branded Lenovo shares as the "world's worst tech stock".
This index is calculated from a representative selection of the overall companies on the exchange, and gives a sense of the general stock market's performance.
Getting ejected from the benchmark equity index would not mean Lenovo would be delisted from the exchange itself, but it will mean a loss of face, as it would no longer be classed by HKSE as a blue-chip-type stock.
The Lenovo share price at the time of publication is HKD3.80; it hit a high of HKD13.80 on 30 April, 2015 but struggled with third-party shipments in the following year, leading to a slow slide in value.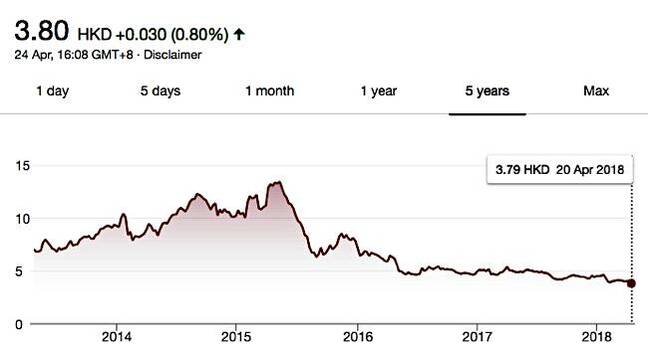 Lenovo 5-year stock price history
The Chinese company's product set includes servers, storage, PCs and notebooks, tablets, smart phones, and TVs. In February it saw $12.9bn in revenues for its third fiscal 2017/2018 quarter, with turnaround efforts delivering growth in the PCs and Smart Devices (PCSD) unit ($9.3bn up 7.6 per cent annually) and the Data Centre Group (DCG) ($1.2bn up 16.7 per cent. The Mobile Business Group's revenues of $2.1bn were down 5 per cent.
The PC market has seen Lenovo relinquish a leading position to its current number 2 rank behind HPE, where it is showing anaemic growth. The joint venture with Fujitsu has yet to boost Lenovo's sales significantly.
Lenovo's data centre ambitions, based on buying IBM's x86 server business in 2014, have stumbled. Gartner ranked it number 5 in third 2017 quarter revenues, behind Dell, HPE, Inspur and Cisco, but ahead of Huawei. Its data centre storage business has not yet taken off.
The mobile side, with its Moto branded gear, is bleeding less heavily than before, but still declining; the unit has also been laying off staffers.
In general, Lenovo sells commodity kit in highly competitive markets without shifting enough units to make substantial profits and please investors. It's trying hard but stock holders aren't feeling the benefit yet.
Yang Yuanqing, Lenovo chairman and CEO, said about the February results: "Lenovo is accelerating its transformation to become a world leader across every part of our business. We continue to see significant improvement and strong performance in some of the most exciting technology market sectors, smart devices and data center.
"We saw revenue, margins, profit, innovation, performance and customer experience all extend the momentum that developed during the prior quarter, and these results reaffirm the transformation strategy we are executing."
This momentum though is not yet persuading investors to rate the shares more highly and reverse their long-term fall, hence the risk of index ejection. ®