Cocky SAP struts stuff after cloud sales pass €1 BEEELLION
Salesfor.... who? CEO predicts CRM crown will be his
---
Top brass at SAP are finally walking with some swagger after recording the firm's first ever €1bn-plus revenue cloud quarter, so much so that they even felt compelled to fire some warning shots at rival Salesforce.
The German ERP biz didn't have it all its own way during calendar Q1: revenue was flat on the prior year period at $5.26bn, and even though SAP recorded the cloud milestone, it is still playing catch up with rivals.
Software licences and support – the lion's share of SAP's revenues – were down 4 per cent year-on-year to €3.3bn, the second straight quarter SAP has filed shrinking sales. CFO Luka Mucic claimed on a conference call this was "still perfectly in line" with expectations.
As for the cloudy stats, subscription and support revenues jumped 18 per cent to €1.1bn. New cloud bookings grew 14 per cent year-on-year to €245m.
The boost will no doubt please the markets, which look to fresh cloud bookings as a measure of success, after analysts last year voiced concerns about a drop-off in the metric.
CEO Bill McDermott made it clear in the earnings call that his intention was to chase Salesforce in the CRM market.
"We're going to retake the lead position in CRM," he predicted, "There was a time when a market leader was dominating in CRM; it was said that they couldn't be disrupted. Let it be said again – we want CRM. We want CRM."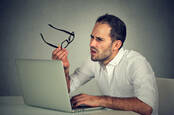 Are you SAP-py now?! ERP giant overhauls pricing model following indirect access drama
READ MORE
McDermott said SAP wanted to "help legacy CRM go the way of legacy database", arguing rivals "don't have the ERP and have to come up with some methodology to connect all this complexity" in customers' systems.
"We're going to rebrand the whole CRM category," he trilled, claiming that customers would no longer be "relegated to outdated SaaS platforms", trying to get their data out of an ERP system.
To put those claims in context, rival Salesforce reported revenue of $2.85bn in its Q4 ended 31 January, up 21 per cent year-on-year. And all of this business was generated by cloud services and licences.
Mr McD pushed the idea that SAP will offer customers "seamless integration out of the box", a process that connects "the entire value chain" – messaging that will feature heavily at SAP's gabfest SAPPHIRE in June.
There was a 43 per cent year-on-year rise in uptake of ERP business suite S/4HANA to a total of 8,300 customers, with 400 additional ones brought on this this quarter – of which 40 per cent were net new.
However, McDermott was questioned about the size of the deals struck in the quarter – half were smaller than €1m and just 18 per cent were greater than €5m; that's compared with 40 per cent and 30 per cent in Q4 2017.
McDermott countered it was a "great sign" the business had managed to make a profit in a "volume-driven quarter", and said previously in ERP sales, vendors needed "big deals to conclude a quarter successfully". Apparently size didn't matter in SAP's Q1.
The company has also raised its outlook to reflect the fact it closed its acquisition of Callidus earlier this month.
Operating profits were up 52 per cent from €673m to €1bn, and net profit jumped by a third to €708m. ®
Similar topics
Narrower topics