This article is more than 1 year old
Turn that bachelor pad into a touch pad: Now you can paint buttons, sensors on your walls
Conductive material touted by Mickey Mouse boffins
Vid At about $20 per square metre, scientists at Carnegie Mellon University and Disney Research have devised a way to turn walls into a touch interface.
In a paper [PDF] scheduled to be presented at CHI 2018, the Conference on Human Factors in Computing Systems, in Montreal this week, researchers Yang Zhang, Chouchang (Jack) Yang, Scott Hudson, Chris Harrison and Alanson Sample describe a way to coat walls with conductive paint and make them capable of capacitive and airborne electromagnetic (EM) sensing.
The technique can be used to make walls function like touch screens, to sense the body position of people standing near them and to locate the position of electronic devices in the room.
"Our wall treatment and sensing hardware can track users' touch and gestures, as well as estimate body pose if they are close," the paper explains. "By capturing airborne electromagnetic noise, we can also detect what appliances are active and where they are located."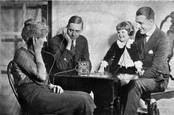 Stray electronic-magnetic leaks used to harvest PC crypto keys
READ MORE
The technique involves using water-based nickel conductive paint to create an electrode pattern (a diamond arrangement) suited to capacitive and proximity EM sensing. The pattern is then overpainted with latex paint, as shown in the video below. Each row and column is then connected to a sensor board based on a 96 MHz Cortex M4 running Teensy 3.2 firmware and piped to a laptop for visualization.
The researchers call their system Wall++ and suggest it could be used in place of light switches, audio player controls, thermostats, numeric keypads, and the like.
Wall++ also has potential for gaming, where pose estimation could take the place of a system like Microsoft Kinect. In narrow hallways, where proximity to the sensing surface would remain consistent, the system can identify people through gait tracking.
Smart walls of this sort could serve to enhance interactions with connected appliances, by automatically adjusting the lighting when the TV is turned on, for example.
The researchers hope to make the wiring required a bit easier, since they consider it to be beyond the ken of DIY enthusiasts. They also caution that environmental EM noise, from devices like fluorescent lights, can degrade the system. Similarly, they observe that well-grounded objects near a wall, like a TV, can reduce its sensitivity.
In time, once the kinks are worked out, we can look forward to a more perfect panopticon. ®