This article is more than 1 year old
UK gov grilled over massive exposure to struggling outsourcer Capita
Data startup reckons public sector has over 1,000 contracts
The British government has received a grilling over its exposure to 1,000 plus Capita contracts, following a pre-tax loss of £515m reported by the outsourcing giant yesterday.
In an urgent question to the House of Commons on Tuesday, Lib Dem MP Vince Cable drew the inevitable comparison with collapsed outsourcing provider Carillion, and asked whether new contracts with Capita had been stopped.
He said that Capita's IT services affect "literally millions of people," for example, in relation to tax credits, disability testing and benefits, the congestion charge and the BBC licence fee.
"What contingency plans has the minister put in place since he was informed that the company's losses are not sustainable?"
Oliver Dowden, minister for implementation, noted that no new contracts have been awarded by central government since first responding to its profit warning in February. "However, I understand that the BBC and authorities in Northern Ireland have announced contracts."
Prodded again by Labour MP Christian Matheson about a possible plan B, Dowden said the government undertakes "appropriate contingency planning in respect of all our strategic suppliers".
Still not satisfied with his answer, Labour MP and Public Accounts Committee head Meg Hillier, asked Dowden to outline how many of the contracts he is concerned about and how many it is in discussion with Capita about reviewing.
"Each department is responsible for ensuring their proper delivery, and if the company is not delivering properly, it will be in breach of the contract and remedies will be available," he said.
...[P]reparing for potential "provider failure" is harder than it should be due to the extremely poor quality of contracting data – thinktank
Of the current major central government contracts awarded to Capita, nine were brokered under Labour (20 per cent), some 24 under the coalition (53 per cent), and 12 under the current government (27 per cent), said Dowden.
However, according to OpenOpps, a company that publishes data on government contracts, Capita is likely to have over 1,000 public sector contracts in total, compared with Carillion's 450.
Nick Davies, associate director at the Institute for Government think tank, said failure to pay salaries would have a far more direct impact on public sector staff and the public than delays to construction projects.
"It would also be trickier to continue these services in the event of failure without bailing out the whole company," he wrote in a blog post.
Davies said preparing for potential "provider failure" is harder than it should be due to the extremely poor quality of contracting data, with the government still in the dark about many outsourced contracts it has and their total value.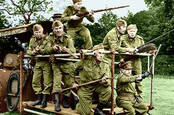 Capita STILL hasn't delivered usable Army recruitment IT system
READ MORE
One point Dowden was willing to concede was that the disastrous Capita army recruitment had not gone as well as planned – as exclusively revealed by El Reg. He said the Ministry of Defence and Capita have agreed an improvement plan.
Tory MP Mark Francois pointed out the deal "is now known universally in the Army as 'Crapita', because of its poor performance on the contract".
Much hilarity ensued, prompting Commons Speaker John Bercow to intervene. "I must tell the right honourable gentleman that his second reference to the rather unfortunate nickname of the company concerned has just caused some merriment among school students in the Public Gallery. They clearly found it very funny, as did I."
Dowden responded: "My children are aged six and eight, and on the off-chance that they happen to tune into this later, I will make sure that I do not repeat that word, because I would not want to hear it around our breakfast table."
Certainly no one wants to hear such a name out of the mouths of babes. ®