This article is more than 1 year old
PC recycler gets 15 months in the clink for whipping up 28,000 bootleg Windows 7, XP recovery discs
E-waste activist's appeal fails as Redmond scores a win
PC reseller Eric Lundgren will spend up to 15 months behind bars after a US Court of Appeals upheld his sentence on charges of conspiracy to traffic in counterfeit goods and criminal copyright infringement.
A three-judge panel with the Eleventh Circuit this month ruled in favor of a southern Florida district court's 15-month term for Lundgren, denying the IT bod's appeal to have the sentence reduced.
Lundgren was hauled into court by US prosecutors, and copped to two charges in 2017 for attempting to distribute illicit Windows restore discs. He had originally faced a slate of six charges, including mail and wire fraud.
The case stems from a 2012 deal Lundgren, a PC recycler and e-waste activist, made with a Florida fella to provide 28,000 copies of Windows 7 and Windows XP operating system restore discs with the intent of bundling them with refurbished Dell PCs.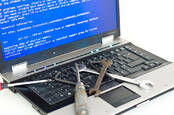 The e-waste warrior, 28,000 copied Windows restore discs, and a fight to stay out of jail
READ MORE
US Customs and Border Protection seized the shipment of CDs when it arrived from China, and accused Lundgren of counterfeiting. Robert Wolff, the Florida reseller on the receiving end of the recovery media, accepted a six-month stretch in the cooler after admitting he conspired to traffic in counterfeit goods.
The plan was to produce a big bunch of bog-standard reinstallation discs to give to people so that they could bring restored PCs to life, sparing the aging machines from landfill graves. That's good for the environment, right?
Since these computers still had valid Windows license keys, surely Microsoft wouldn't mind, or feel cheated out of sales, if folks used these copied Windows 7 and XP recovery discs? And Microsoft and the US government wouldn't have too much of a problem with the person making these CDs, especially since the disc images can be downloaded for free?
Well, Microsoft and the Feds had a massive problem with this caper. You see, these discs weren't your average burnt copies labeled with magic marker. The court heard and was shown that Lundgren had the discs printed professionally overseas with labels that claimed they were authorized copies of the restore media – complete with Microsoft and Dell logos and "For distribution only with new Dell PC" on them, as seen below.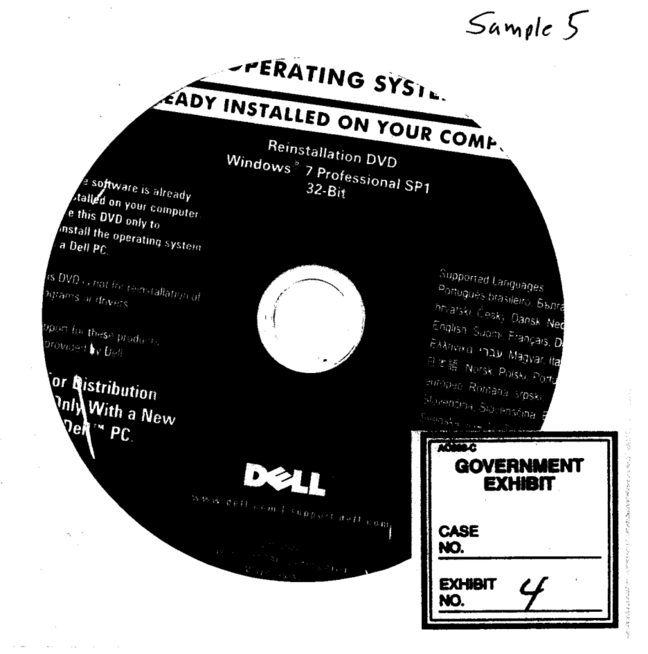 He also, according to the prosecution, sent emails boasting "you would have to be an expert with a magnifying glass to know and/or see such differences" in the discs, when comparing the copies to legit restore media.
This is key to understanding the prosecution, and court's, reasoning here.
Lundgren objected to the district court's prison sentence, arguing the damages in this case – a $700,000 estimate in "lost" sales was used to calculate the 15 month term – were overblown, seeing as the discs themselves were essentially worthless without a product key, which was present on every resold PC, and the restore software is made available for free by Microsoft.
Redmond also sells the discs to resellers for $25 each. This is also key to understanding why Lundgren had the book thrown at him: Microsoft wasn't being paid for those 28,000 discs. Normal end-users are allowed to download and use the recovery images for free. Resellers aren't allowed to download and redistribute them for free.
And the line between Lundgren distributing stuff as a reseller, and Lundgren as a nice guy giving people free stuff for the good of the planet, was not blurred enough to avoid being sent down for more than a year.
The case has grabbed the attention of the recycling and right-to-repair groups, who argue that the sentence was heavy-handed and could potentially criminalize the practice of recycling old PCs. Microsoft has countered that Lundgren deliberately sought to copy its product and pass the copies off as authorized, genuine software.
The judges sided with the government's case, noting that the defense did not show that the discs weren't intended to be passed off as genuine Microsoft products.
Cybercrime
"Microsoft actively supports efforts to address e-waste and has worked with responsible e-recyclers to recycle more than 11 million kilograms of e-waste since 2006," Redmond told El Reg in a statement.
"Unlike most e-recyclers, Mr Lundgren sought out counterfeit software which he disguised as legitimate and sold to other refurbishers. This counterfeit software exposes people who purchase recycled PCs to malware and other forms of cybercrime, which puts their security at risk and ultimately hurts the market for recycled products."
The appeals court, meanwhile, stated:
The district court did not err in concluding the "infringement amount" in this case was $700,000. First, the district court did not clearly err in concluding that the discs Lundgren created were, or appeared to a reasonably informed purchaser to be, substantially equivalent to legitimate discs containing Microsoft OS software.
That conclusion was supported by the sentencing hearing testimony, in which the government's expert witness testified that the software on the discs created by Lundgren performed in a manner largely indistinguishable from the genuine versions created by Microsoft.
Because the cash value was deemed accurate, the court says, the resulting prison term of 15 months stands. ®