Open-source software house Red Hat has jumped into bed with Supermicro to produce a single system combining its storage software with the server maker's hardware.
Red Hat described Storage One as a pre-engineered turnkey system, automated by Ansible, which makes software-defined storage less of a DIY component-sourcing and integration game. It said the hardware is optimised for particular workloads and its fulfilment and support comes from hardware pals – Supermicro being the first.
There are two Supermicro Storage One systems, a general-purpose NAS (NFS or POSIX-compatible FUSE) and a content repository (PDF) using Red Hat Gluster software.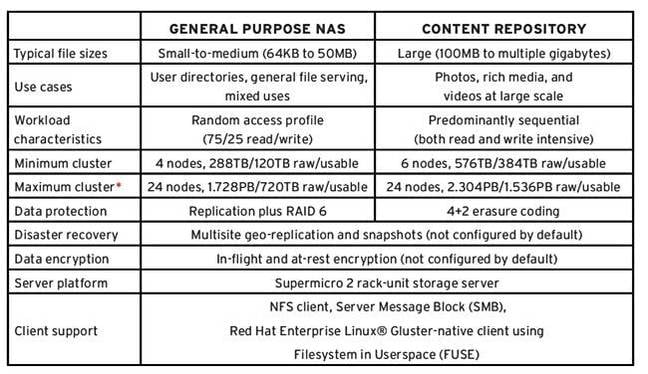 Red Hat-Supermicro Storage One configuration types. Click to enlarge
Red Hat said Storage One will be available in 4 to 24-node configurations and support rolling upgrades. The systems are said to be generally available, but don't bother looking on Supermicro's website just yet. We couldn't find them. ®