This article is more than 1 year old
RIP: Sinclair ZX Spectrum designer Rick Dickinson reaches STOP
British computer case crafter dies after cancer battle
Rick Dickinson, designer of Britain's iconic ZX Spectrum and ZX81 personal computers, has died following a lengthy battle with cancer.
Dickinson joined Sinclair Research in 1979 after graduating from Newcastle Polytechnic's industrial design program. By 1981 he had won the Design Council award for his work in designing the casing of Sinclair's ZX81.
During his tenure, Sinclair helped popularize personal computers in the UK by cranking out affordable, yet powerful machines that introduced an entire generation to computing and helped spawn the British hardware and software community.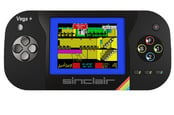 Ex-ZX Spectrum reboot man threatens sueball over unpaid invoices
READ MORE
"Although many Spectrums were sold for games, there were a lot of people who really gripped what all this was about – and what Clive was interested in in the first place - learning about programming and what you can do with programs," Dickinson said in a 2012 interview.
"Clearly we've spawned a generation which is now quite mature and has produced software for the many products that surround us."
After leaving Sinclair (by now part of Amstrad) in 1986, Dickinson struck out on his own with a Cambridge-based industrial design firm. He would go on to work with Amstrad boss Sir Alan Sugar on designs for the PPC line of portable (by 1980s standards) personal computers.
More recently, Dickinson was part of the effort to re-launch the Spectrum brand with the nostalgia-flavored ZX Spectrum Next campaign. In 2017 he moved to Texas in order to receive cancer treatments at a local clinic. It was in his Texas apartment that Dickinson passed.
A 1983 Sinclair User article described Dickinson as a "26-year-old prodigy" who was always striving to improve on his designs.
"I don't think I have ever been delighted with anything I have done," Dickinson said. "There always seems to be room for improvement."
He is survived by his wife, Elizabeth, and two daughters. ®