Avengers: Infinity War: More Marvel-ous moolah for comic film-erverse, probably
And comic book fandom fanned the flames
---
Movie franchises generally follow the law of diminishing returns. Christopher Reeve's iconic first turn as Superman made $170m more than his second and a positively heroic $500m more than his fourth.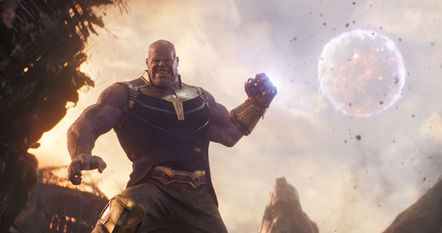 Josh Brolin's Thanos reprises his role as villain
But Marvel's carefully constructed Cinematic Universe – owned by Disney –, which began 10 years ago with Robert Downey Jr's portrayal of Iron Man, is following the opposite trajectory.
The top-grossing Marvel Cinematic Universe film is, astoundingly, the eighteenth and (at time of writing) most recent entry in the series. Ryan Coogler's Black Panther has just recently pipped Marvel's fifth film – The Avengers – to the top spot.
The rest of the studio's top five successes includes Avengers: Age of Ultron, the eleventh film in the series, Iron Man 3 – not only the seventh film in the overall arc but also the third in the Iron Man sub-franchise, and Captain America: Civil War, the thirteenth MCU film and another three-quel. Black Panther, is – not allowing for inflation – the third-biggest movie in the US ever.
But that record is unlikely to stand for long.
Judging by the pre-release excitement, Avengers: Infinity War looks set to impinge on that ranking. The very opposite of diminishing returns.
The trailer for Sony's first Marvel movie (as opposed to the Marvel Cinematic Universe, owned by Disney), Venom, starring Tom Hardy, was also released this week.
That's why the MCU is the envy of every other studio in Hollywood and you will see the announcement of an inferior imitation in Variety every other week.
Ensemble of the undesirables?
April 2018 sees a climax, if not an ending, to Marvel Studios' president Kevin Feige's carefully curated dream with virtually every character from the entire series throwing down in the super-powered Gotterdammerung of Infinity War.
How did we get here? How did Feige craft this unique entertainment industry triumph from a grab-bag of Marvel's less-fancied characters?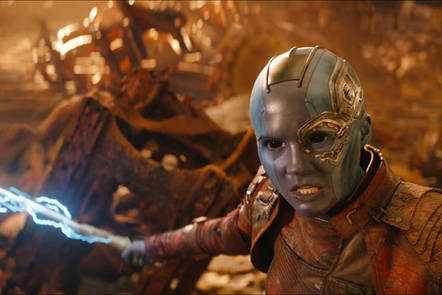 Thanos' sprog Nebula
For all the big-studio glitz, it all started rather improbably - with Howard The Duck. A 1986 Lucasfilm, this anti-hero film swept the Razzie awards. Howard wouldn't be seen until the stinger for Guardians 1 in 2014, and later in the closing moments of Guardians of the Galaxy Vol.2 in 2017*.
Then came the far-from-faithful attempt at a Punisher in 1989 with Dolph Lundgren while Roger Corman's Fantastic Four quickie only saw the light of day through samizdat VHS copies sold at comics conventions.
The first "real" Marvel superhero flick was Blade. While 2008's Iron Man was the first of the interconnected series of Marvel films that we know today, it was Blade - distributed by New Line Cinema, rather than Disney (which makes the Cinematic Universe pictures) or Sony – 10 years before that, that saw the real turning point.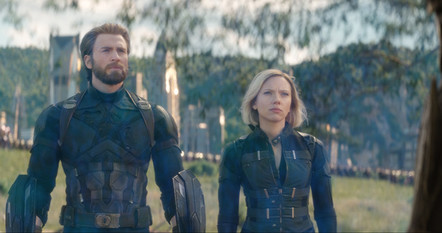 Captain America/Steve Rogers (Chris Evans) and Black Widow/Natasha Romanoff (Scarlett Johansson)
While there had been low-budget features and extended television shows before, Wesley Snipes was the first actor to take a Marvel superhero into the big league.
New Line Cinema's Blade took a relatively unknown Marvel comics character, gave him a cooler outfit, put a recognisable Hollywood name in the title role and gave him some sassy dialogue.
Twenty years later, that formula hasn't significantly changed and the Marvel movie brand has grossed some $5,621,195,116 at the worldwide box office.
But it's not been smooth journey for Marvel. It was Fox Studios that made most of the running in superheroes mid-to-late 1990s while Marvel struggled with bankruptcy and restructuring, and as superhero movies hit a low ebb following the collapse of the Batman franchise. Marvel proceeded to sell the rights to some of its premier characters - Spider-Man to Sony and The X-Men to Fox, who successfully milked the X-Men universe $2.6m with ten films over 18 years.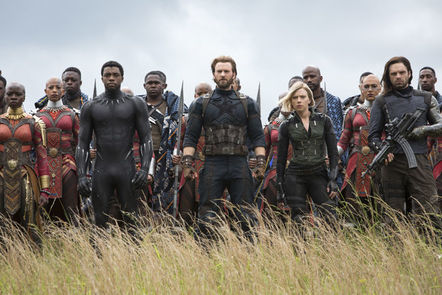 Left to to Right: Okoye (Danai Gurira), Black Panther/T'Challa (Chadwick Boseman), Captain America/Steve Rogers (Chris Evans), Black Widow/Natasha Romanoff (Scarlet Johansson) and Winter Soldier/Bucky Barnes (Sebastian Stan).
Neither has the celluloid (not digital) telling of the franchise run entirely smoothly. The follow-up to that 2008 hit Iron Man, Louis Leterrier's Incredible Hulk, was moderately well-received by critics and remains the least profitable film in the series.
Iron Man 2 suffered a mixed reception as well, not least because the comparatively simple story was weighed down with altogether too much connectivity to the future of the franchise. The core clash between Robert Downey Jr.'s Iron Man and Mickey Rourke's Vanko became a mash-up of comic book villains to preview the future of Thor, Captain America and Black Widow.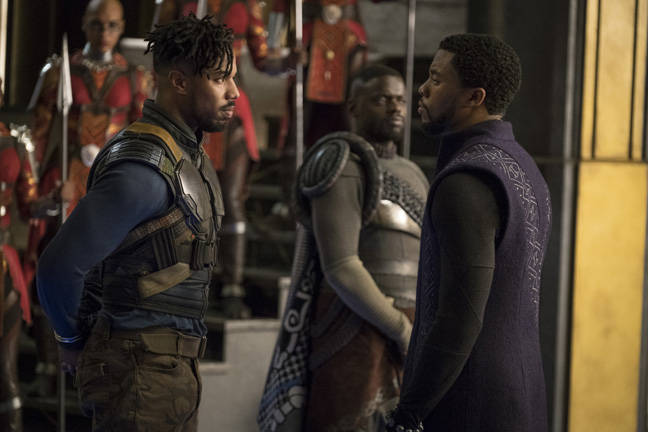 Left to right: Erik Killmonger (Michael B Jordan) and T'Challa/Black Panther (Chadwick Boseman), with W'Kabi (Daniel Kaluuya) in the background.
But these problems have proved tactical. Twelve television series have gone on to be spun out of the MCU franchise. While they have ranged from the long-running and well-received (Marvel's Agents of S.H.I.E.L.D) to the catastrophic (Inhumans) most attract enough decent reviews and viewing figures to warrant more in the coming years.
Admittedly, the traffic between the TV and film branches of the MCU has been mainly one-way and no character created for TV has yet transferred to the big screen. Fan hopes for a glimpse of Daredevil or Jessica Jones in the background of one of the two climactic Avengers movies are likely to remain nothing more than hope.
The man behind the films
Behind all of this has been Feige, whose first proper screen credit was working on X-Men for franchise runner Lauren Shuler Donner, wife of Superman director Richard Donner and became Marvel president one year before Iron Man in 2007.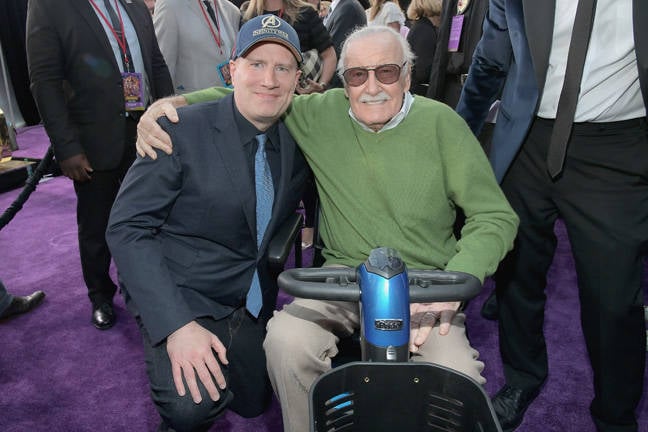 Kevin Feige with Marvel boss Stan Lee
Feige was brought on board partly for his knowledge of comic books and (especially) the movies that were made from them. He told Vanity Fair last year that he is a man of varied enthusiasms: "Comics were not high on there, actually. It was the kind of movies based on comics - like Donner's Superman.
"Later, when I was 16, Tim Burton's Batman came out. But also the Star Wars movies, the Star Trek movies, the Indiana Jones movies, the Back to the Future movies, the Amblin movies. They all could have been based on comics. Those were the types of movies I loved."
Feige is the most prominent member of the six-strong creative committee that shapes Marvel Studios' output. Alongside Marvel boss Stan Lee, Feige is the public face of the company.
Feige has been credited for striking a balance between authentic superhero lore and crowd-pleasing multiplex populism is the engine of the all-conquering Marvel movie franchise. As Tom Rothman, co-chairman of (X-Men studio) Fox is reported to have it: "Kevin knows how to translate comic book properties into a mainstream aesthetic."
What happens next?
The possibility exists that, with both Fox and Marvel now owned by Disney, there could come a great merger of the two universes but it's more probable that the two franchises will remain separate until a total franchise reset in about 20 years' time.
And if the Marvel Universe continues at its presently profitable pitch, there's no commercial need for that to happen even then.
But April 2018 represents an ending of sorts for the Marvel Cinematic Universe.
Avengers: Infinity War is likely to be the last appearance for at least one of the original Avengers team. Infinity War marks Robert Downey Junior's eighth film (plus two cameos) and Chris Evans's sixth (plus two cameos again.)
Even assuming that both of their characters survive the apocalyptic assault, both are committed only as far as the yet untitled next Avengers film. Anything beyond that would require new one-off deals like the one that Robert Downey Jnr secured for Spider-Man Homecoming. Chris Hemsworth has also predicted an end to his tenure as the Thunder God.
And who knows how many toe-curlingly brilliant dad jokes Stan Lee has left in him?
The next generation, exemplified by Tom Holland and Elizabeth Olsen, will be with us for years to come. The Marvel Cinematic Universe, though, will be with us for longer.
Not only could the Marvel Universe outlive us all but it, unsettlingly, stands to go on breaking that law of diminishing returns that once governed Hollywood's franchise follow-ons. ®
* We stand corrected, thanks ArrZarr