This article is more than 1 year old
Did you guess 2019 for Intel's 10nm chip ramp up? Congratulations
Process node stalled again over manufacturing nightmares – but hey, money's still pouring in
Meltdown? What meltdown? Intel's 50th birthday in July should be a hell of a bash as the chipmaker is flush with cash and reckons 2018 might well be a record-breaking year.
Just don't mention two very little words: ten and nanometre.
In a conference call with Wall St analysts on Thursday, to mark the release of Intel's Q1 financial figures, CEO Brian Krzanich waxed lyrical about the processor giant's progress away from being a simple humble chip factory to a "data-centric" organization. Although it's banking billions right now, Chipzilla is constantly on the look out for new stuff to make that isn't the usual desktop or server CPUs or memories, presumably because it wants to keep restless investors sweet.
Look, see, Intel's getting into mobile, er, no, ok, smartwatches, er, no wait, the internet of things, um, artificial intelligence! Cellular modems! 3D XPoint!
"Our transformation to a data-centric company continues to succeed," Mr Data-Centric told analysts on the call. "Our data-centric business is up 25 per cent, with each division growing by double digits. Our strong cash flow will fund future investment in data-centric growth."
Here are the Q1 2018 results summarized:
Revenues: Intel booked $16.1bn in the first quarter of the year, a new record for the company. That's up nine per cent on this time last year. Chief beancounter Bob Swan said he was expecting second quarter revenues to be even higher.
Net income: Intel banked $4.5bn for the quarter, up 50 per cent year-on-year. Operating income rose 23 per cent over the same period.
Earnings per share: Those profits buoyed the EPS to $0.93 this quarter, up 53 per cent form the first quarter of last year. To tempt shareholders even more Swan reported that Intel will spend $1.9bn in stock buybacks this quarter and another $1.4bn will be spent on dividends, an increase of 10 per cent from last year.
Client Computing Group: All this growth didn't come from PCs. Revenues in Intel's CCG rose just three per cent to $8.2bn. PC volumes were flat, which Intel hailed as a success since PC sales across the board are shrinking at the moment. Notebook average selling prices (ASP) rose one per cent and desktop ASP rose seven per cent, reflecting Intel's "who else are you going to buy from?" monopoly strategy.
Data Center Group: DCG was Intel's star performer, with revenues of $5.2bn, up 23 per cent year on year. Cloud systems showed the strongest growth at 45 per cent, closely followed by Communications revenues which rose 33 per cent. The sad sack of the division was enterprise and government sales which were up just 3 per cent.
In the call with analysts, Krzanich was forced to answer question after question about Intel's progress on moving to 10nm FinFET production, a much, much delayed process already. He said that yields were low, there was a problem in the manufacturing the components rather than a electronic design blunder, but that these issues had been identified and were being rectified.
Because of this, 10nm chips will only ship in very low numbers initially. Intel won't begin ramping up mass production of 10nm silicon until 2019 at the earliest, missing its 2018 target. To make matters worse, Krzanich said volume production could kick in during the second half of next year.
The reason why this is important is because Intel's 14nm FinFET technology is more or less on par with rival foundries' 10nm efforts, and its 10nm should compete against the competition's 7nm parts. Trouble is, Intel has been on 14nm for a while, and its 10nm has stalled while other factories are rolling out chips with 7nm FinFETs. Generally speaking, the smaller the transistor gates, the more you can pack in, and the more oomph you can get out of the processor, hence the race to shrink the gates.
There is a fear Intel is, therefore, falling behind: its 10nm output is already years late.
Despite this, Intel had "product and process leadership," Krzanich claimed, because the biz was at least shipping some – hobbled – 10nm processors. That confidence may change, given AMD's assertion yesterday that it will begin shipping 7nm silicon later this year.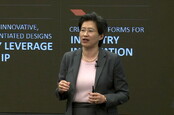 AMD CEO Su: We like GPU crypto-miners but gamers are first priority
READ MORE
But Krzanich insisted the delay wouldn't be a big deal. Since the first 14nm chips rolled off the line, Intel has improved their performance by 70 per cent he said, through better design and process optimization. In other words, Krzanich reckons Intel's 14nm transistors are pretty frickin' good compared to the competition.
He insisted the 10nm processor chip design wasn't fundamentally flawed, saying the design libraries were fine, and it was issues with multi- and multi-multi-patterning that were causing low yields. When asked if the company was tempted to skip 10nm and go directly to 7nm, Krzanich wasn't keen, pointing out that a lot of cash had been spent building 10nm production lines so there's no going back now.
"We're not going to skip 10, there's a lot of learning there that we can carry into 7nm production," he said. "Also, around 80 per cent of our 14nm capital equipment is movable to 10nm production and the same thing will happen between 10 and 7nm processes."
With regard to the Spectre-Meltdown situation, Krzanich said he was proud of the way the company and the industry had handled the situation "with transparency." New processors with a hardware fix for the security issues will be out later this year, he promised.
Finally, chip design guru Jim Keller has joined Intel as a senior veep for silicon engineering. He was at Tesla, and previously AMD as chief architect. ®