Western Digital shipped a whole load of spinning bits into enterprise and hyperscale data centres in its third fiscal 2018 quarter, although overall disk units sold dropped 15.5 per cent on the year.
In the three months to March 30, revenues were a tidy $5bn, compared to $4.6bn a year ago, up 8 per cent, but seasonally down on the previous quarter's $5.3bn (5.7 per cent). Profit was $61m, just 1.2 per cent of turnover, and contrasting starkly with the year-ago $248m, a 75.4 per cent drop.
This was attributed to debt costs. WD says non-GAAP net income was $1.1bn, which excludes this, well up on the year-ago $716m.
The disk and SSD-flinger generated $1.0bn in cash from operations during the quarter, up 3 per cent year-on-year, ending with $5.1bn total cash, cash equivalents and available-for-sale securities. It recorded $3.3bn dollars in operating cash flow, an increase of 34 per cent.
Two of its three main business segments grew. Data Centre Devices and Solutions took in $1bn, up 25 per cent year-over-year. Client Solutions revenue was $1bn, an increase of 4 per cent year-over-year driven by hard drive and flash retail products. But Client Devices revenue of $2.3bn was essentially flat year-over-year.
The bulk of the Data Centre Devices business came from high-capacity disk drives and hyperscale data centre build-out, with SSDs playing a minor role, according to CEO Steve Milligan in the earnings call.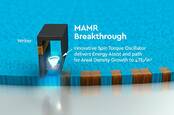 Western Dig's MAMR is so phat, it'll store 100TB on a hard drive by 2032
READ MORE
Milligan laid on the indirect self-praise: "The power and agility of our platform and our global team's sustained focus on operational execution drove another quarter of strong financial performance for Western Digital. We saw particular strength in our high-capacity enterprise hard drives, which achieved record quarterly revenue."
And so they did. Although total disk drive shipments were down 15.5 per cent annually to 36.4 million, enterprise drives at 7.6 million were up 31 per cent from the year-ago 5.8m. Other drive category shipments – notebook, desktop, consumer electronics – were all down on the year, although branded drives were up slightly at 5.1 million compared to 4.9 million a year ago.
WD's high-capacity disk drives are going to transition to microwave-assisted recording (MAMR) to increase capacity beyond current recording limits. MAMR drive sampling starts after summer with production ramping slated for 2019.
Its SSDs also face a capacity-increasing transition from maturing 64-layer 3D NAND to 96-layer technology in 2019, with production starting in the third quarter this year and ramping up.
Cooperation with Toshiba for NAND production is back on track after the disruption caused by Tosh's intention to sell a net 60 per cent of its interests in the joint venture to a Bain Capital-led consortium.
Milligan referred to this, saying: "Our joint venture operations with Toshiba Memory Corporation continue to perform exceptionally well and our plans for continued joint investments in Fab 6 and Iwate remain on track." Initial Fab 6 output is expected in the third quarter.
Declining SSD sales were touched upon in one exchange in the earnings call. Mark Moskowitz of Barclays Capital Inc. asked: "Is the composite revenue of solid state ... improving versus the last few quarters where it kind of seems like it was kind of going sideways or maybe even down on a year-over-year basis?"
Milligan was somewhat defensive, not admitting to a non-seasonal decline. "I don't know if we can comment. I mean, I know it was down seasonally, but that's consistent with seasonal revenue trends. But we haven't provided specific breakout in terms of Flash-based memory or Flash-based revenue versus hard drives.
"But we are seeing good momentum in terms of our Flash-based products. And so, things are in good shape in that regard."
Revenues in the fourth quarter are forecast to be between $5.0bn and $5.1bn, meaning full-year revenues of $20.53bn, a 5.5 per cent annual rise. ®