This article is more than 1 year old
DRAM makers sued (yet again) for 'fixing prices' (yet again) of chips
Stop us if you've heard this one: Samsung, Micron, and Hynix walk into a courtroom...
Updated The three semiconductor giants responsible for nearly all of the world's DRAM supply are being sued for allegedly working together to keep memory chip prices high.
A class-action complaint [PDF] filed to the US Northern California District Court late last week accuses Micron, Samsung, and Hynix of conspiring to keep the price of memory chips artificially high to pad their own bottom lines.
None of the three companies returned a request for comment on the suit.
The complaint, put forward by named plaintiffs Michele Jones, David Laietta, Kimberly York, Benjamin Murray, and Wanta Dureya on behalf of anyone in the US who purchased something containing DRAM from one of the three companies from July 1, 2016 through the February 1, 2018. It accuses the three companies of violating unfair competition and antitrust laws by illegally colluding to keep prices up.
The suit claims that, after a global decline in the price of RAM chips, the three companies began in June of 2016 to deliberately limit their output of DRAM storage chips. As a result the three companies, who are said to control around 96 per cent of the global market, each made more money at the expense of anyone who bought a computer, mobile phone, or other device that relied on the chips to hold data.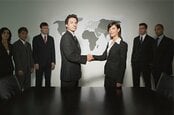 FTC slams Rambus' memory 'monopoly'
READ MORE
"During the Class Period, Defendants agreed to delay or slow capacity, or not to expand capacity," the suit claimed. "This facilitated Defendants' ability to stop DRAM prices from falling and cause prices to dramatically reverse course."
What's more, the suit claims, you can actually track the bumps in DRAM prices to the aftermath of industry events where the three companies would have had a chance to sit down and plan together how they could get top dollar.
"In addition to the transparency and ease of information sharing that comes from being in such as small industry where many of Defendants' employees likely know each other, Defendants also have overlapping business relationships with each other, which provide opportunities to exchange information and collude," the suit alleges.
The plaintiffs also note that this is not the first time these companies have been accused of price fixing.
Back in the turn of the milennium, from 1998-2002, Hynix, Samsung, and Micron were among a group of vendors who would ultimately end up paying a settlement to end complaints they conspired to rig the price of DRAM chips in order to make top dollar. ®
Updated to add
"Micron is aware of a lawsuit filed on April 27 in the Northern District of California alleging that Samsung, Hynix and Micron engaged in certain anticompetitive behavior relating to the sale of DRAM. As of today the company has not been served and does not comment on active litigation," the chip biz told The Reg in an emailed statement.