This article is more than 1 year old
Failbreak: Bloke gets seven years in the clink for trying to hack his friend out of jail
Michigan man caught rifling through county IT systems
A Michigan fella will spend up to seven years and three months behind bars – for trying to hack government IT systems in the US state to get a friend out of jail.
Konrads Voits, 27, of Ypsilanti, Michigan, received the 87-month sentence after he pleaded guilty to one federal charge of damaging a protected computer. He will also have to give up his laptop, four mobile phones, $385.49 worth of Bitcoin, and one "Green Integrated Circuit Component, Serial No. Y21A2123" in asset forfeiture.
Voits admitted to a 2017 attempt to break into the network and records systems of the Washtenaw County Jail. Using a combination of phishing emails, social engineering – calling employees to get their login passwords – and malware infections, Voits was able to get into the county's record system and alter some inmate records with the aim of getting an unnamed inmate at the jail released early.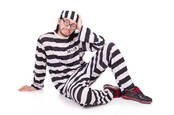 Prison hacker who tried to free friend now likely to join him inside
READ MORE
The US Dept of Justice's Eastern Michigan office said the intrusion was only noticed after an employee looked through the records of the inmate and then alerted the county's IT staff to the suspicious activity. From there, investigators were able to root out the employees who had been infected (many were directed to phishing sites or convinced via phone to download malware.) The activity was eventually traced back to Voits, who has had previous run-ins with police for drug possession and stalking.
Interestingly, it turns out that at least one of Voits' earlier encounters with the local cops may have been while he was working on the jail hack. Five days before the county's IT staff determined their network had been compromised, police found Voits with his laptop on the roof of a building in Ann Arbor directly across the street from one of the municipal offices targeted in the attack.
Believing Voits' story that he was only "trying to get better reception," officers let him go with a trespass notice. Ten days after the incident, he was collared and charged for the attack.
The DoJ estimated that investigating and cleaning up the infiltration – around 1,600 employees had their personal information compromised in Voit's data-harvesting attempts – ended up costing around $235,000.
"Thanks to the quick response of the IT employees at Washtenaw County, and to the careful review of records by employees at the County Jail, nobody was actually released early," the DoJ officials said last week.
"Washtenaw County spent thousands of dollars and numerous extra work hours responding to and investigating the breach." ®