This article is more than 1 year old
Democrats need just one more senator (and then a miracle) to reverse US net neutrality death
It won't pass but hey, why pass up a partisan punch-up?
Democrats in the US Senate are pushing for a measure that would, if passed, kill off efforts by America's communications watchdog, the FCC, to scrap the nation's net neutrality protections.
With time rapidly running out, the lawmakers have decided not to delay their effort to get more Republicans to join their group, and instead will put their Congressional Review Act effort to nix the FCC's actions to a Senate floor vote. That vote is due to take place on May 9.
The Democrats have 50 votes – including one Republican, Susan Collins (R-ME), who said she will vote yes – but need 51 for it to pass, meaning that the effort will likely become little more than political grandstanding and point scoring in the hope that it will have some small impact on mid-elections in November.
Net neutrality is extremely popular with voters, and recent polls have shown 86 per cent of the American public are opposed to ending the rules. But the issue has been turned into a partisan one thanks to the strategic efforts of cable companies, ably assisted by FCC chairman Ajit Pai, and President Donald Trump.
Even if the Democrats were to get one more vote, their quest to reverse the FCC's decision would then move to the House of Representatives, where it would face an even tougher struggle to gain approval (again, thanks to partisan politics) and then would need to be signed by President Trump, which would be extremely unlikely given his vocal support for killing off the existing rules.
But in a town where nothing gets done, net neutrality will at least serve to bolster Democrats' high opinions of themselves.
Fight
"We're in the homestretch in the fight to save net neutrality," said Senate minority leader Chuck Schumer (D-NY). "Soon, the American people will know which side their member of Congress is on: fighting for big corporations and ISPs or defending small business owners, entrepreneurs, middle-class families and every-day consumers."
The vote will be the centerpiece of a broader effort to make net neutrality an election issue: the Democrats have joined up with net neutrality advocates to create yet another "day of action" on May 9.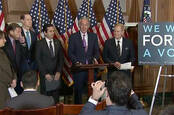 US Congress seizes net neutrality, stuffs it into a bipartisan black hole
READ MORE
Among the companies that have said they will join the day of action – the third since the FCC formally approved its reversal plan – are Etsy, Tumblr, and Foursquare.
But notable by their absence are the tech giants, including Google, Facebook and Twitter. Despite having strongly defended and argued for net neutrality in the past, the web goliaths have taken the pragmatic view that they have more to lose by publicly opposing the FCC's unpopular plans, and so risk annoying Republican lawmakers who are in the majority in both halves of Congress, than by saying nothing.
FCC boss Pai has made it abundantly clear that he will not revisit the issue – even ignoring numerous serious concerns over how the decision-making process was run.
With a political solution more or less impossible, there are effectively only two avenues left to ensure some element of net neutrality: lawsuits lodged in Washington DC against the measure, which are still ongoing; and new state laws that hope to introduce their own protections at the state level. That approach has had mixed results so far. ®