This article is more than 1 year old
When WAN works like LAN: RStor's network acrobatics helps it wolf $45m from Cisco 'n' pals
Multicloud Platform builds virtual data centres
Analysis Cloud startup RStor has dropped out of stealth and received $45m of A-round cash, led by Cisco Ventures, to develop its Multicloud Platform compute service.
Currently organisations with large data sets that require high-powered processing ship them to public clouds, make deals with supercomputing centres or get their own HPC processing and storage gear. Whichever choice they make involves a degree of lock-in.
The startup's Multicloud Platform aims to solve the problem by connecting multiple different cloud compute instances, as well as supercomputing centres, to customers' data lakes, with Equinix IBX colocation data centres acting as local gateways with fast network links connecting the data set to a remote compute facility.
How does it work?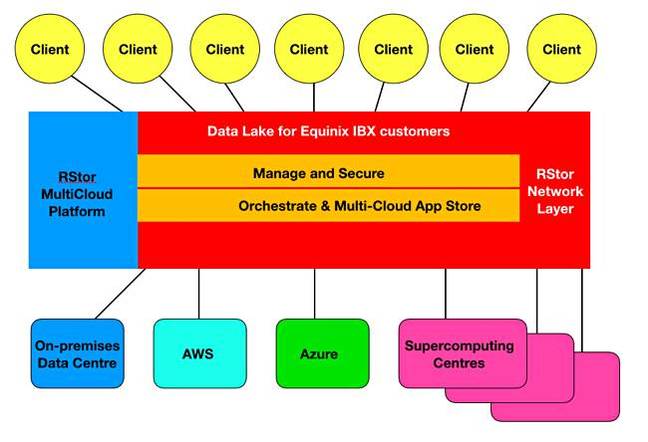 Our take on the RStor concept
RStor told us its goal is to convert any x86, GPU, Power PC, Arm and Cray processor into a cloud node. Azure and AWS bring x86 compute into play.
It has partnered with several supercomputing facilities – San Diego Supercomputer Center, Texas Advanced Computing Center, Pittsburgh Supercomputing Center and New Mexico Consortium – to make their compute facilities available to its customers.
Customers hook up with RStor's Multicloud Platform to get a look at the available computing resources and select one.
Their compute selection can be guided by an orchestration facility based on RStor machine learning and analytics. The analytics, according to the firm, "characterise the cost and performance attributes of each cloud provider and deployment platform to provide guided selection and automated workload placement based on customer-specified governance criteria".
RStor claims its software can automate and match workloads with the right computing resources between on-premises, public cloud, and supercomputing centres. This seems like cloud compute broking.
"This allows users to create a virtual data centre across available computing resources on-prem, off-prem and in the cloud, and includes intelligent resource selection optimised for specific computing jobs."
There is also a Data Lake facility, a storage service located at the edge of the cloud, which it says "enables organisations to make their data securely accessible to on-premises IT, public clouds and supercomputing centres".
It claimed to have "launched the first multicloud App Store with popular open source applications that any Singularity or Docker container can use, including TensorFlow, VASP, OpenFOAM, and dozens of others".
The containers can run in different compute environments and RStor "aggregates containers into a hyper-distributed infrastructure".
Taufik Ma, CEO of Attala Systems, which is involved with composable cloud infrastructure, said: "We are excited to partner with RStor to bring a new generation of capabilities to market."
The networking
Compute is an endpoint. How is it connected to a workload data set? RStor talks of its low-latency, high-bandwidth Connect optical network fabric, with 3.2Tbit/s speeds at the edge, which could mean very expensive wires.
It says the fabric quickly and reliably moves large data sets to connected computing resources, while offering predictable performance and pricing.
CEO Giovanni Coglitore, a former senior director of hardware engineering at Facebook claimed it was: "a new internet based on a distributed network, where computing happens where data lives, is what customers today demand."
Taken literally, this sounds unlikely, because compute doesn't happen where data lives; no server processors physically move to storage repositories. Instead data gets to the remote processors faster than before.
RStor stated: "RStor Multicloud Platform Storage resources are physically located inside Equinix colocation facilities at the cloud edge, external from CSPs, supercomputing centers and enterprise customers – but providing secure access to each resource pool."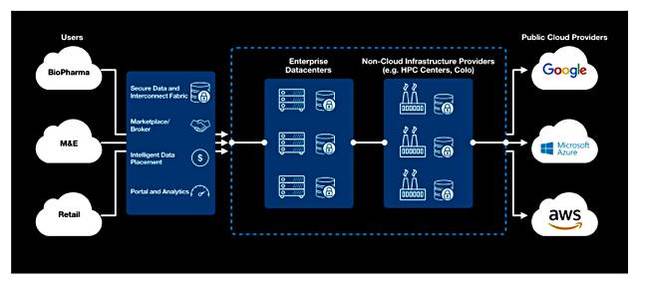 RStor says it federates multiple carrier grade networks into a single marketplace. Click to enlarge
What is actually involved?
RStor told a trade site last week that the networking involves RDMA (Remote Direct Memory Access) and proprietary network protocol extensions to provide speeds equivalent to UDP (User Datagram Protocol) networking.
There is none of the "chattiness" of TCP/IP, with RStor claiming it makes its WAN behave like a LAN.
RStor claimed Connect:
Allows you to move the entire dataset "as is" – there is no pre-processing required, no computational resources required at the edge, and there is immediate access to the information
Uses a novel method that provides remote direct access to the data without having to move it first, eliminating the chokepoint of the architecture and maximising the potential of the WAN
Supports "remote mount" which allows local users to access and edit remote data without transferring it – even at extreme latencies
We're told its Connect fabric can transfer 1TB from San Francisco to Singapore in 15 minutes.
Who is behind RStor?
RStor was started by Coglitore in 2017. Between 1999 and 2010 he founded and ran Rackable Systems, which bought bankrupt SGI's assets in 2009, renamed itself SGI, grew a lot, and then sold itself to HPE for $275m in 2016.
Coglitore left in 2010 to become senior director for hardware engineering at Facebook, then CTO at Sony in 2015, getting involved in Open Compute Project-derived optical disk storage – the Optical Archive – until last year.
RStor staff includes infrastructure people from Google, Microsoft, Facebook, Dropbox and Amazon, and the enterprise data centre infrastructure world such as EMC.
The product is operating in preview mode and you can find out more here (though registration is required). ®