This article is more than 1 year old
Dell EMC PowerBricks VMAX... um, yeah, it's called PowerMax now
XtremIO, servers and HCI all thrown some extra grunt too
This year's Dell Technologies World, held this week in Las Vegas, has laid boosted VMAX, XtremIO, and HCI offerings at the feet of the EMC faithful, punted two AI-focused, accelerated servers, and prepared its PowerEdge server hordes for composability.
Starting at the top, VMAX has been rebranded as PowerMax, gets a CPU upgrade and is made ready for coming storage networking and memory technologies.
Two PowerMax systems were announced, the 2000 and 8000. These now use PowerBricks instead of V-Bricks, and the Hypermax OS becomes the PowerMax OS.
The 2000 can be regarded as an upgraded 250F, the 8000 an upgraded 950F. The 2000 can have one to two PowerBricks; the 8000 one to eight. The CPUs in the brick engines move along the Intel product progression curve, from the 250F/950F's Broadwells to Xeon E5 26xx v4s. The maximum core count, 576, stays the same, although maximum IOPS jumps from the 950F's 6.7 million to the 8000's 10 million. This makes PowerMax the world's fastest storage array, according to Dell EMC.
This increased CPU power is accompanied by the introduction of deduplication, a first for this product line, alongside the existing inline compression, and up to 5:1 data reduction. Dedupe can be set at an application level. The maximum effective capacity stays the same as that of the 250F and 950F, though – 1PB and 4PB respectively. It starts at 13TB in a single 10U PowerBrick.
Dell says PowerMax has twice the rack density of VMAX and a 40 per cent lower power consumption.
NVMe SSD support is added and PowerMax is ready for the inclusion of both NVMe-over-fabrics (NVMe-oF) and storage-class memory. Dell says that PowerMax with NVMe flash drives has a 25 per cent better response time than the previous VMAX generation, while the combination of end-to-end NVMe and SCM will make PowerMax's response time 50 percent faster than VMAX.
The PowerMax OS uses machine learning, predictive analytics and pattern recognition to make the arrays more autonomous.
With this roadmap to NVMe-oF support, Dell EMC joins IBM, Kaminario, NetApp and Pure Storage in limiting the opportunities for NVMe-oF-type startups, like Apeiron, E8, Excelero, Pavilion and others in its accounts.
XtremIO X2
The XtremIO X2 arrays get a 55 per cent lower-priced entry point and a software upgrade providing replication of changed data to a target system. This, Dell claims, lowers replication bandwidth needs by up to 75 per cent over rival replicators that transmit all the data in a changed file. It also minimises the performance impact of replication.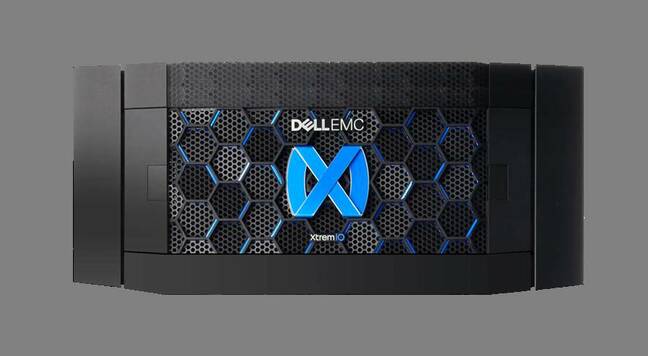 XtremIO front
PowerEdge
There are two new servers; the R840 and R940xa.
The R840 is a 2U, four-socket server which supports two GPUs or FPGAs as CPU accelerators. It can have up to 24 NVMe SSDs and is aimed at analytics and AI-driven workloads. Dell says it is 3.5x faster than the R820 in a Monte Carlo Risk Analysis simulation.
It has the OpenManage RESTful API and IDRAC9 for DevOps integration.

PowerEdge R840
The R940xa is a more powerful version of the R940, being a 3U, four-socket server with more accelerator grunt, supporting up to four GPUs or eight FPGAs. Dell says it's optimised to tackle similar AI/analytics type workloads as the R840 but which are compute-heavy, hence the 1:1 CPU-GPU ratio.
Richard Feyns, Brytlyt CEO, said that, by using GPUs along with CPUs, a GPU-accelerated PostGreSQL firm like his is able to provide sub-second response on billions of rows of data that previously would have taken 20 minutes.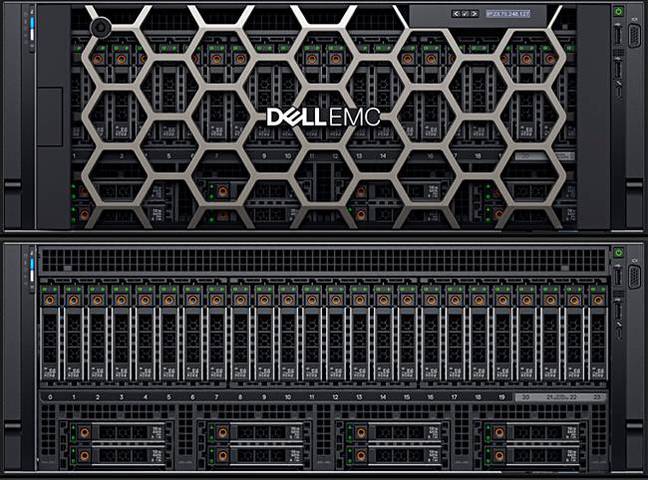 PowerEdge R940xa
There can be up to 32 drives in the R940xa's storage bays.
Composable servers
PowerMX is Dell's developing composable server product line, which is being previewed at Dell Technologies World. It is based around a two-socket modular "kinetic" architecture.
Details are slim but enough for Dell to claim it has 3x more onboard storage than any other similar system, up to 5x the network performance and 55 per cent lower network latency.
It supports 25 to 100GbitE today but is ready to move to Gen Z or other interconnects in future.
Dell wouldn't say whether it would be able to compose CPUs plus memory plus GPUs plus networking into a virtual server but did say it was looking closely at users' needs.
An MX management facility would be able to look after up to 8,000 PowerEdge devices from a single console, and there would be no-touch server discovery and automated chassis expansion.
Dell now joins HPE, with its Synergy composable system, and startups like Liqid, DriveScale, Inspur, and Supermicro in developing composable server product.
IBM hasn't made it to this enterprise server party yet, nor have the other white-box and ODM server vendors, as far as we know.
VxRAil and VxRack SDDC
The two Dell hyperconverged systems: VxRail and VxRack SDDC had their turn in the limelight too.
VxRail get gets NVMe, 2x more memory, 2x graphics acceleration, and more aggregated networking bandwidth. There is a new STIG (Security Technical Implementation Guide) and automated scripts to accelerate deployment of secure infrastructure.
There are VMware Validated Designs for SDDC to plan, operate and deploy and on-premises cloud-like system.
VxRack SDDC gets PowerEdge 14G servers and supports VMware Cloud Foundation (VCF), as well as some security enhancements.
In other news, Isilon NAS instances are now available in the Google Cloud.
Availability
PowerMax arrays are available from 3 May. Power MX composable servers will be available in the second half of this year. ®