This article is more than 1 year old
What could Facebook possibly do next to reassure privacy fears? Yup – make a dating app
We have all been trolled
F8 Facebook on Tuesday kicked off its F8 developer conference in San Jose, California, only one month after dialing back the data available to developers and after nixing rumored plans to debut a smart speaker housing an AI assistant.
The platform clampdown followed revelations earlier this year about Cambridge Analytica, a data firm that in 2014 acquired some 87 million Facebook user profiles harvested by a Cambridge University researcher using Facebook's Graph API.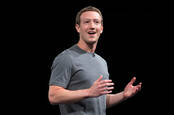 Facebook dynamites its own APIs amid data slurp scandals, wrecks data slurp applications
READ MORE
The incident prompted CEO Mark Zuckerberg to reenact previous apologies before US Congress and led to a variety of policy changes designed to allay fears that the social advertising company only gives lip service to privacy.
The latest example of the damage control campaign showed up a commitment to develop a Facebook-flavored right to be forgotten. The service, currently under development, is called Clear History, and it will allow Facebook users to see the websites and apps that use Facebook data gathering tech (e.g. the Like button) and to clear the analytics data they send back to the mothership.
"It's a simple control where you can clear your browsing history," said Zuckerberg during his keynote presentation. The chief exec cozied up to the elephant in the room – Facebook's capacity to trample privacy and scatter misinformation – and insisted it could be corralled and tamed.
"We need to take a broader view of our responsibility," he said. "It's not enough to just build powerful tools. We need to make sure they're used for good."
Facebook's leader revisited the various steps the social network has taken to prevent misuse since the extent of the social network's role in electoral meddling and propaganda distribution came to light. New AI tools, he said, have taken down tens of thousands of fake accounts, and large political advertisers now have to be verified. Facebook has a higher standard of transparency, he claimed, than TV or print publications.
And he said by the end of the year, Facebook will have more than 20,000 people working on security and content review. "There's no guarantee that we get this right," he said. "We will make mistakes, there will be consequences and we will have to fix them."
It's unclear what those consequences might be. Past mistakes, addressed through a 2011 US Federal Trade Commission consent decree for deceiving people, appear to have had little impact on Facebook.
Zuckerberg also took mercy on Facebook app developers, who have had to cope with reduced access to data and a suspension of app approvals. "I know it hasn't been easy been a developer in these last few months," said Zuckerberg, noting that Facebook has resumed reviewing third-party apps that use the platform.
Before handing the baton to underlings, he stressed that Facebook intends to continue creating tools for its platform. "We're going to keep building even while we focus on keeping people safe," he said.
The big news of the morning was that Facebook is adding dating to the Facebook app. When launched later this year, it will allow people to create a dating profile that's distinct from their Facebook profile. It won't be shown to friends, but will still be informed by dating preferences, mutual friends, and common interests.
Mark Zuckerberg at #F8: Facebook absolutely cares about your privacy. We hear you loud and clear on t–

[CERN fires Large Hadron Collider again]

Zuck: We're doing a dating app!!!1 pic.twitter.com/2uUd1dip3p

— The Register (@TheRegister) May 1, 2018
Dead serious. Facebook's adding a dating feature. pic.twitter.com/opSh9cTM4u

— The Register (@TheRegister) May 1, 2018
Also, Zuckerberg said that Oculus Go, the company's first standalone VR headset, is now available in 32 countries for $199.
The Spotify and Go Pro apps have gained the ability to share content directly to Instagram Stories, and other apps will follow. Instagram is also getting video chat and a redesigned Explore tab. The AR Camera Effects Platform, announced at F8 2017, is now available on Instagram and brands are gaining the ability to deploy AR effects to enhance Messenger discussions.
And let's not forget Blood Donations on Facebook, a way for people who give information to the social ad platform to find opportunities to give blood. And let's not forget that earlier today, Facebook briefly went a bit nuts and asked people under every single post if said text or image was "hate speech." ®
PS: The stock price of Match – owner of dating and hookup sites and apps OkCupid, PlentyOfFish, Tinder, and Match.com – fell 22 per cent to $36.71 apiece on the news of Facebook dating profiles.