Take-off crash 'n' burn didn't kill the Concorde, it was just too bloody expensive to maintain
Yet Filton display shows it's among the world's best-loved aircraft
---
Supersonic or bust
"If God meant aeroplanes to fly he meant them to be this shape," said Morien Morgan in a 1964 BBC documentary about Concorde. As you enter the purpose-built hangar you get a sense of what he meant. It's a sleek, attractive aircraft.
Alpha Foxtrot 216, which was assembled on the other side of the runway in the Brabazon Hangar, is the centrepiece of a museum that received £4.7m in lottery funding.
The 216 was the last Concorde to be built, in 1978, and the last to fly. Its first flight was 20 April 1979, the last 26 November 2003. During that time 216 completed a total of 18,257 hours.
But this supersonic dream could have crashed and burned long before 2003. Born in an era of optimism, Concorde faced plenty of challenges.
The British commercial aerospace industry was under serious threat and needed big ideas just as the concept of supersonic commercial flight was gaining currency abroad in the US, USSR and France. Britain's politicians and planners spied an opportunity.
Concorde was not really borne out of any individual or idea but its origins date back to 1954 when Arnold Hall, director of the government's R&D organisation Royal Aircraft Establishment (RAE), asked one of its aeronautical engineers – Morien Morgan – to form a committee to study the concept of supersonic transport. Morgan was an influential figure throughout Concorde's development and is often referred to as the "father of Concorde".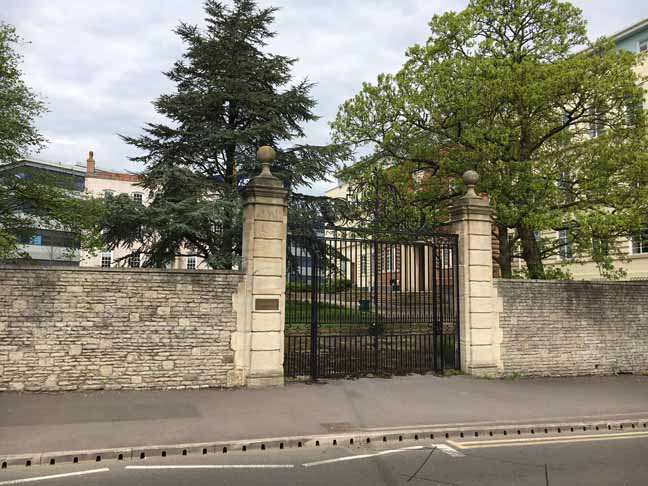 From man with a bus to supersonic planes, the Sir Stanley White Gate. Photo: Marc Ambasna-Jones
The Supersonic Transport Advisory Committee (STAC) was created in 1956. Morgan, who headed the committee in Farnborough, drafted in an array of engineers and scientists including two German émigrés Johanna Weber, a mathematician, and Dietrich Küchemann, an aerodynamicist. They came up with the idea of the Ogive delta wing – although at this stage an M-wing was still being considered. Three years later STAC delivered a report on the commercial viability of a long-range supersonic aircraft (you can now obtain copies of reports from the National Archives).
Two designs were put forward, which led the government to commission feasibility studies from two UK manufacturers – Hawker Siddeley and BAC. The contract was eventually awarded to BAC, based primarily on the design work of Ted Talbot. Ironically, Concorde was to be the last hurrah of a business that had been making aircraft since 1910.
BAC had a long and distinguished history: founder White, chairman of what had been the Bristol Tramways and Carriage Company, was inspired to start aeroplane design and manufacture after a chance meeting with aviation pioneer Wilbur Wright in France in 1909. A year later he had produced the Bristol Boxkite biplane, which was flown for the first time by Maurice Tétard and Henri Jullerot in front of thousands at the Sea Walls area of Clifton Downs in Bristol. BAC had been working on supersonic travel since the 1950s, with a Type 198 aircraft based on several different designs that included a rather Thunderbirdsy M-wing with six engines.
This was the start of Filton's future as a centre for aircraft manufacture.
BAC went on to be pushed and squeezed into new shapes by the nationalising government of the time – forced together with English Electric Aviation, Vickers Armstrong and Hunting Aircraft to form the British Aircraft Corporation before becoming British Aerospace (BAe).
More money...
But supersonic flight was not cheap or risk free and it took funding at the national-government level. The British initially sought to share the burden with US manufacturers Lockheed and Boeing but that came to nothing. Next, it was the turn of the French. President Charles de Gaulle saw it as symbol of European partnership and chance to challenge US aircraft manufacturers' dominance. Britain was negotiating its first attempt to join the European Economic Community. More than fraternity, Concorde was a chance to reap the glory while sharing the costs and risks of the project.
Minister of Aviation Lord Amery pitched the idea to Parliament as Britain and France prepared to sign a deal in November 1962. "This aircraft," Amery told the House of Commons, "has every chance of securing a substantial part of the world market for supersonic airliners. This is a chance that will not return."
The idea was that from New York, Concorde would land routes to India and become so popular that BA's competitors Pan Am and TWA would be compelled to buy Concordes. Britain, France and the US would then work together on the next generation.
BAC/BAe and the French firm Aérospatiale were responsible for the airframe, while Britain's Rolls-Royce and France's SNECMA (Société Nationale d'Étude et de Construction de Moteurs d'Aviation) developed the jet engines.
The British spec was for a long-range craft – the Type 223 – for transatlantic routes, and Aérospatiale worked on a Super-Caravelle, for service by Air France to shorter routes in Europe an Africa.
The deal might have been signed but next came the political turbulence. De Gaulle vetoed Britain's bid to join the EEC less than a year later. Despite that, he stressed the Concorde project should continue. Next up, a private secretary briefing note to then Conservative Prime Minister Alec Douglas-Home from 1964 revealed the cooling of political will towards Concorde, preferring instead the idea of the Channel Tunnel. Then came the Labour Party, which had pledged to scrap Concorde in the lead up to the 1964 general election but reversed its promise in 1965 following a review.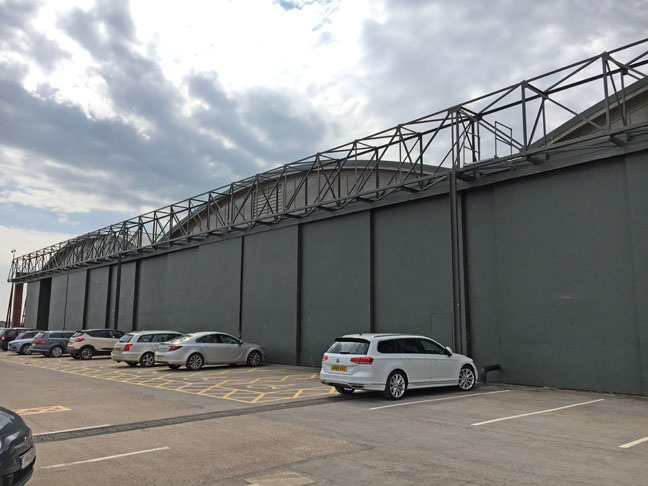 Welcome to the museum, through Filton's triple hangar. Photo: Marc Ambasna-Jones
In parallel to the politics were the technical challenges. Early on, in 1963, it was discovered that the plane as designed would not make the circa 5,580km (3,470 miles) to New York and upgrades were needed. As changes were introduced, Concorde became heavier and needed more powerful engines: the original Olympus engines were supposed to produce 30,610lbs of thrust but that increased to 38,050lbs. As the design and requirements changed, so did the costs, from the initial £95m estimated by STAC finally hitting £1.1bn, much to the chagrin of HM Treasury.
Concorde weathered these storms to make its maiden flight in Toulouse, France, on 2 March 1969 with the aircraft assembled in Britain taking off a month later on 9 April from Filton. The British Concorde had to make its maiden landing at RAF Fairford, 80km (50 miles) to the northeast, because the Filton runway was too small. Every Concorde constructed in the UK thereafter went on to make its maiden flight from Filton.
The US abandoned its own plans for a supersonic jet. Boeing cancelled its planned 2707 aircraft in 1971. The Soviets' Tu-144 programme did enjoy a modicum of success, taking to the air for a subsonic flight in 1968 and its first supersonic flight in October 1969.
The Tu-144, however, suffered two crashes: one in 1973 at the Paris Airshow, intended to show off the plane to potential buyers and the public, and then again in 1978. Bigger, heavier and louder than Concorde and lacking the sophisticated onboard computer systems, Concordski was considered too cramped and too noisy, while it flew over remote areas and was mostly used to haul cargo. Production was officially cancelled in 1982 after just 102 commercial flights – 55 with passengers. Seventeen were built, but were mostly scrapped with a few on display in Germany and Russia.