Take-off crash 'n' burn didn't kill the Concorde, it was just too bloody expensive to maintain
Yet Filton display shows it's among the world's best-loved aircraft
---
So, here we are then – Alpha Foxtrot
Walking underneath and around the plane gives a sense of its size. A wing span of 25.56m (83ft 10in), length of 62.10m (203ft 9in) and 11.30m (37ft 1in) tall. Teddington's National Physical Laboratory weighed Concorde in 1979 and found, empty, the airliner landed at 78,700kg.
For the kids (young or grownup) there is a table where you can test your paper aeroplane making skills. There are also information films projected on to the plane itself. Here you can see how the engines worked. The four Olympus 593s (built at Filton by Bristol Siddeley Engines, bought by Rolls-Royce in 1964) were advanced for the age – twin-spool turbojets with an internal cooling system. Two independent compressors made of titanium ensured they were light and strong to withstand potential damage but it was the power plant of the aircraft that enabled supersonic thrust. BAC had built the engines for the delta-winged Avro Vulcan V-Bomber, which was used to test the prototype Olympus engine in 1966.
Collaboration between BAC/Rolls-Royce, which developed the main engine, and SNECMA, which worked on the inlets, exhaust nozzles and afterburner, overcame a catalogue of challenges – not least how to keep the airflow intake at 350mph, regardless of the aircraft's speed. A series of ramps that could be angled to keep airflow consistent was devised by Ted Talbot, an aerodynamicist who became BAC's chief design engineer. The system created shockwaves so the engine could accept air for greater thrust. The result was something called supercruising, which could hit Mach 2.02, twice the speed of sound, without the need for afterburners. Concorde is still unique on this front. The ramps were controlled digitally, a first for aircraft. BAC Guided Weapons division at Filton helped develop the system, taking cues from the Rapier surface-to-air missile.
While innovative and efficient at Mach 2, at lower speeds the engines guzzled fuel.
The fuselage was made from an advanced aluminium alloy developed by Rolls-Royce, which could withstand high temperatures. A specially developed white paint also helped dissipate heat. The alloy also had to cope with expansion.
But it is the wing shape and nose that is Concorde's signature characteristic. In the original 1959 STAC report, one of the design considerations was for an M-wing but this was dismissed, due in large part to the work of Weber and Küchemann. They calculated that only a delta wing would give the aircraft the control it needed to cope with a range of speeds from take-off to Mach 2 and landing. Until this point, delta wings had only been used on a few military aircraft – notably the Vulcan Bomber.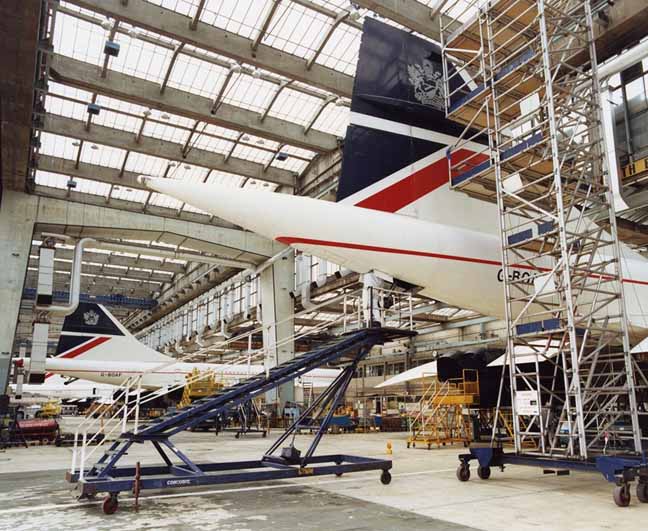 Inside BA's Concorde hanger. Photo: British Airways
Designed and built in France, the wing was customised from the standard delta for greater efficiency at low speeds. It employed a number of approaches to cope with the stresses of supersonic flight. There were few moving parts: subsonic aircraft might have 50 movable devices like flaps. Concorde's had just six "elevons" that replaced traditional elevators and ailerons for pitch and roll.
The wings also departed from the standard approach of bolting sections together, which could have introduced weak points and added unnecessary extra weight. So a process called sculpture milling was employed and the wings were carved from a copper-based aluminium alloy.
Concorde's famous nose cone, or "droop snoot" as it was dubbed, was also revolutionary in that it could move to an angle of 12.5° to enable pilots to see the runway on landing but also had to withstand temperatures of up to 127°C. A retractable heat shield protected the pilots and kept the front streamlined at maximum speeds. It was a typical solution to one of the many problems the designers and engineers faced. Nothing was spared.
Towards the back of the plane there are some stairs (there is also a lift) to the first floor. From here you can access the plane itself. Although you cannot go into the cockpit (it's glassed off), you can walk through the plane and get a sense of how small it is inside. Two rows of twin seats (you are not allowed to sit down!) are served by very small windows. This was not a plane with a view – it needed to minimise potential weak points and ensure the fuselage was robust enough to withstand the temperatures and stress of supersonic flight. Space is tight in this pencil-like fuselage with minimal legroom, narrow arm rests and an overhead that could just about manage a modern-day laptop case. As for the flight deck, there are three seats – pilot and co-pilot facing forward with Y-shaped joysticks – and a flight engineer to the right confronted by a curved bank of equipment. The flight deck is a grotto of switches and dials, a tribute to the days before cockpit computers and digital screens.
On exiting the plane, an exhibition room tells the story of Concorde through artefacts, documents, images and models. You will learn that Concorde was the most tested plane ever and an early user of the "chicken gun", a device that fired dead chickens at the windows to replicate flying into a flock of birds. It also ran the gamut of heat simulations and wind tunnels. There is a cockpit replica here also, built for pilot familiarity in the 1960s, and next to it a training "fuel pump simulator", which was used to teach engineers how to balance the aircraft by pumping fuel to and from the various tanks in the tail and wings. Here there are also stories of pilots, uniforms and even cutlery and Champagne bottles on display.
This is a detailed exhibition that pays homage to the designers, engineers and assemblers, as much as the pilots, crew and often famous passengers. As you head back out of the exhibition with Concorde in front of you and take it all in, you realise few aircraft, if any, get this sort of treatment. We have fond memories of Concorde now and there can be little doubt of the value Concorde brought airlines and nations in terms of publicity and prestige.
While it carried the flag for supersonic travel up until 2003, it had never been viable and failed to live up to Lord Amery's pitch to Parliament in 1964.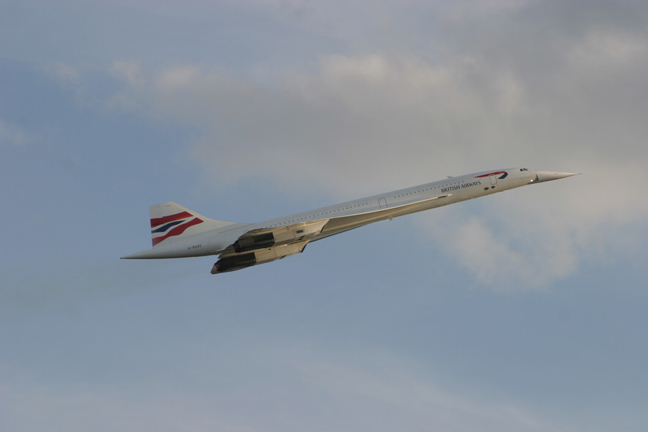 Faster than the rest and longer in flight than on the ground – Concorde takes to the air. Photo: British Airways
It was expensive to fly – a ticket to New York cost £3,500, meaning this plane was reserved for business or the rich and famous. The aircraft is calculated to have carried around 35,000 passengers at its peak, earning BA £20m in operating profits. Protests against overhead noise also helped curtail flights.
Concorde was also expensive to maintain. Potential upgrades for a plane conceived and designed during the 1950s and 60s and constructed during the 70s were considered too pricey. Despite this BAe and Aérospatiale had explored plans for a successor with 225 seats, three classes of passenger and capable of flying at two-and-a-half-times the speed of sound. However, with a potential cost of £9bn, the companies settled on something cheaper and more economical – the Airbus A380.
What finally killed Concorde wasn't the infamous crash of the Air France Concorde on take-off in 2000, killing 114 people. It was price. Airbus, the Anglo-French joint venture that provided maintenance, told BA and Air France in 2003 it was no longer able to provide support at an economical price.
For all that, Concorde was a fantastic achievement – a futuristic aircraft that saw off both the US and Soviets. And now Airbus, Lockheed Martin, NASA and others are all reported to be developing supersonic passenger aircraft. A new generation of quieter, more efficient commercial jets could fill the skies but few – if any – will have a museum dedicated to their memory. Concorde, in more ways than one, was clearly ahead of its time. ®
GPS
Aerospace Bristol: 51.52328788, -2.57820617
Filton House and Pegasus House: 51.50932648, -2.574877
WWII Air Raid Shelters: 51.51780033, -2.57132899
Postcode
BS34 5BZ (note the postcode will not take you to the museum but further along the Hayes Way Road to a car dealership)
Getting there
Train:
Bristol Parkway then short taxi drive to Aerospace Bristol or a 4.8km (three-mile) walk. Patchway Station, served by Bristol Temple Meads, followed by either short taxi journey or 2km (1.3-mile) walk.
Bus
: 75 or 79 to Gipsy Patch Lane from Bristol City Centre, 10 from Bristol Parkway to Gipsy Patch Lane then follow the footpath northbound towards the Travelodge, bearing left in the direction of The Mall, M5 South and Charlton Hayes. Pass the roundabout and continue along Hayes Way.
By car:
From M5 Junction 16 follow the A38 towards Filton. Cross first roundabout (second exit) continuing along the A38. Turn right onto Hayes Way by the Travelodge after 2.4km (1.5 miles), take the first exit at the roundabout and continue along Hayes Way.
Entry
Adults £15, £8 for children aged 4-17, free for under-4s; £13 for seniors (65+) and for students with valid ID. Free for dedicated carers (accompanying a paying visitor who is disabled). Family tickets range from £24.50 (one senior adult and two kids) through to £39 (2 adults and 2 kids).
Opening times
Aerospace Bristol is open seven days a week, including Bank Holidays, except for Christmas Eve, Christmas Day and Boxing Day. 10am-5pm. Last entry 4pm (one hour before closing).
Online resources