The once-bullish Wall Street analyst who predicted a "supercycle" of renewed demand for the tenth anniversary iPhone admits Apple is in a funk.
Sanford C Bernstein analyst Toni Sacconaghi Jr popularised the phrase "supercycle" last year, predicting that iPhone owners who had held back upgrading in previous years would choose this release to do so. He likened it to the sales explosion prompted by the iPhone 6 (and 6 Plus) in 2014. He believed one in four of the customer base would upgrade.*
In a research note published ahead of Apple's earnings today, Sacconaghi admitted that the 8/X cycle is actually "weak" and comparable not to the boom year of 2014, but the meh year of 2016, when the iPhone 7/7 Plus delivered near-identical design and experience to 2015.

"The current backdrop is reminiscent of 2016: supply chain reports have been unencouraging, and channel inventory was unusually elevated entering FY Q2 (and likely still is)," he noted. High inventory levels indicate that demand is weaker than the manufacturer hoped.
The risk-reward for investors is "neutral to slightly negative", Sacconaghi said.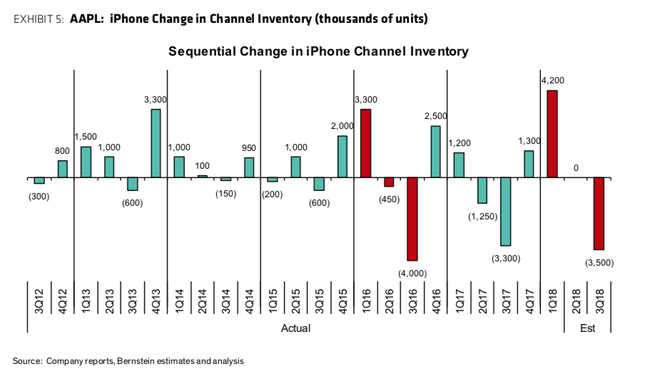 Click to enlarge
Demand inferred from supply chain reports derives from a number of iPhone component suppliers reporting the same or lower demand. The suppliers are forbidden to name Apple, but the size and importance of the Cupertino customer is usually sufficient: in some cases, Apple is over 60 per cent of a supplier's total business.
Chip fab Taiwan Semiconductor, AMS (sensors), STMicroelectronics (sensors), Flexium Interconnect (circuit boards) and Largan Precision (camera lens module) have all reported lower earnings than hoped for. Others, such as Qualcomm (modem), beat expectations but warned of iPhone demand weakness.
We'll know soon enough. Later today in fact. ®
*Bootnote
It was always bold to predict another bumper year like 2014 for the iPhone. The market had shown strong demand for larger phones – "phablets" we called them for a while – but Apple remained stuck on a four-inch form factor. In 2014 Apple increased this to 4.7 inches and introduced an even larger model. That isn't a trick that can be repeated too often.