Who do you trust to take you into the promised land of software-defined networking: a hardware company disaggregating its products as fast as it dares, or a software company trying to build a vast platform spanning any data centre, anywhere?
That's the choice techies face because VMware has decided it's in the cloud networking business and wants to connect everything Cisco and Juniper ever touched and then go where they can't – the public cloud.
VMware has made this push with its NSX Software, the product that lets users create notional networks. NSX is now known as NSX DC (for data centre).
As of today NSX can do so in more places. It already spans anything running VMware, on-prem, in a partner's cloud or AWS. Now it can also provide networking services to applications running in Microsoft Azure, to the Kubernetes and OpenShift container orchestration platforms, to bare-metal Linux hosts and to the wide area network thanks to the integration of the recently acquired VeloCloud.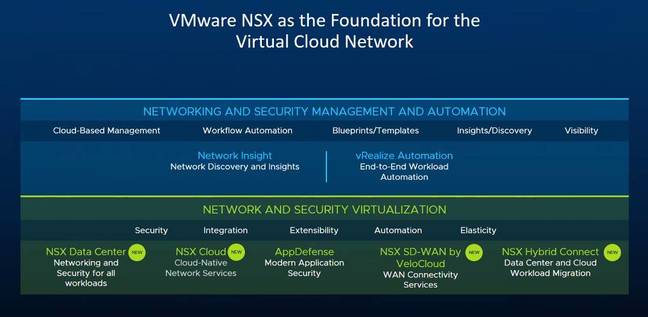 VMware's cloud networking stack. Click to enlarge
VMware has claimed a raft of new enhancements and additions can now let you establish a single set of network policies and have them run in all of the above mentioned places and development environments. Tech admins will also be able to do single sign-on to resources in AWS, Azure and other clouds running NSX. Or migrate workloads between public clouds, or public clouds and managed clouds, because anything you own or rent that NSX touches will be part of a logical collection of resources.
The Register's virtualization desk is more than a little surprised that NSX now works with Azure: it was only November 2017 when Microsoft launched a surprise attack on VMware with an unauthorised vSphere on Azure announcement that VMware initially said it would not support but then backed, grudgingly, once it figured out that long-time partners NetApp and Cisco were doing the heavy lifting.
There's less concern for Cisco with this expansion of NSX's powers. You're going to hear VMware smear anything to do with networking hardware on the grounds that software innovation happens fast, but progress tied to special-purpose hardware just won't let you move as fast as you need to in these cloudy times. VMware also has some snappy lines ready to roll: Cisco's intent-based networking is great, but businesses want outcomes, not intentions. And software defined... you can fill in the blanks.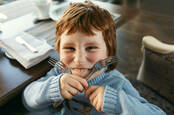 Forking hell! VMware now has TWO current versions of vSphere
READ MORE
VMware is also going after the sweetest networking market of them all: carriers. Virtzilla's efforts here have quadrupled the capacity of its virtual distributed switch to four million packets-per-second-per-core. Do the math: a dual-socket server with middle-of-the-pack Xeons can easily run 36 cores. A top-of-the-range Purley Xeon would put 56 cores in that server, for a theoretical 224 million packets-per-second-per-server. Watch out, LAN!
Virtzilla has pitched its entry into cloud networks as something of a catalyst in a two-decade shift to how networking is done. It has also told markets that it sees networking as a bigger opportunity than server virtualization. To deliver on that forecast, it needs to get NSX beyond about $5bn a year. This looks doable: as the move to cloud continues, demand for software-powered networking services will surely increase.
But we're at the beginning of this story and the networking industry has deep pockets and reserves of cunning to deploy in its defence. ®
Similar topics