This article is more than 1 year old
Escape from the Zuckerborg: WhatsApp founder legs it
User privacy rows rage on as Koum leaves to play Ultimate Frisbee, collect rare Porsches
WhatsApp founder Jan Koum has left the company amid Facebook's ongoing privacy rows.
Koum confirmed his departure after The Washington Post got the drop on his move.
The Facebook post announcing his decision said:
It's been almost a decade since Brian and I started WhatsApp, and it's been an amazing journey with some of the best people. But it is time for me to move on. I've been blessed to work with such an incredibly small team and see how a crazy amount of focus can produce an app used by so many people all over the world.
I'm leaving at a time when people are using WhatsApp in more ways than I could have imagined. The team is stronger than ever and it'll continue to do amazing things. I'm taking some time off to do things I enjoy outside of technology, such as collecting rare air-cooled Porsches, working on my cars and playing ultimate frisbee. And I'll still be cheering WhatsApp on – just from the outside. Thanks to everyone who has made this journey possible.
WhatsApp privacy had already become contentious following the Cambridge Analytica scandal: last month, another of the company's founders, Brian Acton, added his voice to the #DeleteFacebook protest.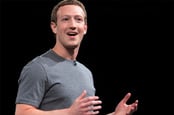 That long-awaited Mark Zuckerberg response: Everything's fine! Mostly fixed! Facebook's great! All good in the hoodie!
READ MORE
In reporting Koum's decision to leave, The Washington Post wrote that he had clashed with the rest of the Facebook board over two issues: user privacy, and encryption.
People "familiar with internal discussions" told WashPo that Facebook wanted WhatsApp's encryption somehow weakened and noted that Facebook has struggled to monetise the messaging service.
Whatever private discussions took place, Mark Zuckerberg made a commitment of a kind to encryption in his response to Koum's farewell, writing he was grateful "for everything you've taught me, including about encryption and its ability to take power from centralised systems and put it back in people's hands. Those values will always be at the heart of WhatsApp." ®