This article is more than 1 year old
Reg man straps on Facebook's new VR goggles, feels sullied by the experience
$199 Oculus Go is affordable and looks OK, but not the unreal deal
First look Facebook today announced the availability of the Oculus Go, a US$199 virtual reality headset it revealed in October 2017. I had the chance to play around with the headset for a few minutes in the press room at the company's F8 conference on Tuesday, to get a sense of the device ahead of a proper assessment.
My first impression: there's a fair bit to like but also several annoyances.
For starters, the standalone headset – no PC required – is reasonably priced. And what's not to love about its office-gray styling?
It has built-in audio. Hooray for that.
But wearing the not-quite stylish blinders got tiresome quickly. The Go is heavier than it should be, like a waterlogged scuba mask. You don't notice it while staring straight ahead, but if you look around quickly, you feel the weight. After a few minutes, I wanted out.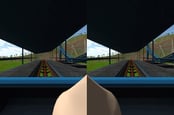 'Virtual nose' makes VR less dizzying, say boffins
READ MORE
What's more, it didn't quite fit. I could see a sliver of the real world in the gap where the mask didn't quite meet my nose. Maybe adjustments would fix that. But the sliver of light marred the illusion.
I wish I enjoyed VR more. In theory, it should be thrilling. And I'm sure some people feel that way about it, Facebook employees among them.
But I find it mostly tedious, with intermittent stabs of queasiness.
As I was writing this up in the F8 press room, four Facebook employees sat in a circle, engaged in some shared viewing experience. I could see how a joint jaunt into fantasy land might be appealing – it's imitation community. But these were people who designed the tech and use it as part of their jobs.
I'm skeptical this will become common behaviour any time soon.
It's not Facebook's fault, even if the hardware leaves a bit to be desired. The entire conceit is undermined by the gap between the technology's aspirations – immersion in an alternate reality – and its modest capabilities, its sophomoric storytelling and its non-intuitive interface conventions. We're a long way from Ready Player One or Snow Crash.
I only tried one title, Pet Lab, and the game design left something to be desired. The graphics were not particularly sharp and the game suffered a problem common among 3D worlds – most objects exist only as decoration and can't be manipulated or destroyed.
The Go comes with a single controller. I found that wandering through an alternate reality with a remote just isn't enough. VR feels better when it represents your body, particularly your arms. Without the ability to see your own virtual form, the experience is disconcerting. I felt something was missing.
Pet Lab gave me a wand in place of one hand, but I far preferred the experience provided by the Oculus Rift, which comes with two hand controllers.
The game included in-game instructions about how to interact with the objects in its virtual world. A lot of games start with tutorials like that, but it's particularly necessary in VR apps where the interface conventions are so variable.
VR requires dedication and commitment to apprehend and appreciate. You have to learn how the interface wants you to interact and get used to the buttons on the controllers. I found it to be more effort than the experience was worth.
Perhaps I've become spoiled dealing with intuitive touch interfaces on phones and tablets, but I just don't have the patience for VR's shabby semblance of reality or the fortitude to linger there long. If I'm going to play a video game, I'd rather do it on a standard screen or in the real world as a sport – you should see the physics and resolution of the natural world.
Call me when sensor gloves allow you to manipulate any represented object with your hands and receive the appropriate haptic feedback to simulate the sense of touch.
Maybe after I spend some more time testing the Oculus Go, I'll feel differently. Somehow I doubt it. ®