This article is more than 1 year old
Painful Hammer blow: Commvault CEO ousted, costs and staff face cuts as financial figures falter
Activist investor forces search for new chief exec, restructuring
Activist investor Elliott Management has this week claimed the scalp of Commvault CEO Bob Hammer, as the storage biz accedes to its demands in the wake of disappointing financial results.
Data-protecting Commvault has agreed to change its chief executive, cut costs, lay off some folks, shake up its organizational structure, install two independent directors, and possibly buy back shares to make Elliott richer than it was before it bought into Commvault.
On Tuesday, the New-Jersey-based biz announced the financial figures for its fourth quarter of its fiscal 2018, as well as the numbers for the full year.
Revenues for Q4 – the three months to March 31 of the calendar year – were $185m, up seven per cent year-on-year from $173m. The quarter recorded a net loss of $1.7m versus a $3.2m profit a year ago. For the full fiscal 2018, revenues hit $699m, up 7.5 per cent year-on-year from $651m, and were turned into a net loss of $62m versus a $540,000 profit in 2017.
More numbers: software and products sales stood at $83.5m, up seven per cent, and services sales totaled $101.4m, up 15 per cent. The biz also repurchased $21m in common stock this quarter, bringing the total for the year to $112m.
So there's the upfront problem: revenues nudging up while profits become losses. A Commvault Advance plan was revealed on Tuesday to return the biz to growth.
CEO, president, and chairman Bob Hammer pointed to good numbers inside the overall results: "Our software and products revenue growth was driven by a record number of enterprise transactions and significant acceleration of our subscription-based pricing model.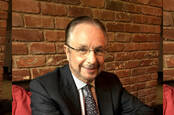 Hooo boy, Commvault, your activist investor is not a happy chappy
READ MORE
"For the fourth quarter, approximately 37 per cent of our software and products revenue was attributable to subscription-based pricing which resulted in full year fiscal 2018 subscription-based pricing being 25 per cent of our software and product revenues."
"These results show the progress we are making in strengthening our competitive technology position, enhancing and expanding distribution, and realigning resources to drive our go-to-market as a partner-led organization. However, we know we can and must do more in order to return the company to sustainable, profitable growth."
Subscription-based pricing is good for the long-term but less so for the short-term, as it brings in less money then than a traditional hardware and software license sale.
The Commvault Advance turnaround blueprint has been in place inside Commvault for 18 months, we're told, but is now being accelerated with an oversight committee and three new aspects:
More efficient go-to-market team by restructuring and reorganizing field-facing resources in sales and marketing to be directly tied to key routes to market with alliances, distribution, service provider, and global SI partners,
Worldwide cost-reduction effort including use of contracted employees, third party expenses, travel and expenses, and targeted headcount reductions of approximately four per cent of the workforce,
Supplemental pricing and packaging options in the company's core data protection offering, and upcoming new product announcements that are aligned with key routes to market.
Commvault and its board have initiated new governance initiatives, we're told, and a comprehensive review of Commvault's business and capital allocation to identify additional opportunities for improvement and value creation – thus implying share buy-backs are being mulled. The oversight committee will report on its progress in alongside the company's Q2 fiscal 2019 financial results.
The biz has hired an executive recruitment firm to look externally for a new CEO. Hammer will stay in charge until the new person is appointed and then remain as chairman. Two new independent directors, agreed by Elliott, will be appointed to the board, replacing two existing directors.
"We commend Bob Hammer on his leadership and vision in building Commvault into the company it is today," said Jesse Cohn, partner and senior portfolio manager at Elliott Management.
Hammer has been at the summit of Commvault for 20 years. In recent times, execution issues with sales deals, and the shift to the cloud, to subscription models, and to appliances, have all caused problems for Commvault. The business was dealing with it, as far as we could see, however, not quite fast enough for the likes of Elliott Management, which published a devastating letter of criticism comparing Commvault's performance to its peers.
It must have been as unwelcome as a thrown pitcher of stale vomit to Commvault's board and management. However, they recognized the validity of its points and, in time with the fiscal year-end, caved to Elliott's wishes.
Commvault's share price closed down 3.57 per cent to $67.45 apiece. ®